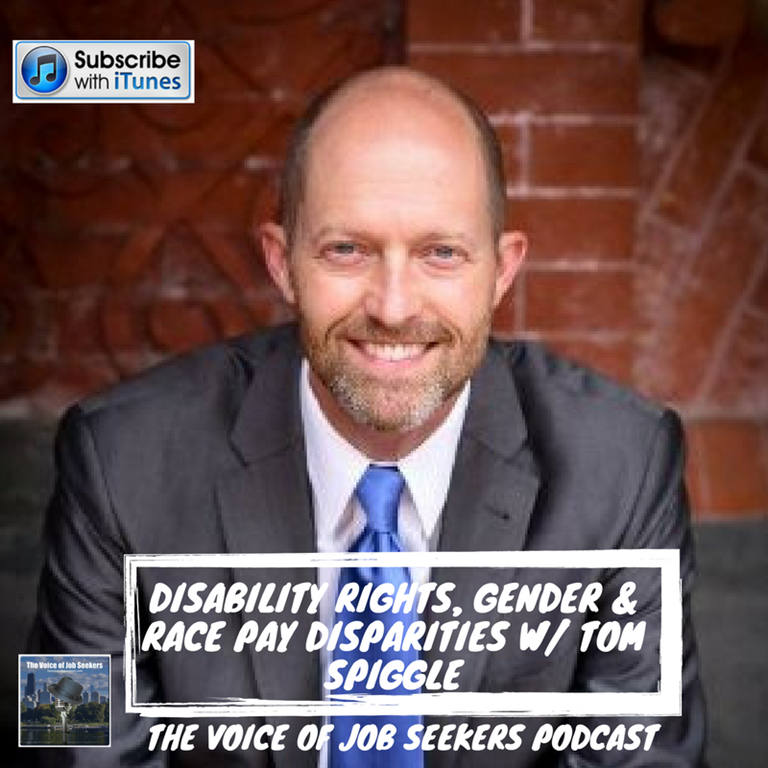 Podcast: Play in new window | Download | Embed
Subscribe: Apple Podcasts | RSS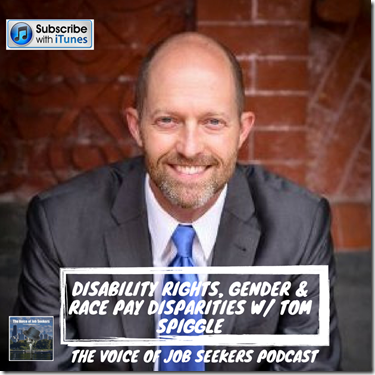 The more disability rights, and gender and race pay equality are discussed, the better it is for all. Job seekers who are affected can achieve fair chances and equity to manage the full  arc of his or her career. Tom Spiggle, founder of Spiggle Law, focuses in on discrimination. He is my guest for the show today.
I will be doing even more show regarding these issues. I would love to hear your concerns and questions regarding Gender and Race Pay Equality and disability rights. Here are three ways we can have further discussion on these issues:
Call and leave a voicemail at 708-365-9822, or text your comments to the same number
Go to TheVoiceofJobSeekers.com, press the "Send Voicemail" button on the right side of your screen and leave a message
Send email feedback to mark@thevoiceofjobseekers.com
Tom Spiggle is a former prosecutor and former Assistant U.S. Attorney. His website also has a very informative blog regarding these topics at SpiggleLaw.com. He is regularly quoted in the media such as the Washington Post, Huffington Post, and many law journals.
Similarly to pregnancy, you're not required by law to share your disability while interviewing with the interested company
Be practical–visible disabilities require an approach demonstrating your ability to work with the potential employer
Tom advises to disclose less than more
Unseen disabilities also requires a strategy depending on the comfort level of the job seeker
If an unseen disability is unnoticeable, there's no need to disclose
Learning disabilities may be impacted and additionally pronounced if stress is a major factor
Your research needs to uncover the pressure and stress to manage in your workday to understand how it will impact your condition
Check state and federal laws to see if and how you're protected
Gender and Race Pay Equality
Gender Pay Gap (Equal Pay Act)  has existing legislation, and the less discussed Racial Pay Gap does not
Black women can file against unfair pay through the Equal Pay Act, black men must use Title VII (Civil Rights Act, 1964)
Black men must show discriminatory intent, black women must show the pay disparity exists between men and women. Intent doesn't have to be shown.
Understanding the market value (location, by position) will help make informed decisions
The pay gap abuse is widespread with egregious disparities occurring daily
Need help with your career goals, directions, or efforts? Do you need coaching or instruction? I am here for it!
Also, join our Linkedin community! You'll enjoy some of the insights shared by community members and other career pros!
If you're a career pro and love giving career advice, let me know. Thanks for being among the thousands who listen every month. There's so much more to come so stay tuned!
I am the "The Voice of Job Seekers!" I offer compassionate career and job search advice as I hack and re-imagine the job search process. You need to be "the prescription to an employer's job description." You must be solution-oriented and work in positions in companies where you are the remedy. Your job search must be a lifestyle, and your career must be in front of you constantly. You can no longer shed your aspirations at the change seasons. There are strengths you have that need constant use and development. Be sure you sign up to download my E-Book, "421 Modern Job Search Tips 2021!" You can find my career advice and work in media outlets such as Forbes, Inc., Fast Company, Harvard Business Review, Glassdoor, and many other outlets.