Podcast: Play in new window | Download | Embed
Subscribe: Apple Podcasts | Android | RSS

Donn Levie (@DonnLevie) recently wrote a very helpful article for those who are transgenders and examples for employers in a similar situation he experienced. As we know, this is still new territory in many ways although it is more common now than 10 years ago. I think people who work with transgendered coworkers will benefit from this dialogue. We dive a little deeper than the article Donn offers in hopes this will offer addition value for those who need it.
Do you currently work with a transgendered co-worker? How have you handled it? How does your company handle it? Share it with us. Here's how you can do it:
Call and leave a voicemail at 708-365-9822
Go to TheVoiceofJobSeekers.com, press the "Send Voicemail" button on the right side of your screen and leave a message
Send email feedback to mark@thevoiceofjobseekers.com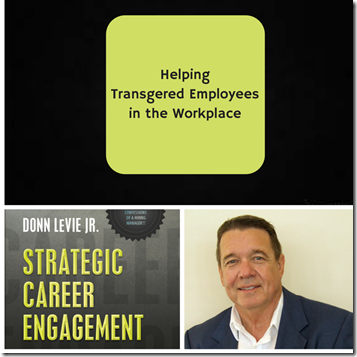 Heres more about Donn, who is a former Fortune 500 hiring manager, author of Strategic Career Engagement (September 2015),and the book that reset the rules for successful job and career strategies: Confessions of a Hiring Manager Rev. 2.0 (June 2012),Winner of the 2012 Global eBook Award and Winner of the 2012 International Book Award for Jobs/Careers). His next book,The Demilitarized Zone: From Deployed to Employed will be available later in 2016. Here is a link to his blog for more of his career advice.
Here are some highlights from our discussion:
Personal values had much to do with how Donn wanted to handle his transgender employee
People are often fixed and grounded in their values and often doesn't influence others. It is difficult to not judge and put them aside in the workplace
Human resources handled to announcement of the gender change of "Al" to "Alice"
Any overt behavior was not seen in the halls, but denigrating things were harsh as some employees whispered about the transgender co-worker
Values play a part of decisions, it is showcased on how you treat others, and can very well affect your personal brand
Value disruption can change the way people are viewed, often there's no consideration for the transgender individual who is the cause of change
Hiring managers will ultimately ask who will work with the team I have, or will they affect they way the team works
Donn shares six qualities all successful job seekers no matter the lifestyle or changes occurred or faced
Need help with your career goals, directions, or efforts? Do you need coaching or instruction? I am here for it!Also, join our Linkedin community! You'll enjoy some of the insights shared by community members and other career pros!
I would still like to help self-published career professionals promote their books. If you're interested, find more info here.
For the first time in 1 1/2 years, I am opening to career professionals to write guest articles. If you're interested, you can go here for further topics and directions to submit.
I am the "The Voice of Job Seekers," career consultant, job seeker advocate, career writer, and founder of this award-winning blog. I help the employed, unemployed, underemployed, and under-appreciated find jobs using job search strategies to navigate the new job market. I aim to give a safe place online to those with different needs, cultures, and ethnicities to find their voice in the job market. Thousands have read my career advice throughout the web as I write about everything from job search strategies to the mobile job search. I have published more than 400 articles on this blog and some of the largest career sites such as Recruiter.com, YouTern, and Come Recommended. I've been quoted in major online publications such as Monster, TIME/Money, Fortune, Business Insider and MSN. FlexJobs, JobMonkey, Aerotek, Career Pivot, and CareerSherpa listed my podcast as one of the top podcasts to help your job search. Love for you to sign up for the weekly newsletter. I share the latest articles I've written, new podcast episodes, and answer any questions you may have. The new job search is scary and if you need help, I am here for it!