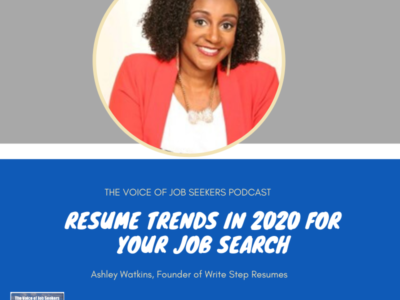 Podcast: Play in new window | Download | Embed
Subscribe: Apple Podcasts | Android | RSS
Welcome to our annual résumé trends show. It is the only show this year we focus solely on writing and preparing a résumé for your job search. This year, I chose Ashley Watkins to give the 411 on the latest trends in résumé writing.
Let me introduce Ashley:
She is a nationally certified résumé writer, job search and interview coach, and former recruiter. She is the founder of her company. Write Step Resumes. Her services help clients craft high-quality career documents (résumé and cover letter) and LinkedIn profiles to highlight their unique value offerings and communicate the distinct benefit to the target employer during interviews.
Got comments about the show? Here's how:
– Call and leave a voicemail at 708-365-9822, or text your comments to the same number
– Go to 
TheVoiceofJobSeekers.com
, press the "Send Voicemail" button on the right side of your screen and leave a message
Here are highlights from our conversation:
Ashley compares and contrasts a few of the past trends
The need for proof of your skills to stand out
It's more important to stand out than to a pasted & copied resume
Communicate your brand and how you add value
Ashley discusses the importance of the top 1/3 of a resume
Write what's valuable to the employer while communicating your unique value proposition
Employers need to know can you solve my problem
Trying to fill in space and using jargon can talk yourself out of your brand

With the emphasis on keywords now, personality can get lost. Remember that it's a person first.

You must show enough keywords without the person missing

Show what you master, not as a jack-of-all-trades

We discuss the use of "I" in a resume – know your audience – often depends on the posting

Once a job posting is published if you have to wait to update your resume, you're already behind
Sign up for my weekly newsletter at the top right of my page to receive free e-Guide, "320 Modern Job Search Tips for 2020!" This year, it will be free for a limited time.
I am the "The Voice of Job Seekers," career consultant, job seeker advocate, career writer, and founder of this award-winning blog. I help the employed, unemployed, underemployed, and under-appreciated find jobs using job search strategies to navigate the new job market. I aim to give a safe place online to those with different needs, cultures, and ethnicities to find their voice in the job market. Thousands have read my career advice throughout the web as I write about everything from job search strategies to the mobile job search. I have published more than 400 articles on this blog and some of the largest career sites such as Recruiter.com, YouTern, and Come Recommended. I've been quoted in major online publications such as Monster, TIME/Money, Fortune, Business Insider and MSN. FlexJobs, JobMonkey, Aerotek, Career Pivot, and CareerSherpa listed my podcast as one of the top podcasts to help your job search. Love for you to sign up for the weekly newsletter. I share the latest articles I've written, new podcast episodes, and answer any questions you may have. The new job search is scary and if you need help, I am here for it!