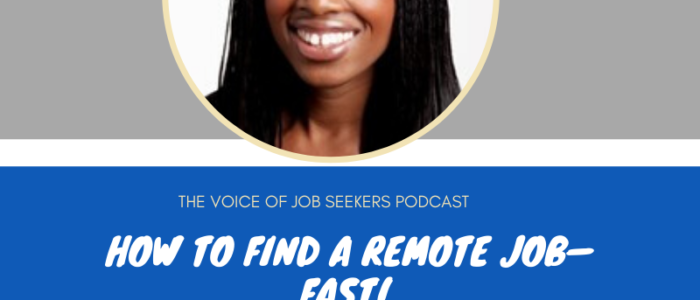 Podcast: Play in new window | Download | Embed
Subscribe: Apple Podcasts | RSS
I rarely talk about finding any kind of job fast, but I'm making an exception for this episode. Some people are in an abrupt unemployment situation. Many will need to find a new career because it's their industry is facing a significant downturn. I invited fellow Payscale contributor and career coach Octavia Goredema to lend her thoughts in finding a job faster.
More about Octavia:
She is the founder of
twentytengency.com
and also
OctaviaGoredema.com
and has helped many with their career goals and aspirations. She has appeared in Black Enterprise, The Guardian, and Payscale.
Got something to say? Got a topic for the show? Disagree?
– Call and leave a voicemail at 708-365-9822, or text your comments to the same number
– Go to TheVoiceofJobSeekers.com, press the "Send Voicemail" button on the right side of your screen and leave a message
Here are highlights from our conversation:
-Get clear on your offerings
-Ask your network/Talk to people you know
-We all have an ask, and we all have a need – Let people know
-Think about where you would look if someone asked you
-Integration of online and offline job search particularly for blue-collar workers
-Use all connections and feel more comfortable in asking for what you need/what
-Patience is essential as things are changing daily
-The larger network is best because it increases your changes
-Start getting references and referrals
-Start building your network for the future
May 28 will be the last show before I go on my annual summer hiatus. The show will feature my friend Cynthia Pong, J.D., as we talk about how people and women of color can negotiate better pay. The first show next year (8th year) will be September 15.
I am the "The Voice of Job Seekers!" I offer compassionate career and job search advice as I hack and re-imagine the job search process. You need to be "the prescription to an employer's job description." You must be solution-oriented and work in positions in companies where you are the remedy. Your job search must be a lifestyle, and your career must be in front of you constantly. You can no longer shed your aspirations at the change seasons. There are strengths you have that need constant use and development. Be sure you sign up to download my E-Book, "421 Modern Job Search Tips 2021!" You can find my career advice and work in media outlets such as Forbes, Inc., Fast Company, Harvard Business Review, Glassdoor, and many other outlets.