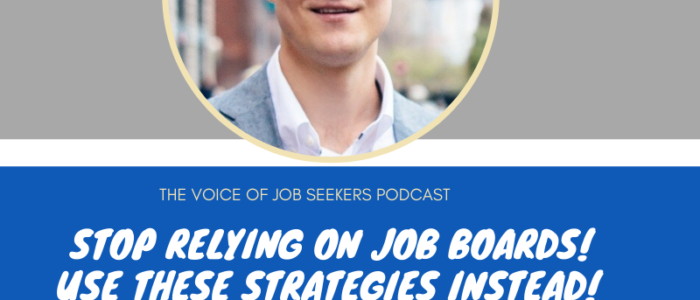 Podcast: Play in new window | Download | Embed
Subscribe: Apple Podcasts | Android | RSS
Job boards are not evil. They are not the only way to find jobs. In fact, if you use the strategies mentioned in this show, you'll experience its effectiveness without waiting for job boards and applications result. Austin Belcak, founder of CultivatedCulture.com gave me the rundown of how he applied, tweaked, and perfected strategies that landed him around 50 interviews.
More about Austin:
Austin is the creator of Cultivated Culture, a blog helping job seekers succeed with several strategies including:
– Get a referral to companies where they previously knew no one
– Network and get to know hiring managers resulting in receiving job offers
– Ultimately land jobs without relying on a job board
Got something to say? Got a topic for the show? Disagree?
– Call and leave a voicemail at 708-365-9822, or text your comments to the same number
– Go to TheVoiceofJobSeekers.com, press the "Send Voicemail" button on the right side of your screen and leave a message
– Send email feedback to mark@thevoiceofjobseekers.com
Listen to: The State of Job Search
Show highlights:
– Austin shares about his frustration as job seekers applying to hundreds of job board postings without results
– It didn't make sense to him to do so much work without any resemblance of results
– He asked immediately family, friends, school career professionals who gave the same answer
– Finally, a career coach got him started networking to find people in the company to reach out and make connections
– He learned through networking with the right people in a company gave him tangible results
– He used LinkedIn and cold emailing to reach people in companies where he wanted to work
– It was a lot of work in talking with 10-15 in each company to find out what they did and how they were hired
– Most people either got in the company's door through a referral
– They also found ways to illustrate to employers their value
The show epilogue
The next show will be on April 14. There will be FOUR SHOWS left for the year. Two in April and two in May. Then my summer hiatus will last until Sept. 15.
I am the "The Voice of Job Seekers," career consultant, job seeker advocate, career writer, and founder of this award-winning blog. I help the employed, unemployed, underemployed, and under-appreciated find jobs using job search strategies to navigate the new job market. I aim to give a safe place online to those with different needs, cultures, and ethnicities to find their voice in the job market. Thousands have read my career advice throughout the web as I write about everything from job search strategies to the mobile job search. I have published more than 400 articles on this blog and some of the largest career sites such as Recruiter.com, YouTern, and Come Recommended. I've been quoted in major online publications such as Monster, TIME/Money, Fortune, Business Insider and MSN. FlexJobs, JobMonkey, Aerotek, Career Pivot, and CareerSherpa listed my podcast as one of the top podcasts to help your job search. Love for you to sign up for the weekly newsletter. I share the latest articles I've written, new podcast episodes, and answer any questions you may have. The new job search is scary and if you need help, I am here for it!