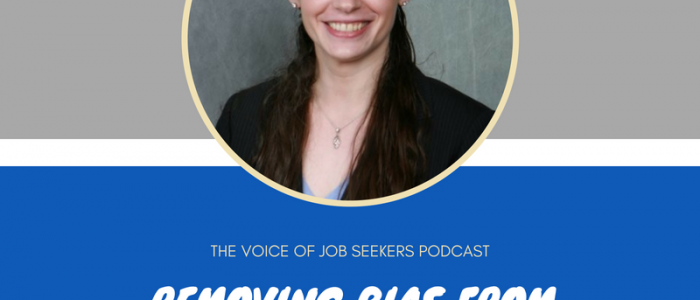 Podcast: Play in new window | Download | Embed
Subscribe: Apple Podcasts | RSS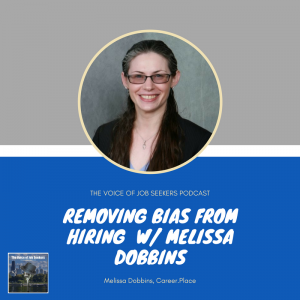 Removing bias from the hiring process is quite a task considering those who are still asking why. My guest this episode is Melissa Dobbins, founder, and CEO of career.place, whose purpose is to remove bias from hiring. She states on her website that she is "…radically reshaping the hiring process through the synthesis of science and technology…" Her goal is to show hiring companies how to remove bias from the hiring process.
You are more than welcome to join the discussion. Here are three ways you can:
– Call and leave a voicemail at 708-365-9822, or text your comments to the same number
– Go to TheVoiceofJobSeekers.com, press the "Send Voicemail" button on the right side of your screen and leave a message
– Send email feedback to [email protected]
More about Melissa:
Through a SaaS-based offering, my company provides a fresh approach that is unbiased and focuses on what matters most when hiring talent. 
Career
.Place removes bias from the hiring process by not relying on the resume as the beginning piece of the hiring equation. Instead, career.place's solution asks a series of questions from salary desired to take assessments, allowing only those qualified to advance.
She has been in product management for many years including her last position as a vice president.
Here are highlights from our discussion:
Melissa is influenced by her experience working with highly diverse successful teams and homogenous teams oblivious to bias
In her experience, homogenous teams was a vacuum of creativity because everyone thought alike
She says that diversity and inclusion positions and teams achieved a good start
Removing bias from the hiring process will mean removing the identities of the individuals from the eyes of employers
The focus for employers is to focus on what individuals can do and the requirements to do the job, and everyone is treated fairly
We discuss racists vs. bias and how much of a challenge it is in the process – "No one wants to look in the mirror and think they are part of the problem."
Melissa says, "Bias is the human shortcut."
There needs to be more than blocking out the name on a resume to rid of bias in the hiring process
Reminder:
June 19 is the last show of the season until Sept. 11. I will send a newsletter the last Friday of each month. I have several projects and MAYBE products I am finishing. Sign up for the newsletter and/or connect with me on LinkedIn. I will be announcing update there.
I will also continue publishing articles and other content 1-3 times a week. See below for my social handles to connect with me there.
I am here for you! Use my contact information above to inquire about individual or group coaching. You can also sign up for my weekly newsletter at the top right of my page. I try to pack as much value in my newsletter to more than 2,000 subscribers as possible.
Grab my updated "118 Job Search Tips for the Modern Job Search in 2018" here.
I am the "The Voice of Job Seekers!" I offer compassionate career and job search advice as I hack and re-imagine the job search process. You need to be "the prescription to an employer's job description." You must be solution-oriented and work in positions in companies where you are the remedy. Your job search must be a lifestyle, and your career must be in front of you constantly. You can no longer shed your aspirations at the change seasons. There are strengths you have that need constant use and development. Be sure you sign up to download my E-Book, "421 Modern Job Search Tips 2021!" You can find my career advice and work in media outlets such as Forbes, Inc., Fast Company, Harvard Business Review, Glassdoor, and many other outlets.