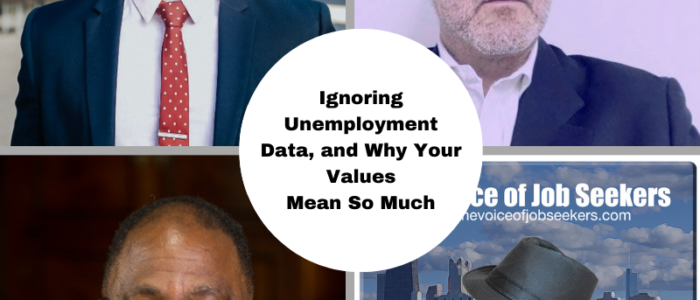 Podcast: Play in new window | Download | Embed
Subscribe: Apple Podcasts | RSS
Your core values, like most, eventually means everything in your desired career choice. You'll hear Nii-Ato Enchill-Bentsi, and I discuss in depth what you'll need to know about using your values to guide your job search. And you'll also hear an excerpt from my LinkedIn Live stream show with Jack Kelly about why you should ignore unemployment data.
I wrote up the show notes and embedded the live stream in this article.
You are more than welcome to join the discussion. Here are three ways you can:
– Call and leave a voicemail at 708-365-9822, or text your comments to the same number
– Go to TheVoiceofJobSeekers.com, press the "Send Voicemail" button on the right side of your screen and leave a message
– Send email feedback to [email protected]
More about Nii-Ato:
Nii Ato Bentsi-Enchill is the founder of AvenirCareers.com. Before going full-time as a business owner, he was Ivy Exec's Senior Content Manager & Career Adviser. In addition to networking/job search strategy, LinkedIn, and resume writing, he uses his Psychology and Mental Health education as part of a holistic approach to career coaching.
If you want to see the whole video interview, you can watch it on my video channel. 
Here are the highlights from our conversation:
During our conversation, we tried to answer three questions:
Who would benefit most from finding an employer with shared values? 
Why is it important?
How would shared core values manifest itself into a job search strategy?
😎 Nii Ato: "Values are pretty essential in what I do as a career coach."
😎 Work-life and personal life are similar – informs their career.
😎 Everyone benefits from focusing on their values when it comes to their career
😎 It affects what kind of culture you want to surround yourself with
😎 The pandemic has forced us into a place where we are questioning what we genuinely value.
😎 The access each person has to their daily life will include a chose workplace.
😎 We're more "core valued centered" than ever with re-prioritizing family, the type of company, and your final destination in where you land next.
😎 Do a "values" inventory from the past of what worked and what didn't
😎 You can't seek out valued work or culture if you are applying to hundreds of jobs.
😎 Targeting companies in a thoughtful matter with values at the center can keep you working.
Reminder:
As the holiday season approaches, I may release three shows instead of two in November. Along with the shows, two of them will come with newsletters. I anticipate there will be new sign-ups for the E-book, "421 Modern Job Search Tips 2021." There will be special announcements made exclusive to email sign-ups only.
I am the "The Voice of Job Seekers!" I offer compassionate career and job search advice as I hack and re-imagine the job search process. You need to be "the prescription to an employer's job description." You must be solution-oriented and work in positions in companies where you are the remedy. Your job search must be a lifestyle, and your career must be in front of you constantly. You can no longer shed your aspirations at the change seasons. There are strengths you have that need constant use and development. Be sure you sign up to download my E-Book, "421 Modern Job Search Tips 2021!" You can find my career advice and work in media outlets such as Forbes, Inc., Fast Company, Harvard Business Review, Glassdoor, and many other outlets.