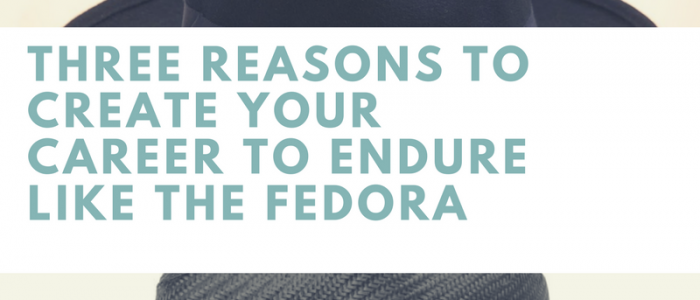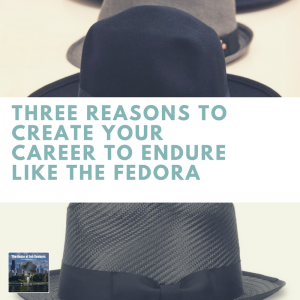 It's likely you have a fedora. You wear it well, and it's impossible not to feel superpowers of cool when you do. I can't say everyone loves the look on you, but you know someone will. Successful careerists are adaptable and agile like the fedora. There are career lessons to learn from this comparison.
I own nine of them. And will probably buy one or two between now and the end of summer. In fact, my oldest calls me "Uncle Fedora" sometimes. She always compliments me when I wear one, but more importantly, so does my wife.
I wear them casually more now as it used to be for special occasions. When I go to one of my open office spots such as Panera Bread or Starbucks, I often wear one. Not just to look stylish, but to keep the air conditioning from blowing directly on my head. The Starbucks I go to often is cold. I'll wear my fedora to keep my head warm even in the summer.
According to the
History of Hats
and other sources, the fedora has been around more than 130 years. It's not just a fad, but a staple in American fashion culture. It has a prominent place in the wardrobes of Presidents and princes, singers and servants, and yes, mothers and mavens.
It has also endured fashion changes. No matter the trend, it has steadfastly stood out as the go to wear for timely fads. No matter how men or women suits the change in color, fit, or style, a fedora complements it. I am sure someone more fashion savvy than I will want to correct my details in style, but you get the idea.
Paid or unpaid, business or casual, or for play it has a place to stay and stand out.
My goal in writing this blog is to help inspire, or for you to aspire, to have always had a voice. Just as the Fedora has always had a place, you should have a voice. It's one of the ways for you to survive all of the cultural and environmental changes in work.
So here are my three reasons for your career to be like the fedora:
1) Like the fedora, you're not for everyone, and everyone is not for you
As you understand your skills and talents, your list of vendors, employers, contracts, or people who energize your career and inspire your aspirations will shrink. That's still a lot of individuals, and you need to connect with those people.
Listen to Job Interviewing Best Practices
2) Like the fedora, be agile  
Future proofing is the best career strategy anyone can devise. Whenever there is an economy change, there is likely a technology drive to cause or to follow. The Fedora fits with any fashion you fancy no matter the period you favor to wear. Your skills matter as they are relevant,  but your personality is what will deepen your appeal to what's important to the business.
3) Like the fedora, add value
The Fedora goes with most outfits and is appropriate for most social occasions.
Even with one talent you can serve and help many especially if you expand your network.
The Fedora has a broad audience, has experienced many adventures, and find its way to show up at all the right times. In your career, consider being like the Fedora.
I am the "The Voice of Job Seekers!" I offer compassionate career and job search advice as I hack and re-imagine the job search process. You need to be "the prescription to an employer's job description." You must be solution-oriented and work in positions in companies where you are the remedy. Your job search must be a lifestyle, and your career must be in front of you constantly. You can no longer shed your aspirations at the change seasons. There are strengths you have that need constant use and development. Be sure you sign up to download my E-Book, "421 Modern Job Search Tips 2021!" You can find my career advice and work in media outlets such as Forbes, Inc., Fast Company, Harvard Business Review, Glassdoor, and many other outlets.