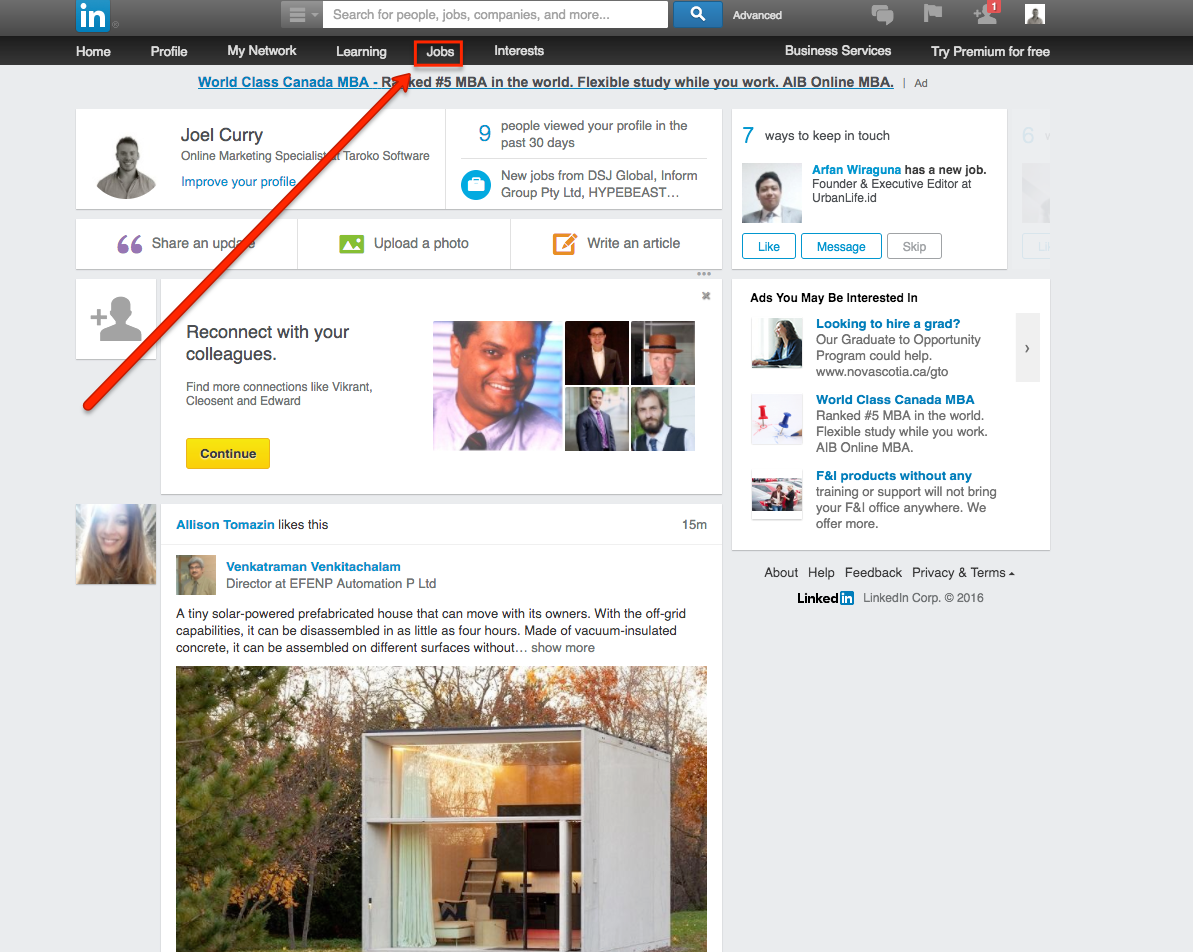 The new LinkedIn feature could increase your visibility and create more opportunities.
A little bonus tidbit that is useful for both people actively seeking a new job, and those who would be open to new opportunities but aren't currently doing much searching. On October 6, 2016, this post was published on Linkedin's official blog:
They have rolled out a new feature that allows recruiters who are using the Linkedin Recruitment product to see people who are interested in receiving recruitment offers. If you live in the USA, UK, Canada, or Australia, you should be able to find this now, with global rollout coming soon.
Here's how you'll get there: From your homepage, click 'Jobs' in the navigation bar.
Once on the jobs homepage, click 'Preferences' and you should see this: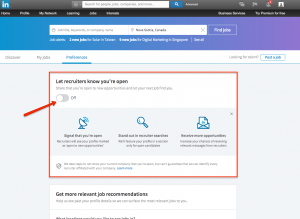 Once you toggle the switch on, you are given a bunch of new options:
You can then fill out some position titles you would be interested in receiving recruitment offers for, as a section where you can write any other relevant information for recruiters, like your availability, best way to get in contact, or specific skills and interests. You should treat the 'Introduction' section like the career objective section on your resume, or  an elevator pitch for yourself and what makes you awesome.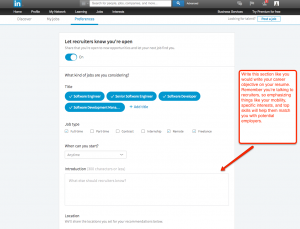 A few key points from the FAQ:
● It stays on for 90 days, at which point it turns off and you'll have to come back in to toggle it back on
● Only recruiters who use Linkedin's Recruiter product will see you are interested in new opportunities
● Linkedin tries to make sure recruiters at your company and affiliated recruiters won't see you have positioned yourself as available, but can't guarantee they won't come across it; however, your company recruiters would still have to be using the Linkedin Recruiter product for this to be possible
● Your profile and the information you gave about the types of opportunities you're after, as well as the date you toggled it on will be available to recruiters Some industries and job roles may not be something recruiters are looking for, but it can't hurt to turn it on anyway – you never know what could happen!
Bio: Joel Curry is a career advisor and resume expert who writes for Resume Companion, which provides a state of the art resume builder and professional resume templates.
I am the "The Voice of Job Seekers," career consultant, job seeker advocate, career writer, and founder of this award-winning blog. I help the employed, unemployed, underemployed, and under-appreciated find jobs using job search strategies to navigate the new job market. I aim to give a safe place online to those with different needs, cultures, and ethnicities to find their voice in the job market. Thousands have read my career advice throughout the web as I write about everything from job search strategies to the mobile job search. I have published more than 400 articles on this blog and some of the largest career sites such as Recruiter.com, YouTern, and Come Recommended. I've been quoted in major online publications such as Monster, TIME/Money, Fortune, Business Insider and MSN. FlexJobs, JobMonkey, Aerotek, Career Pivot, and CareerSherpa listed my podcast as one of the top podcasts to help your job search. Love for you to sign up for the weekly newsletter. I share the latest articles I've written, new podcast episodes, and answer any questions you may have. The new job search is scary and if you need help, I am here for it!