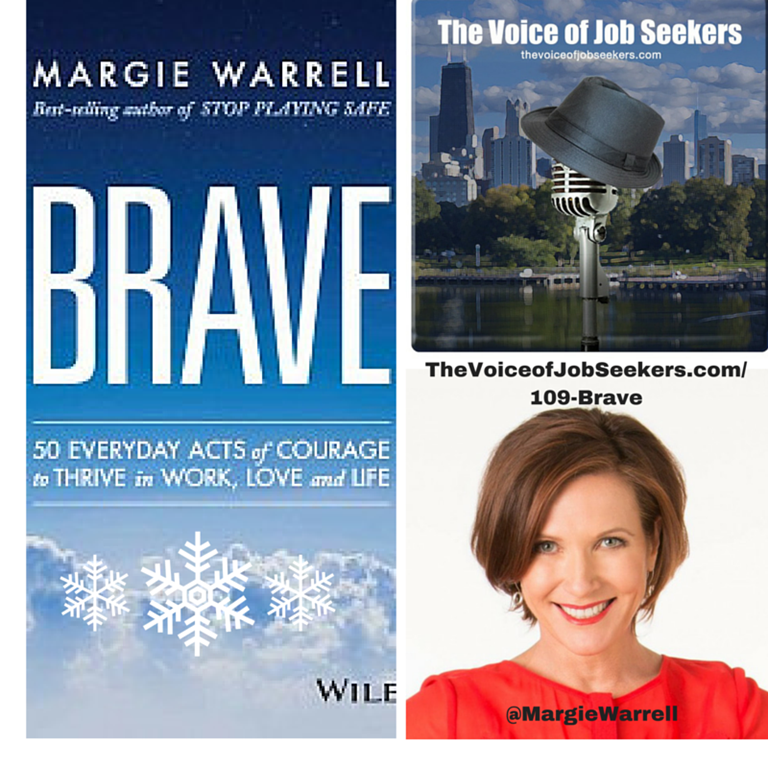 Podcast: Play in new window | Download | Embed
Subscribe: Apple Podcasts | RSS
How BRAVE are you? Are you missing the courage to find the career you want? Many job seekers or career-changers don't need more or better marketing materials (resume, cover letters, etc.). Most of them need something  he or she has already or that is intrinsically available to them. Margie Warrell (@margiewarrell) and I talked two years about courage. I am welcoming her back to the show to inspire you and talk about her book, Brave: 50 Everyday Acts of Courage to Thrive in Work, Love and Life.What does courage mean to you today? I would love to hear what  you think? Here's how you can let me know:
Call and leave a voicemail at 708-365-9822
Go to TheVoiceofJobSeekers.com, press the "Send Voicemail" button on the right side of your screen and leave a message
Send email feedback to

[email protected]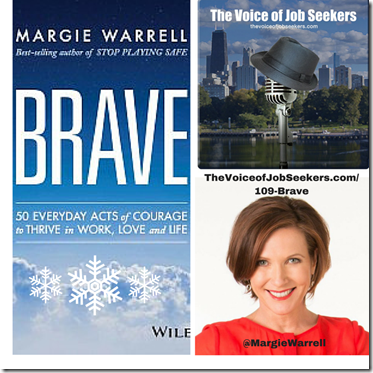 Margie Warrell is an international thought leader in human potential who is passionate about empowering people to take braver risks and lead more purpose driven lives.  She has been featured in leading media outlets such as The Today Show, FOX News, CNBC, Psychology Today and Wall Street Journal. She is also a regular contributor on Australia's ABC News Breakfast and Sunrise.
Here are a few highlights from our conversation:
"Brave" speaks to our total lives, not just events. Small changes to our lives affects how we live profoundly
Think differently, act differently, with who you are
We should always challenge ourselves to expand who we are and put ourselves out there to add value—it takes courage
Courage is a muscle, it grows with use—act the way we want to feel
People react positively — Our beliefs can limit us or fuel cynicism
Stories around us being the victim will only perpetuate the current status quo
"I'm a great believer in luck, the harder I work the more I have of it"
Stop looking in a direction you don't want to go
Obstacles, setbacks, competition are constant, find ways to break through,
Be careful in the way you explain setbacks, you can chase away potential believers
We speak our  fears into existence, we build our roadblocks to success
Give our selves permission to make mistakes, or sub-optimal decisions, just make a decision. If it doesn't work, pivot as you go along
Don't let others "should" on you – be BRAVE! Use your good judgment

Have you subscribed to this show on iTunes? If you haven't, please do so. iTunes is a great place to write an honest review to pique the interests of others lurking. Enjoy listening to the show.

Let me know what you think.
Need help with your career goals, directions, or efforts? Do you need coaching or instruction? I am here for it!
Also, join our Linkedin community! You'll enjoy some of the insights shared by community members and other career pros!
I would still like to help self-published career professionals promote their books. If you're interested, find more info here.
Next week show is the last show for 2015, and is a special Christmas show I am looking forward to sharing with you! After that, January 12 is a special new show on salary and negotiation for women. All are invited to join me for that special episode!
I am the "The Voice of Job Seekers!" I offer compassionate career and job search advice as I hack and re-imagine the job search process. You need to be "the prescription to an employer's job description." You must be solution-oriented and work in positions in companies where you are the remedy. Your job search must be a lifestyle, and your career must be in front of you constantly. You can no longer shed your aspirations at the change seasons. There are strengths you have that need constant use and development. Be sure you sign up to download my E-Book, "421 Modern Job Search Tips 2021!" You can find my career advice and work in media outlets such as Forbes, Inc., Fast Company, Harvard Business Review, Glassdoor, and many other outlets.