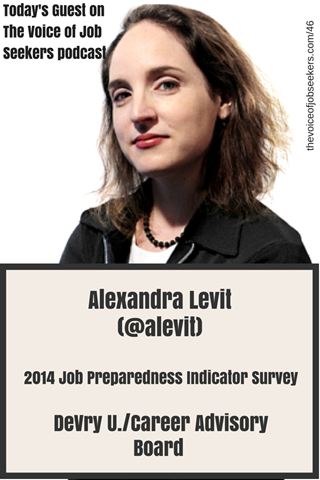 Podcast: Play in new window | Download | Embed
Subscribe: Apple Podcasts | RSS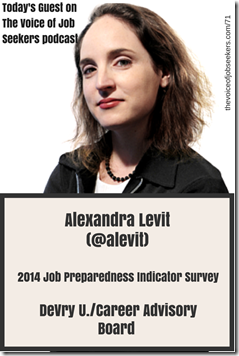 For the second year (the third year on the blog), we are featuring the results of the Job Preparedness Indicator Survey done by DeVry University's Career Advisory Board. A large part of the survey studies the job skill gaps and provides job strategies and recommendation mainly for college students and Millenials. Alexandra Levit is one of the workplace/career experts and executives on the career board. She provides an overview of the survey findings and job strategies for young job seekers.
I would love to hear your thoughts and comments about the survey. What do you think about the findings of the survey? There are three ways you can share your thoughts. Let me know if it's OK to read or replay your message on the show:
Call and leave a voicemail at 708.365.9822
Email: mark@thevoiceofjobseekers.com
Go to TheVoiceofJobSeekers.com/71, press the Send Voicemail button on the left, which will activate your laptop microphone, then leave a message
Alexandra Levit is a friend of the blog and podcast as for the last three years, she has volunteered to share the Career Advisory Board's findings on various studies. Here are the other conversations we've had in the past:
We discussed some of the following findings of the survey:
Only 7 percent of hiring managers report that "nearly all" or "most" job seekers have the complete set of skills and traits that their companies need to fill open positions
Hiring managers appear to do little to no training of new hires
High integrity of candidates is favored  more than ever as a needed attribute of the entry level candidate
Although a global perspective is a must local candidates are considerably favored – Hiring managers are unlikely to look for candidates who are not local at the time of hiring
Adequate business writing skills are needed without much training or monitoring
Hiring managers want candidates who are quick and perpetual learners, again minimizing or eliminating training time
Job strategies for job seekers:
Millenials must show the ability to communicate clearly orally and in writing. Because of truncated social media messaging, many are not demonstrating the acumen for business writing
Be ready to absorb new material quickly. Hiring managers are looking to spend minimal time in training
Look much closer to home for opportunities. Employers will continue their search for candidates until a viable one becomes available
Must have high integrity. Employers need candidates and new hires they can trust
Perpetual learner. Certifications, continuing education, and expanded learning is essential
I am the "The Voice of Job Seekers!" I offer compassionate career and job search advice as I hack and re-imagine the job search process. You need to be "the prescription to an employer's job description." You must be solution-oriented and work in positions in companies where you are the remedy. Your job search must be a lifestyle, and your career must be in front of you constantly. You can no longer shed your aspirations at the change seasons. There are strengths you have that need constant use and development. Be sure you sign up to download my E-Book, "421 Modern Job Search Tips 2021!" You can find my career advice and work in media outlets such as Forbes, Inc., Fast Company, Harvard Business Review, Glassdoor, and many other outlets.