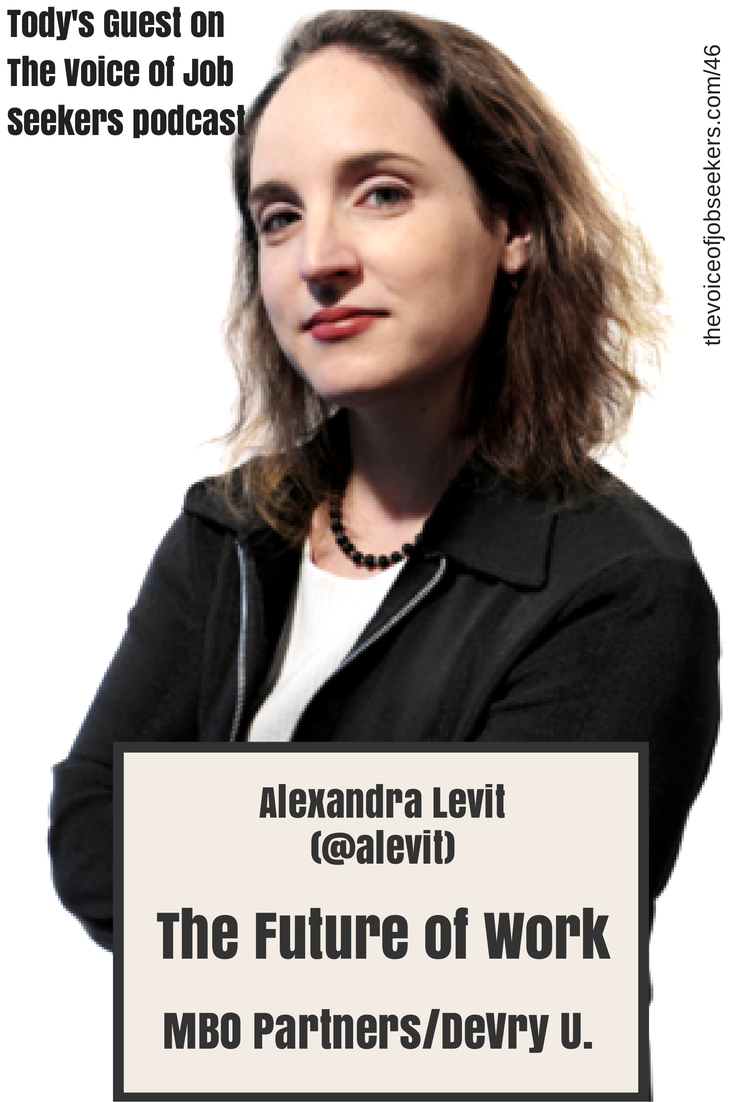 Podcast: Play in new window | Download | Embed
Subscribe: Apple Podcasts | RSS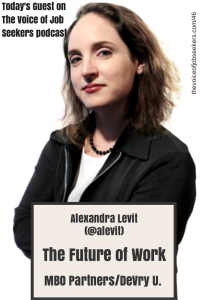 DeVry University's Career Advisory Board along with MBO partners produced a survey this month entitled, "The Successful Independent Contractor: A Workforce Trend for the Future."  This survey revealed the attributes of successful the independent contractor worker. By 2020, it is projected that one of two professionals will be either full or part-time contract workers (also known as 1099 employees).
The intent of the survey was published to capture traits of successful professionals who thrive as 1099 workers. What does it take to work as an independent contractor employee? Alexandra Levit and I discuss how to on the show.
Alexandra Levit (@alevit) is one of my favorite career and workplace experts. She is an author, speaker, consultant, and a frequently quoted in all major publications and career websites. Money magazine recognized her as, "Career Expert of the Year," Northwestern University "Emerging Leader of the Year," and she is a Career and Workplace Consultant to the Obama Administration.
Here are some of the highlights from our discussion:
Reasons Baby Boomers are great candidates as an independent contractor and in most cases a win-win for the candidate and employer
Traits such as communication, strong reputation, flexibility, and organizational skills emphasized as the other studies have, and are critical attributes to stand out
Baby Boomers are looking past the age of 65 and looking at opportunities will take them past retirement
The study suggests that the job success rate will rise because a fit will be a negotiation of what works for both parties. We delve into the importance of learning the art of negotiation
Suggestions on how Baby Boomer job seekers can start to take control of their search, in a way, that makes him or her an attractive contracting candidate
The importance of a strong off-line network, and taking on-line relationships off-line for assurance
I am the "The Voice of Job Seekers!" I offer compassionate career and job search advice as I hack and re-imagine the job search process. You need to be "the prescription to an employer's job description." You must be solution-oriented and work in positions in companies where you are the remedy. Your job search must be a lifestyle, and your career must be in front of you constantly. You can no longer shed your aspirations at the change seasons. There are strengths you have that need constant use and development. Be sure you sign up to download my E-Book, "421 Modern Job Search Tips 2021!" You can find my career advice and work in media outlets such as Forbes, Inc., Fast Company, Harvard Business Review, Glassdoor, and many other outlets.