Podcast: Play in new window | Download | Embed
Subscribe: Apple Podcasts | RSS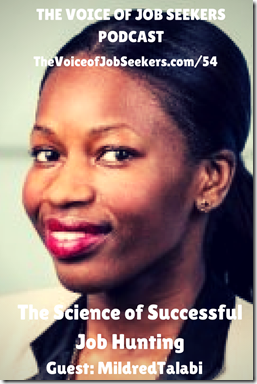 Today's job hunting requires being proactive in every way. This means using social media and other tools including video, blogging, and Twitter.  It is one of the ways to stand out, and today's episode we'll discuss how important it is to be proactive and get noticed.
Thanks for joining us for a very special edition of this podcast! It's special because for the first time, there will be a video version of the podcast on YouTube which is now live. There is a slight difference in the editing of the video, but the same conversation. I am always open to suggestions for switching it up. If you have suggestions of any kind, you can contact me in three with ways:
Email: [email protected]
Phone: 708-365-9822
Blog: TheVoiceofJobSeekers.com
Twitter: @MarkADyson
My guest for this episode is Mildred Talabi (@MildredTalabi).  Her latest book is The Science of Successful Job Hunting. She started out as a journalist and eventually, became a career advisor on the side. Her career advice has appeared on a Google forum (you can find this on YouTube), JobMob, and Guardian.
When I first talked to Mildred last May, she was writing a book regarding youth unemployment and the affect joblessness was having on them. Then she shifted and was inspired to write a book for the general job seeker population.
Writing about youth is not a stretch at all. In fact, Mildred works a full-time job in training 16-24 year-old youths career development.
Two things you should know about the episode recording:
1) This was recorded on Labor Day when people were in a festive mood. You will hear a little music in the background.
2) Around 4: 00, Mildred's audio dramatically improved through the use of headphones. The audio editing reflects.
Here are some highlights from our discussion:
2:35
Mildred explains that she is an accidental  career advisor. Her background is in journalism and as an assistant editor she had to recruit people, and saw people were forward horrible CV's.  Mildred started her first book (7 Keys to a Winning CV) while professionally working as an editor for The Guardian.
6:48
Mildred expands on the notion that passion is a good start but you can't live off of it. Skill can be developed and that passion and skill is good.
9:30
We agree that you can pilot your passion, meaning that you can charge minimally with friends and family, and grow from then. Once you can test and get results, then you can charge more. Mildred give some examples from her career to reach that "sweet spot."
13:11
Mildred and I discuss how job seekers should blog, stand out, and be innovative. It allows employers to Google and find you to leave a positive impression of you.
15:38
Mildred also shares how much she's learned by blogging and reading. "There is so much available out there as far as knowledge…"
17:56
Mildred agrees that it is an employers' market in the hiring process to eliminate candidates from the basic level.
Our conversation lasted more than 45 minutes. I decided to publish it in it's entirety because of the loads of gems she offers. You can download a free sample chapter today of Mildred's latest book.
By the way…
Hey, don't forget to sign up on the blog for the e-zine, and by doing so you receive my new e-book, 5 Easy Ways YOU Can Create an Amazing Online Presence. I would love to hear and/or read your feedback about the show.
I am the "The Voice of Job Seekers!" I offer compassionate career and job search advice as I hack and re-imagine the job search process. You need to be "the prescription to an employer's job description." You must be solution-oriented and work in positions in companies where you are the remedy. Your job search must be a lifestyle, and your career must be in front of you constantly. You can no longer shed your aspirations at the change seasons. There are strengths you have that need constant use and development. Be sure you sign up to download my E-Book, "421 Modern Job Search Tips 2021!" You can find my career advice and work in media outlets such as Forbes, Inc., Fast Company, Harvard Business Review, Glassdoor, and many other outlets.