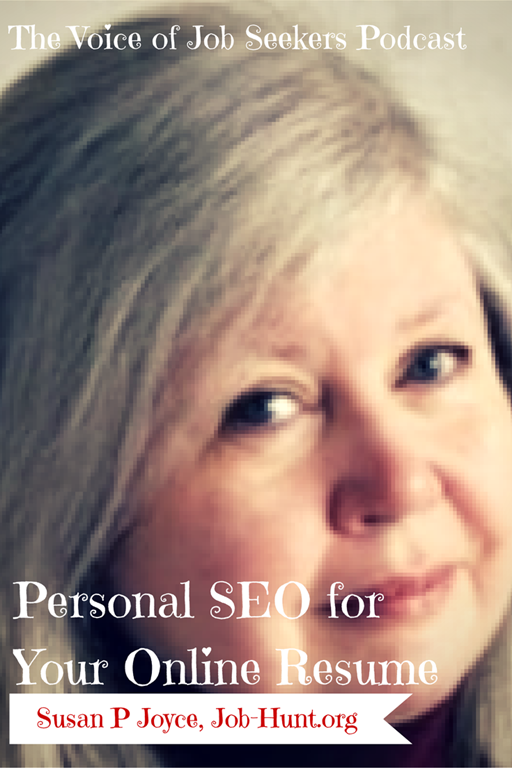 Podcast: Play in new window | Download | Embed
Subscribe: Apple Podcasts | Android | RSS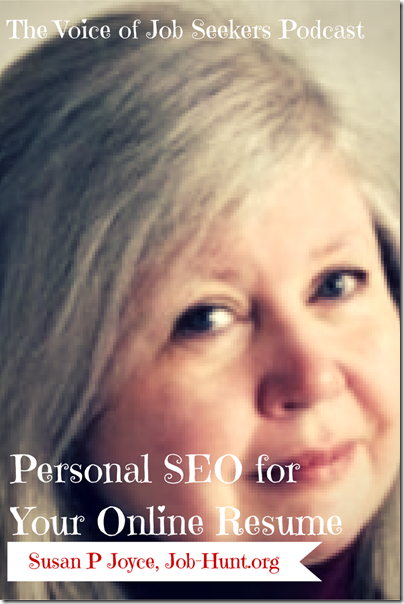 Personal SEO is a way of stating the importance of being found online. This episode will convince you that a Facebook page is not enough for a job search. Having an online resume  portfolio is how employers will find and confirm your value. That is our goal in today's episode.
Susan P. Joyce (@jobhuntorg) is the perfect person to have this discussion. She is the owner of Job-Hunt.org and WorkCafe.com, Forbes Top 100 websites for your career. She is a former Marine and an MIT visiting scholar. She also a Huffington Post contributor. All of that sounds intimidating right? Well, she is just as down to earth as anyone I've met. We talked over the phone for almost an hour and traded numerous emails on a variety of job search subjects. This conversation is more than 45 minutes, and we covered so much. I don't know if the highlights will do it justice.
Here are the highlights of our discussion:
People are still outraged that employers Google them not realizing that your online identity in general is fair game. Job seekers need to think in terms of leading employers and connections to where your best presence resides. Having a consistent profile across all platforms is smart and strategically sound in presenting your online resume
Google Plus is still an under-used yet powerful resource with fewer rules than LinkedIn.  It is a great place to manage your online reputation. Commenting on blogs and writing articles are great ways to associate increase visibility. We recommend using Google authorship to make it easier for employers to find you.  You must have a Gmail account and a Google Plus account to set this up
Amazon reviews scores high in Google rankings. A job seeker can write a review for industry related books, and be found. This increases value in presenting your online resume
We mentioned how people can also refer to the conversations in past shows with Hannah Morgan and Erin Kennedy as we discuss online reputation and the importance of keywords
Susan recommended that a person should Google themselves at least once a week to manager his or her reputation. Most people are unfamiliar with Google Verbatim, a tool used for targeted searches and useful to search your reputation
Privacy protection should be a long-term concern. Susan stated that there are too many people unaware of consequences of so much personal disclosure
We end the show by talking how employers are not posting salaries along with the description, and why she was so passionate about it. This is the original tweet that sparked my inquiry
Feel free to contact me in one of these ways:
Phone: 708.365.9822
Email: mark@thevoiceofjobseekers.com
blog: TheVoiceofJobSeekers.com (see the "Send Voicemail" button)
I am the "The Voice of Job Seekers," career consultant, job seeker advocate, career writer, and founder of this award-winning blog. I help the employed, unemployed, underemployed, and under-appreciated find jobs using job search strategies to navigate the new job market. I aim to give a safe place online to those with different needs, cultures, and ethnicities to find their voice in the job market. Thousands have read my career advice throughout the web as I write about everything from job search strategies to the mobile job search. I have published more than 400 articles on this blog and some of the largest career sites such as Recruiter.com, YouTern, and Come Recommended. I've been quoted in major online publications such as Monster, TIME/Money, Fortune, Business Insider and MSN. FlexJobs, JobMonkey, Aerotek, Career Pivot, and CareerSherpa listed my podcast as one of the top podcasts to help your job search. Love for you to sign up for the weekly newsletter. I share the latest articles I've written, new podcast episodes, and answer any questions you may have. The new job search is scary and if you need help, I am here for it!