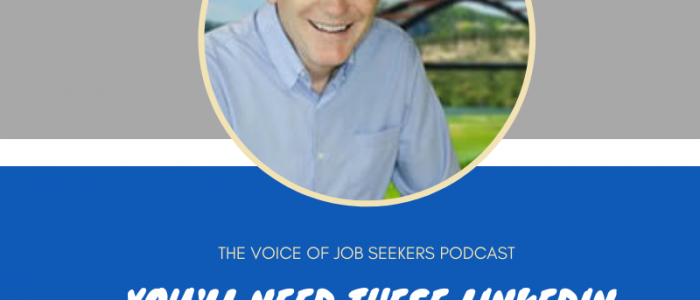 Podcast: Play in new window | Download | Embed
Subscribe: Apple Podcasts | Android | RSS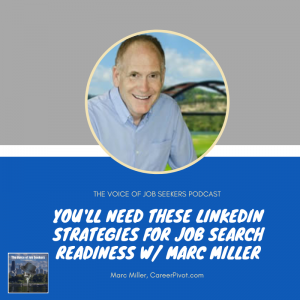 Marc Miller of the "Repurpose Your Career" podcast, and I address some of the Linkedin questions that come through our inboxes and email. The original version of this show was published on Marc's Career Pivot site (and you can also get the episode through iTunes). The very detailed show notes can be viewed there as well.
Chime in on our conversation in these three ways:
A few notes: 
Marc is a friend of mine, and you know a lot about him already. One thing you may not know is he is recording this episode in Mexico where he and his wife are exploring a move there. You should listen to his other episodes where he goes into detail about their transition.
Go to the link above to read his detail show notes, and you can listen to our show on the player displayed.
Use my contact information above to inquire about individual or group coaching. Or leave a message anytime on the "send voicemail" button on the side of any page of my blog.
You can also sign up for my weekly newsletter at the top right of my page to be on the early list of my free e-Guide, "219 Modern Job Search Tips for 2019!" If you have already subscribed to the newsletter, it's in your email box as of this morning!
I am the "The Voice of Job Seekers," career consultant, job seeker advocate, career writer, and founder of this award-winning blog. I help the employed, unemployed, underemployed, and under-appreciated find jobs using job search strategies to navigate the new job market. I aim to give a safe place online to those with different needs, cultures, and ethnicities to find their voice in the job market. Thousands have read my career advice throughout the web as I write about everything from job search strategies to the mobile job search. I have published more than 400 articles on this blog and some of the largest career sites such as Recruiter.com, YouTern, and Come Recommended. I've been quoted in major online publications such as Monster, TIME/Money, Fortune, Business Insider and MSN. FlexJobs, JobMonkey, Aerotek, Career Pivot, and CareerSherpa listed my podcast as one of the top podcasts to help your job search. Love for you to sign up for the weekly newsletter. I share the latest articles I've written, new podcast episodes, and answer any questions you may have. The new job search is scary and if you need help, I am here for it!