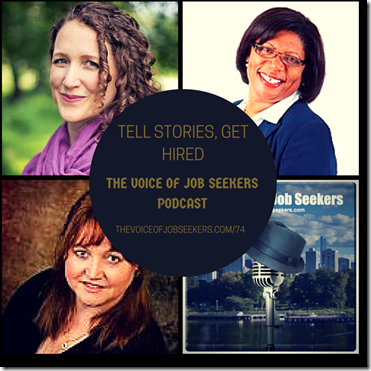 Podcast: Play in new window | Download | Embed
Subscribe: Apple Podcasts | RSS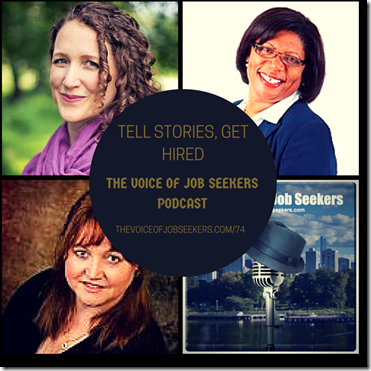 Tell Stories, Get Hired is a book written by Daisy Wright and  other contributing writers such as Kimberly Robb Baker and Audrey Prenzel, who are my guests on this episode. Storytelling is not only art, but also essential and strategic! You'll learn today how to position your story based on the employer's needs and how to show the relevance. You will hear examples of how job seekers would hear a need of an employer and used storytelling to show that they were the solution.
Do you use storytelling in your resume or social profiles? Was it strategic? Please share. I can entertain your feedback in three ways:
Call and leave a voicemail at 708-365-9822
Go to TheVoiceofJobSeekers.com, press the "Send Voicemail" button on the right side of your screen and leave a message
Send email feedback to mark@thevoiceofjobseekers.com
If you are a career professional who advise job seekers and adds feedback whether it's advice or a differing opinion, I will include a link in future show notes and read your comments on an upcoming show. Just let me know if it's OK with you.
Let me share about today's guests:
Daisy Wright of DaisyWright.com (@CareerTips2Go) is a career coach and resume writer whose who works have been published internationally. She shares her latest book with 15 other career coaches, resume writers, and personal branding experts for the readers to learn effective story telling that attract employers. This book is a must have for your career library. This is Daisy's second appearance on the show. Daisy not only included a "thank you" to me in the book, but also a quoted review from me prominently placed on the back of her book (how cool is that)!
Kimberly Robb Baker of MovingOnUpResumes.com (@ThisLittleBrand), is an award-winning resume writer who is a master story teller. Her work has been published in many resume publications including JIST and Barron's. publications including JIST and Barron's.
Audrey Prenzel of resumeresources.ca (@AudreyPrenzel) is a career transition strategist and an award-winning resume writer who specializes in writing and coaching for Canadian Military personnel. She has been published in multiple magazine, newspapers, and career publications.
Daisy and Kim endure my Wi-Fi issues but they drop the following gems on story telling:
1. Daisy's inspiration for the book comes from the ongoing conversation in the career space about the engagement and   get attention from employers
2. A story doesn't have to be too personal but must bear relevance and resonate with an employer. A job candidate can take their cues from the interviewer when it's relevant to the conversation
3, Kim states that some of the keys to good storytelling that compels someone to act are marrying what your audience needs to what you need
4. Keywords in resumes and Linkedin profiles are the puzzle pieces, and the story is the big picture. Kim says they are not mutually exclusive and should fit right on in
5. Start with the story and then make sure keywords fit in. At some point, there should be a "brain dump"
6. Job seekers should weave their stories throughout their resume, especially in the top third that is considered the "prime real estate" and create a statement that draws the attention of the reader. Employers tend to read the rest of the top third is compelling
7. Kim stated that it was a good idea to have advisers, especially when it comes to making sure that your stories are cohesive, makes sense, and draw others in. No one is objective about themselves
8. Daisy shared about a job seeker who created his resume to look like an Amazon.com  product page and received many job offers. Stories like this encourage job seekers that you get attention by telling their story in a way that is different
Audrey the victim of my Wi-Fi and Google Hangouts:
1. Military stories are different because of the language and culture difference. Diplomatic and administrative skills can get lost because the skills do not translate easily
2. Military veterans transitioning to civilian work need to be selective in their story telling. They are likely to over share his or her experiences
3. Audrey says that she often has to filter out 75% of what they have to say to keep what is important to employers
I hope you enjoy the show. If you have suggestions for future shows and even future guests, email me and make your case. I am sure you have a few that you would like to pass along.
I am the "The Voice of Job Seekers!" I offer compassionate career and job search advice as I hack and re-imagine the job search process. You need to be "the prescription to an employer's job description." You must be solution-oriented and work in positions in companies where you are the remedy. Your job search must be a lifestyle, and your career must be in front of you constantly. You can no longer shed your aspirations at the change seasons. There are strengths you have that need constant use and development. Be sure you sign up to download my E-Book, "421 Modern Job Search Tips 2021!" You can find my career advice and work in media outlets such as Forbes, Inc., Fast Company, Harvard Business Review, Glassdoor, and many other outlets.