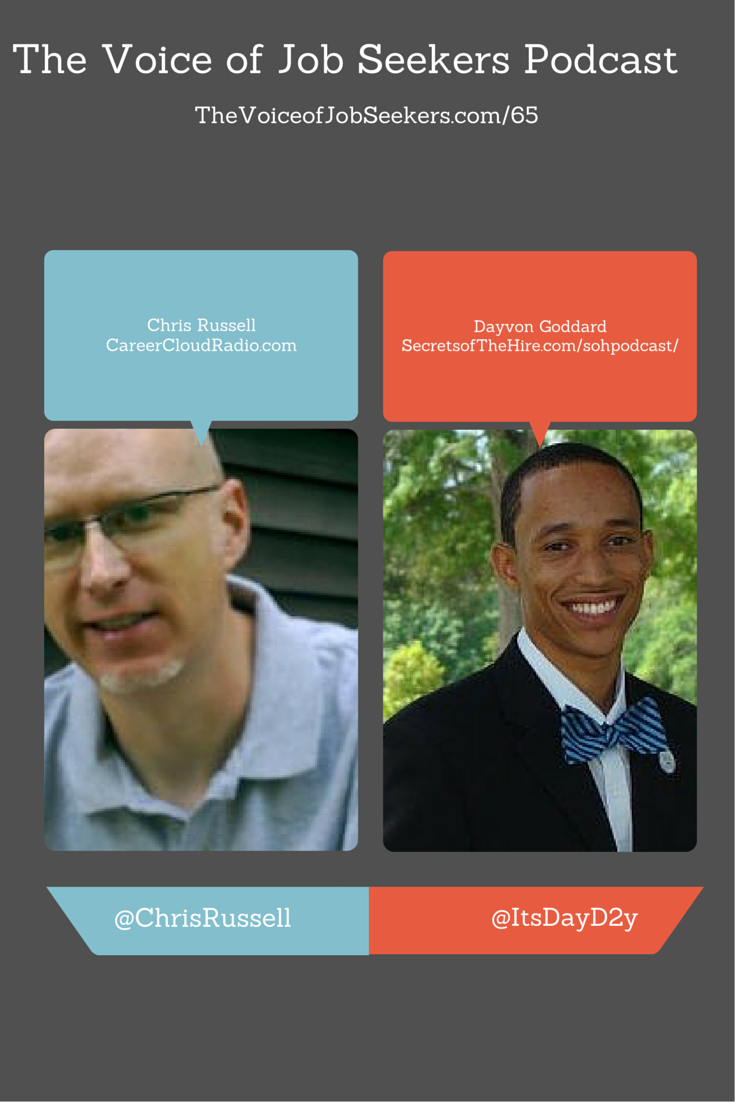 Podcast: Play in new window | Download | Embed
Subscribe: Apple Podcasts | RSS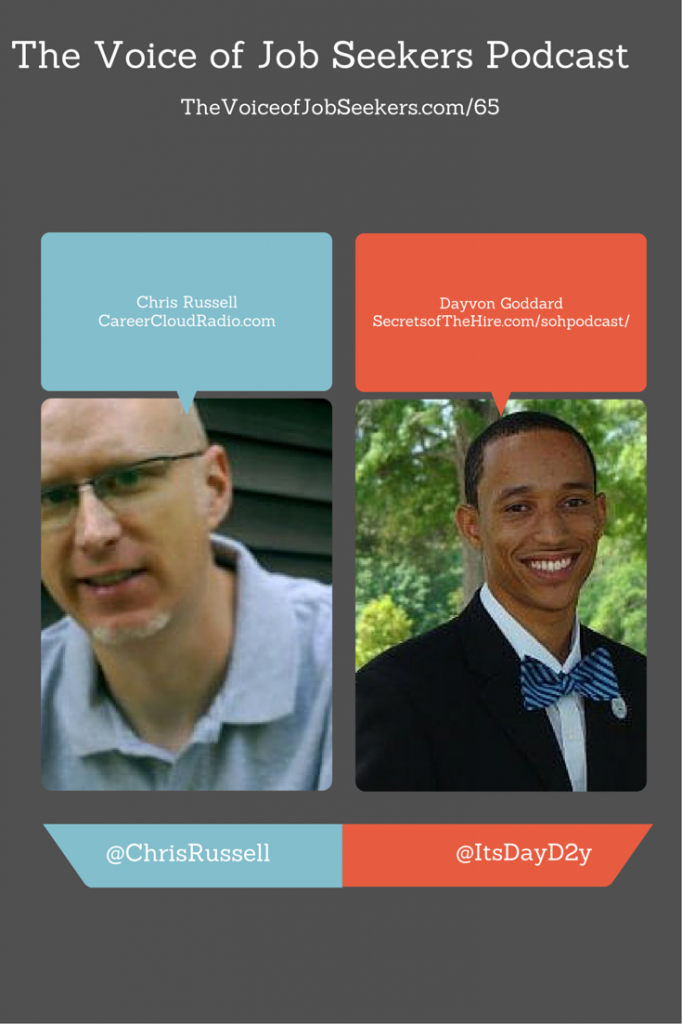 This week, I wanted to share my MUST LISTEN TO career podcasts and hosts. Both are career
practitioners but
from different perspectives, and bring quality job search advice to their audiences. I hope that you will go and subscribe to their podcasts in iTunes, and engage their content as you see fit. Podcasts are the new talk show, and additionally in this show, we present two career podcasts that are educational in their approach for job seekers.
If you are a college student, a recent graduate or a neophyte professional, then you must subscribe and listen to Dayvon Goddard (
@ItsDayD2y
), the host and Career Strategist of
Secrets of the Hire
podcast and blog. Those who are more seasoned would not only benefit Dayvon's show, but also find more relevant content through Chris Russell's (
@ChrisRussell
) 
Career Cloud Radio podcas
t. Both podcasts offer substantial value to your proverbial job search advice toolbox.
I like to hear your thoughts and feedback about today's show in one of three ways:
Voicemail: 708.365.9822
Soon-to-be-graduates, are you taking the whole holiday break off from your job search. Why? There is much work to get done! Dayvon will share five strategies he performed during his school breaks and while classes were in session. Now, Dayvon works for the government, but previously had an accounting position in New York City.  He  graduated more than two years ago, so he shares what has worked for him so that you can apply it
too
!
Here are highlights from our discussion:
Start 3:37… 
Dayvon shares 5 job search strategies soon-to-be graduates:
Internships. Since your college is a business, ask if you can intern for free. Yes, your university will help you with 5-10 hours weekly for experience.
Leverage Networking with Campus Leadership. Use the down time between classes to talk with the deans and executive leadership on campus. The relationship may result in a reference or a commendation letter. Dayvon also stated that it was important to be consistent.
Network with Social organizations. Not only join social organizations on

campus but

also take leadership positions that increase your exposure and responsibilities. These can often translate into work experience in an interview. When an interviewer asks, "Tell me about the time you led a team," you can refer to that experience.
Utilize Career Services. It is an under-utilize resource in everything job search. Their resources are often limitless and also

access

to people, especially Alumni.
Utilize

LinkedIn Now

!!! 1) 300 million users 2) Employers are looking for you (70% of employers to recruit) 3) Recent graduates are NOT there (16% of college graduates) 4) Connect as many as you can (Dayvon received four job offers without applying to anything!)
Chris Russell is the founder of Career Cloud Radio career podcast at
CareerCloud.com
, in addition to his  day job as a recruiter. Career Cloud is a site where you can utilize several tools for your job search built around social media. He considers himself as the "Mad Scientist of Online Recruiting."
On his site you'll find job postings, membership, and also houses the InstaJob and Talent
Xray
apps for your smartphone. His podcast is a top 25 business podcast in ALL OF iTunes as it's downloaded more than 2,000 times daily. I found it originally back in 2008 or 2009 as the "Secrets of the Job Hunt (you can still find it under that name using the
TuneIn
Radio app)."
Here are some highlights from our discussion:
Start 27:13…
On his site, you can build a "social resume" which is a single page snapshot of all of your social media activity no matter what social media site it is. His tool, "jobs with friends," connects all of your social media contacts to one database with job leads that potentially leads to referrals through those contacts
Not enough recruiters and employers are not taking advantage of Twitter and LinkedIn by interacting, and giving job search advice such as how to get a job at the company. Although statistics may say that more than 95% of recruiters are using LinkedIn doesn't speak to the volume of activity and usage to find candidates
Chris explains how recruiters and employers are attractive to a candidate. He suggests using sharing links, writing a blog and showing your enthusiasm or expertise through discussions. As a recruiter, if he has two candidates and one is active on social media, and the other one isn't, he will likely look at the socially active one first
We discuss the difference between 2009 and now that LinkedIn is currently a true personal website now that blogging is accessible to many of its users. Back in 2009 it was more of a place to house your resume
I asked Chris his opinion on how much someone should share on LinkedIn. Some share as much as they do Twitter, others share sparingly. Listen to his answer as there is much discussion in the career space on what is too much
We discuss the value of the local groups and becoming active on the relevant ones and your industry in general. Jobs are being posted in those groups and sometimes uncover

unposted

jobs
If you haven't heard yet, we have a group on LinkedIn where you can join in on active discussion and lend your job search experience. I will post the latest shows there in addition to unpublished job search advice on the blog or our career podcasts. Let me know if you need to know more, use the contact information at the beginning of this post.
Again, check out and subscribe to these career podcasts as they fit your job search needs. Of course, subscribe to this one as your primary way to create the voice that employers will hear and hire.
I am the "The Voice of Job Seekers!" I offer compassionate career and job search advice as I hack and re-imagine the job search process. You need to be "the prescription to an employer's job description." You must be solution-oriented and work in positions in companies where you are the remedy. Your job search must be a lifestyle, and your career must be in front of you constantly. You can no longer shed your aspirations at the change seasons. There are strengths you have that need constant use and development. Be sure you sign up to download my E-Book, "421 Modern Job Search Tips 2021!" You can find my career advice and work in media outlets such as Forbes, Inc., Fast Company, Harvard Business Review, Glassdoor, and many other outlets.