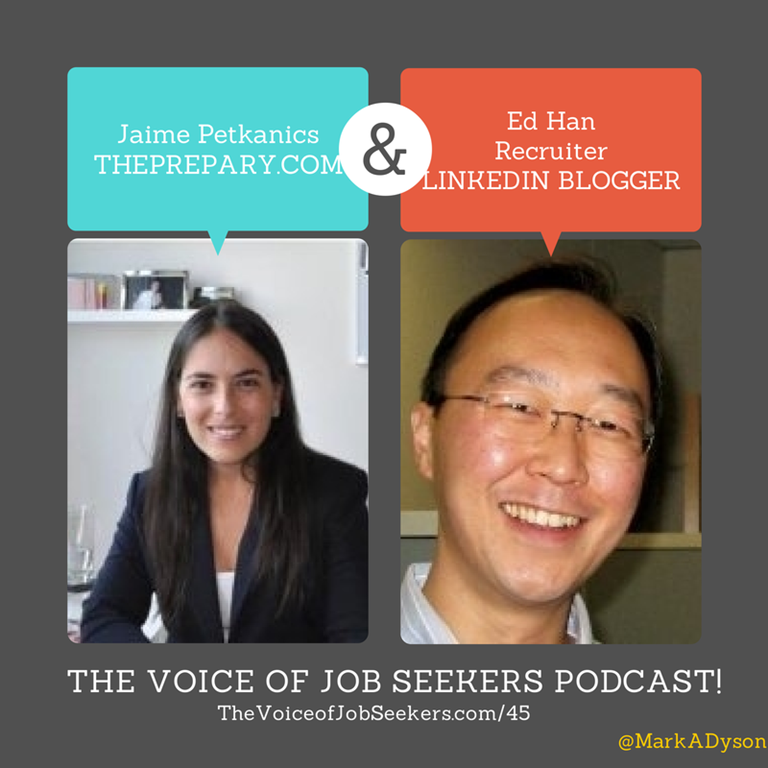 Podcast: Play in new window | Download | Embed
Subscribe: Apple Podcasts | RSS
Your job search can use any bit of leverage as possible. Job seekers using Pinterest could glean a little about companies, but they can benefit greatly through the connections made in LinkedIn groups. Although the creative professional in the job search mode will find value in displaying their boards, and following company boards, everyone is sure to be noticed through LinkedIn groups. Today's episode will clarify how you can maximize both tools potential.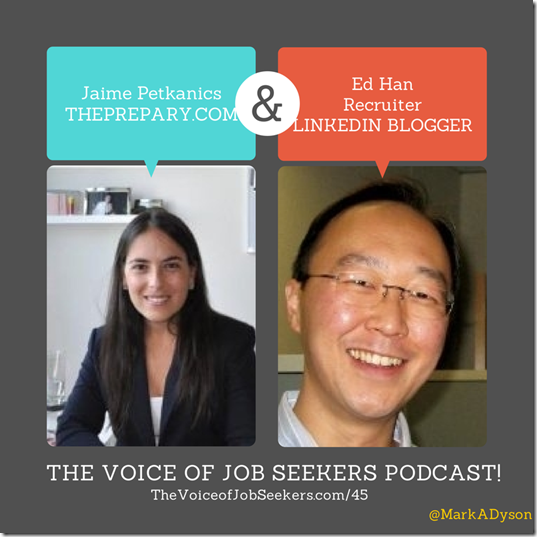 Welcome to the show. Hopefully, you will enjoy and learn how to improve your job search from our show today. You can participate in an easy way. You can go to blog, TheVoiceofJobSeekers.com/45, press the "send voicemail" and leave a voicemail. You can call and suggest a topic or comment on the content at 708-365-9822. We also welcome a review on either iTunes or Stitcher.
I've known Ed Han (@ed_han) for three years, primarily through Twitter, and he consistently gives great LinkedIn tips. He is a recruiter, a blogger, and a wordsmith. We are in a few LinkedIn groups together so I know he understands the tremendous value that participate provides.
Here are the highlights of our discussion:
Industry groups are great for networking and professional development and hear peers and colleagues to weigh in on the latest topics
You can always send a message to people in the groups who are not directly in your network, and you can even send a message. People can also tag you in a discussion for you to join a specific topic. It is a great opportunity for the person being tagged to demonstrate your expertise
Users can join 50 groups, but despite that people can participate in all 50, Ed suggested to be active in two or three groups
Groups are opportunities to get useful information about companies. Sometimes jobs are  posted in the group before

listed

in the LinkedIn Jobs section.
I was perusing Alltop.com's career directory last year when I came across my next guest's site, The Prepary. Jaime Petkanics (@JaimePetkanics) blog and her advice have been featured in Huffington Post, Forbes, and Business Insider. I invited Jaime on the show to share how job seekers can stand out on Pinterest. If you want to take a lot at The Prepary's Pinterest board, go here, and you'll see a very attractive page. The content is outstanding.
Here are some highlights from our discussion:
Job seekers using

Pinterest

should not expect a conversation with an employer nor job leads directly.
Jaime makes clear that it is great to research a company and gather insights about the company, inspiration, and company products.
Job seekers can also display his or her expertise on Pinterest, although recruiters are unlikely to scour it for a great candidate. Pinning industry articles, pictures, and quotes positively help job seekers.
Companies may find a focused industry related pins, and also a user can keep secret boards to use as a reference for their job search.
I am the "The Voice of Job Seekers!" I offer compassionate career and job search advice as I hack and re-imagine the job search process. You need to be "the prescription to an employer's job description." You must be solution-oriented and work in positions in companies where you are the remedy. Your job search must be a lifestyle, and your career must be in front of you constantly. You can no longer shed your aspirations at the change seasons. There are strengths you have that need constant use and development. Be sure you sign up to download my E-Book, "421 Modern Job Search Tips 2021!" You can find my career advice and work in media outlets such as Forbes, Inc., Fast Company, Harvard Business Review, Glassdoor, and many other outlets.