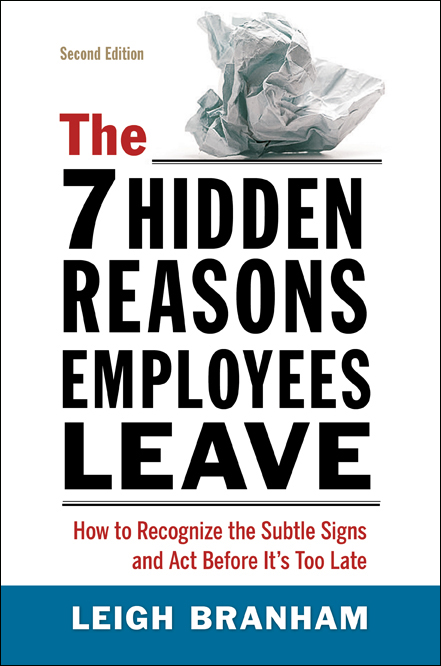 Editor's note: This book review is a part of The Voice of Jobseekers content partnership with AMACOM Books, who sent it to me complementary. This is a non-paid review of the book.
The author Leigh Branham, CEO and Founder of Keeping The People, Inc., has written two other workplace books including the 1st edition of this book. The 7 Hidden Reason Employees Leave by Leigh Branham is not only for the employee, but is also for unemployed and under-appreciated job seekers.
Whenever I receive books from AMACOM Books, I consider the benefits of the job seeker value first. When I sent the inquiry, I went to YouTube and searched another site to see if there is practical for the unemployed. I agreed to review the book but it wasn't a resounding yes, until I started reading.
BAM!
What a useful resource this is! It gives job seekers more reasons to research companies and continue the needed due diligence to find the ideal workplace.
Another factor is that there are job seekers who are ready to leave their current positions. As mentioned last week, job seekers are looking for new opportunities, despite the overall job outlook. For many of them, this is not a suggested career move. The study states that only 17% are prepared to tackle a job search.
Included with my thoughts on the book, I am offering reasons that job seekers should read and engage the principles that are included. Branham's book should be read as a standard and reasonable advice for management professionals and non-management personnel looking to plan his or her career:
1) Job seekers must evaluate what he or she values, then pursue that career
Branham confirms that out of the many reasons that employees leave a position is not financially driven. Branham discusses that employees disengage from the position sometimes years before leaving the company. If you value training, promotions, or a flexible schedule more than your ideal salary, you must make that a part of your search criteria.
2) Job seekers must seek clear expectations from future employers as much as possible
Branham states that the #1 reason for employees disengaging and leaving is that the "job or workplace was not as expected. Exit comments from surveys said that, "Improper representation of the job description and hours of work" and "Things are not explained well by HR when you are hired" are noted by Branham as, "At the root of all these comments is an expectation that was not met." Job seekers must ensure that expectations are written if they wish for guarantees.
3) It's all about the relationships, networking, and feedback
Branham observes as indicated in the surveys mentioned in the book that the more coaching and feedback is given, the more engaged the employee will remain. Job seekers must accept and pursue relationships that sustain momentum in his or her job search. It is likely that a job search success means more when you talk to people than CareerBuilder results. As the workplace should be an environment of continual coaching and feedback, a job search that has that much engagement will be successful.
4) Whose responsibility it is to enhance your career path? Yours.
The book contains a number of studies and results that points away from the company and re-directed to the employee. Branham states that many of companies do not cultivate a clearly defined career path. Job seekers must own and steer his or her career path, no matter the decision the future employer makes.
The amount of detail included in "The 7 Hidden…" will provide much food for thought as it becomes clearer what each reader desires out of his or her career path. After reading this book each job seeker should learn and be advised:
How to ask and research questions about company culture and environment that helps define immediate and future expectations through networking contacts and informational interviews
Not only look for inconsistencies in what employers say about his or her company, but what is not said. What employers say they are willing to do and what they commit to are two different things
Grow clarity about tolerances and intolerances (what you don't like but will put up with).
I can't express the importance of reading "The 7 Hidden …" to gain additional insight to your job search arsenal. Since I am raving about this book, my content partners at AMACOM Books agreed for me to give-a-way a copy of the book. Here are ways you can qualify for a FREE COPY of The Hidden:

Share this review through your Twitter account and include me so I can see it (@MarkADyson)
Share the review through your blog and link to this article
Share the NEW "The Voice of Job Seeker" Facebook page on your business or personal page.

 
I am the "The Voice of Job Seekers!" I offer compassionate career and job search advice as I hack and re-imagine the job search process. You need to be "the prescription to an employer's job description." You must be solution-oriented and work in positions in companies where you are the remedy. Your job search must be a lifestyle, and your career must be in front of you constantly. You can no longer shed your aspirations at the change seasons. There are strengths you have that need constant use and development. Be sure you sign up to download my E-Book, "421 Modern Job Search Tips 2021!" You can find my career advice and work in media outlets such as Forbes, Inc., Fast Company, Harvard Business Review, Glassdoor, and many other outlets.