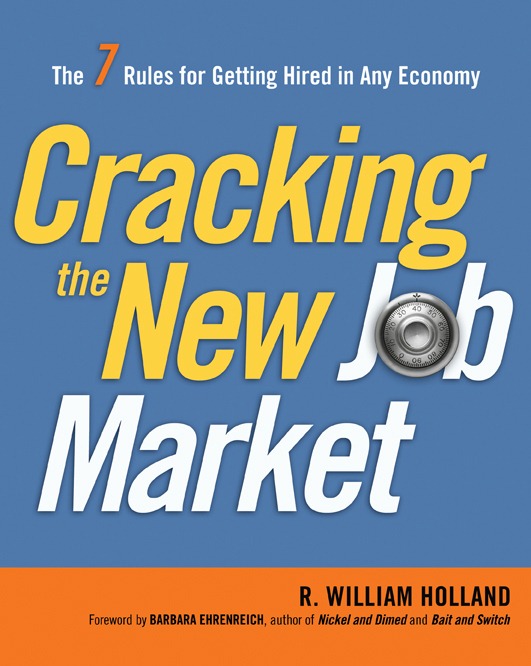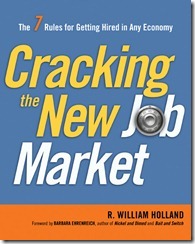 Bill Holland, the author of The 7 Rules for Getting Hired in Any Economy: Cracking the New Job Market, preferred to teach the choir, than "preach to the choir." Job search education is forefront of Mr. Holland's book applies to all of the job search communities and segments, especially to the white-collar worker. He promotes the notion that in the age of the supposed "hidden job market," people are likely to focus on finding the secret jobs than to create and unearth their professional value. I will also give away a copy of this book FREE, as my review copy was FREE. I assure you, that I was not compensated for this review.
This practical book is essential to job seekers who have challenges in creating value, and demonstrating professional acumen through their resumes, interviews, and business networks. It is not full of resume and cover letter templates. Mr. Holland reasons that a strong resume and cover letter is not about you, but more about what the employer wants.
Mr. Holland presents a compelling case for 7 useful and dogmatic strategies:
Rule #1: Always Demonstrate Value. At the heart of what resumes should be about,  Mr. Holland explains that the successful resume includes what "The value the hiring organization is looking to have created." It's a powerful statement since many job seekers look for the quick fix, and do not cultivate worth from their personal well of professional accomplishments.
Rule #2: Your Resume: It's About the Value You Create. In this chapter, Mr. Holland not only shows how to "infuse your experience with value", and explains how that selecting key statements  accrue the attention of a potential employer. On his website, he states that he can provide courses contingent on the feedback he receives.
Rule #3: Use Social Media and Other Sites for Job Leads. In tackling the hot issue of "hidden job market", he states that the "job market is not so much hidden as it is splintered." He suggests that no longer job boards and Sunday classified ads monopolize job announcements. Social networking sites are one of the best places to discover opportunities, and build relationships that can lead to key information about employers and available positions. One of the few snags in this book is the broad overview of Social Media tools and services. Holland discusses Linked In, Twitter, and Facebook, but in general.
Rule #4: Interviews: They're About the Value You Demonstrate. Throughout the book, the emphasis of "value creation" remains consistent and urgent. Infusing value throughout an interview remains a challenge of many job seekers, not only on resumes and interviews, but also pre and post-interviews.  He discusses interview attire, references, thank-you letters, and follow-up which ha an impact on employers.
Rule#5: You Get What You Negotiate, Not What You Deserve. Holland inserts that successful negotiation takes preparation that starts when you realize that you have to find another job. He has provided 7 rules for skillful negotiation that will help a job seeker  land the desired salary and benefit package.
Rule #6: Career Choice is More Than Following Your Passion. Holland states that passion can be an overrated determiner, "Those who look at career success solely through the prism of their passion can be in for a long and frustrating experience." My takeaway from this considers the work I want to do, and the lifestyle I wish to create for myself is a part of the negotiation components. Holland  provides a chart that helps to sort out what is beneficial to you during the negotiation period.
Rule #7: The Best Way to Reenter the Job Market Is to Never Leave It. Holland reminds us that going back to school, volunteer work, and temporary work are options to remain in the job market. This is also part of the value creation strategy that is re-emphasized through the book by not allowing "…your career-related activities to lapse… ."
After reading the book, I felt as Holland has achieved the need for job seekers remain competitive in the job search. One of his strongest premises  is the notion of the nonexistence of the "Hidden Job Market." Having worked with clients that heard the term, it scared them; however, Holland supports the premise through connecting value creation with sustaining an enduring personal brand that attracts employers.
As stated earlier, one of the few snags in the book was the lack of depth of Rule #3 on social media. I felt it was a genuine attempt, and the mentions were accurate. At the same time, Social Media is also about blogging, and learning to use it effectively. It is hard to talk about personal branding these days without embracing the full scope of tools or possibilities.
I recommend this book because of the key straight forward strategies offered could be used immediately. The importance of ready-to-use strategies is  crucial to everyone. He aptly puts the responsibility in the hands of the job seeker by emphasizing their own personal and professional value. Cheers to a book that is relevant, and significant, that helps job seekers everywhere to envision their worth.
NOW, about the give away
This is how you can get a copy of this book:
Retweet, or Tweet this review on Twitter, Facebook, or Linked In OR…
Comment below about an area you need help with discussed in the post
I hope to post the interview with Mr. Holland within the next two weeks. Please stay tuned by subscribing via RSS or email.
I am the "The Voice of Job Seekers!" I offer compassionate career and job search advice as I hack and re-imagine the job search process. You need to be "the prescription to an employer's job description." You must be solution-oriented and work in positions in companies where you are the remedy. Your job search must be a lifestyle, and your career must be in front of you constantly. You can no longer shed your aspirations at the change seasons. There are strengths you have that need constant use and development. Be sure you sign up to download my E-Book, "421 Modern Job Search Tips 2021!" You can find my career advice and work in media outlets such as Forbes, Inc., Fast Company, Harvard Business Review, Glassdoor, and many other outlets.