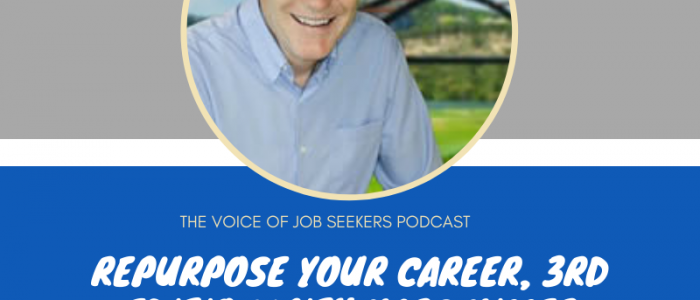 Podcast: Play in new window | Download | Embed
Subscribe: Apple Podcasts | Android | RSS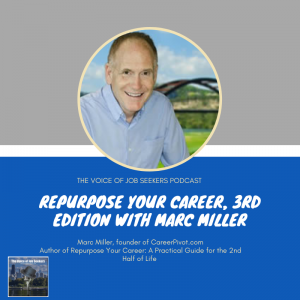 Welcome back to the seventh year and season of my show! So many of you have listened since 2013! Thanks so much. Marc Miller is back on the show again to talk about his new book, Repurpose Your Career: For the 2nd Half of Life, 3rd edition. He shares stories from his clients and helping them to align their interests and careers.
This is the third edition of his book. His media features include CBS Money Watch, U.S. News and World Report, and Forbes.  His blog, Career Pivot, is a Forbes Top 1oo Best Career Website and has achieved several other best career website awards.
Let me know what you in one of three ways:
Call and leave a voicemail at 708-365-9822, or text your comments to the same number
Go to TheVoiceofJobSeekers.com, press the "Send Voicemail" button on the right side of your screen and leave a message
Send email feedback to mark@thevoiceofjobseekers.com
Here are highlights of our discussion: 
The numbers differ during an employment surge: Although BLS reports, 3-4% for American overall, 13%-14% is more accurate among older workers
Baby boomers are planning to work into their 70s
Many want to take control  by working for themselves
Career change – make sure the industry has legs
How should older workers market themselves?
Want to learn industries, stay up-to-date, listen to related podcasts. It will be on your dime.
Network with younger people
Be sure you sign up for the bi-weekly newsletter to get alerts about the upcoming shows. You can also subscribe through iTunes or any podcatcher you'd like. If you love the show, write a LinkedIn recommendation on my profile.
I am the "The Voice of Job Seekers," career consultant, job seeker advocate, career writer, and founder of this award-winning blog. I help the employed, unemployed, underemployed, and under-appreciated find jobs using job search strategies to navigate the new job market. I aim to give a safe place online to those with different needs, cultures, and ethnicities to find their voice in the job market. Thousands have read my career advice throughout the web as I write about everything from job search strategies to the mobile job search. I have published more than 400 articles on this blog and some of the largest career sites such as Recruiter.com, YouTern, and Come Recommended. I've been quoted in major online publications such as Monster, TIME/Money, Fortune, Business Insider and MSN. FlexJobs, JobMonkey, Aerotek, Career Pivot, and CareerSherpa listed my podcast as one of the top podcasts to help your job search. Love for you to sign up for the weekly newsletter. I share the latest articles I've written, new podcast episodes, and answer any questions you may have. The new job search is scary and if you need help, I am here for it!