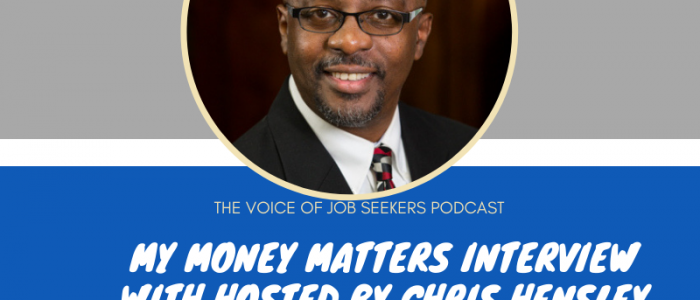 Podcast: Play in new window | Download | Embed
Subscribe: Apple Podcasts | RSS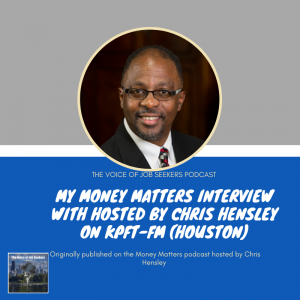 When it's time to job search, how proactive have you been? Aren't you vigilant for future opportunities? Probably not. This is part of the conversation Chris Hensley and I had on his show on KPFT-FM and Money Matters Podcast.
 Here's how you can join the conversation:
– Call and leave a voicemail at 708-365-9822, or text your comments to the same number
– Go to 
TheVoiceofJobSeekers.com
, press the "Send Voicemail" button on the right side of your screen and leave a message
Here is more information about Chris:
His show on the KPFT-FM platform is also published as his podcast. By day, he is the president of his financial company,  Houston First Financial Group. He is committed to the coaching process, guiding others to achieve mastery of skills and realizations of their own goals and objectives. His podcast has more than 225 episodes. 
Here are a few highlights from the show: 
Most professionals are only engaged in their career when it's time to job hunt
Job search is hard and it takes time
Networking, referrals are essential
General resumes are lost in the black hole of online applications
Customized resumes to each company increase chances
Many layers to the hiring process
Discern and examine job advice, not all of it fits you
If you haven't signed up for my email list to get my free eGuide, 219 Easy Modern Job Search Tips for 2019, then you can get it immediately here! You can also get up-to-date job search tips through this newsletter!
Three more shows before the end of the season. My annual podcast hiatus is from June 1 – Sept. 10. The newsletter will continue to be sent out to those on the mailing list at least once a month. I will continue to publish articles on the blog at least twice a month.
I am the "The Voice of Job Seekers!" I offer compassionate career and job search advice as I hack and re-imagine the job search process. You need to be "the prescription to an employer's job description." You must be solution-oriented and work in positions in companies where you are the remedy. Your job search must be a lifestyle, and your career must be in front of you constantly. You can no longer shed your aspirations at the change seasons. There are strengths you have that need constant use and development. Be sure you sign up to download my E-Book, "421 Modern Job Search Tips 2021!" You can find my career advice and work in media outlets such as Forbes, Inc., Fast Company, Harvard Business Review, Glassdoor, and many other outlets.