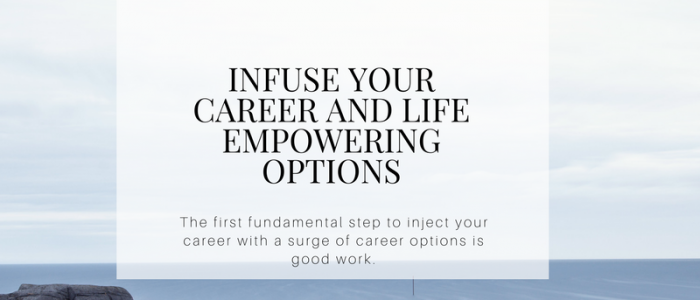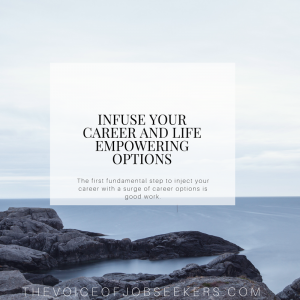 The first fundamental step to infuse your career with a surge of career options is good work. Taking control of your career not only requires strategic branding but also means making your work visible. Without good work, it's hard to frame success to any employer, recruiter, or network. You make a case to your next employer by what you accomplish.
Your work is the only evidence to say you did the job well. If you want options, there is work to do, and it takes more than just a "to do list." You can apply my suggestions below to infuse your career and life to attract options when it's time to make the next career move:
Infuse Your Career with Critical Thinking to Confront Complex Problems
Find solutions to difficult problems and build processes to solve them. If you can be the one to train others in solving the problem, they'll call you an expert. Right answers make it easier on your coworkers who will depend on you solve many other problems. Instead of running from complexity, embrace the opportunities for solutions and what it will do for your career. If you want to have a large impact and achieve a great reward, embrace complex business problems.
Infuse Your Career with Resilience to Handle the Difficult Person
There are opportunities to be the hero, but it will cost you pride, a little dignity, and time. It's an accomplishment when you calm a disgruntled person. If you can show others the method to your madness, they won't send their problem children to you.
Infuse Your Career with Learning, Then to Training
Training is an implicit prerequisite to leadership. When you're able to break down concepts to explain analogies, anecdotes, and stories (even with humor), your career will not only reshape in value but also add value to your brand.
Infuse Your Career with Personality
Let's say it all together: Companies cannot train character (or personality). I say it often because it is the common denominator in every networking, interviewing, revealing of your superpowers to the world. People don't forget others who make them think, laugh, reminisce, acquiesce, act, or react. 
Infuse Your Career with Permission to Promote Yourself
People are afraid of the label, "expert." But you don't have to ever call yourself an "expert." These days it is a necessity to put on your personal marquee your accomplishments or notoriety. It is the only way employers will gain interest in your uniqueness and your value offerings.
I am the "The Voice of Job Seekers!" I offer compassionate career and job search advice as I hack and re-imagine the job search process. You need to be "the prescription to an employer's job description." You must be solution-oriented and work in positions in companies where you are the remedy. Your job search must be a lifestyle, and your career must be in front of you constantly. You can no longer shed your aspirations at the change seasons. There are strengths you have that need constant use and development. Be sure you sign up to download my E-Book, "421 Modern Job Search Tips 2021!" You can find my career advice and work in media outlets such as Forbes, Inc., Fast Company, Harvard Business Review, Glassdoor, and many other outlets.