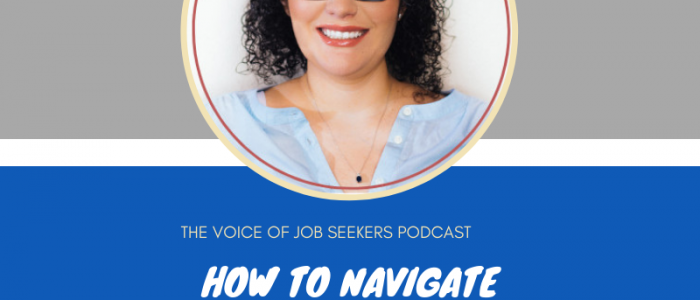 Podcast: Play in new window | Download | Embed
Subscribe: Apple Podcasts | RSS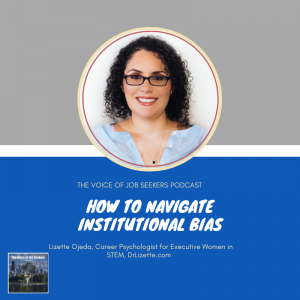 There are so many angles to explore while discussing institutional bias, and you can only talk about a few at a time. Lizette Ojeda, PhD. is my guest today to discuss research and strategies to overcome bias during a job search. 
 Here's how you can join the conversation:
– Call and leave a voicemail at 708-365-9822, or text your comments to the same number
– Go to TheVoiceofJobSeekers.com, press the "Send Voicemail" button on the right side of your screen and leave a message
More about Lizette:
Career Psychologist for Executive Women in STEM who want to reignite their career, fulfill their true potential & have a balanced life. She is also a Professor at Texas A & M University. 
Highlights of our discussion: 
Studies show that during the hiring process ethnic names are at a disadvantage when compared to traditional Anglo-Saxon names

"We are all conditioned to have assumptions"

"…recognize it and act on it without letting it affect you as much as you possibly control"

  Biases vary by industry – gender, ethnicity, and race are enhanced if it's a dominant male industry

Hair is a very personal thing and biases toward hair (like dreadlocks) make it personal

The song "Signs" was referenced during our conversation showing biases toward hair is nothing new

Location, area codes, are subject to bias because of where you live has a reputation

Episode 42 was referenced because of the discussion on name bias

Lizette shares several strategies on how people of color can find diverse, friendly companies
Two more shows before the end of the season. My annual podcast hiatus is from June 1 – Sept. 10. The newsletter will continue to be sent out to those on the mailing list at least once a month. I will continue to publish articles on the blog at least twice a month.
My name is Mark Anthony Dyson, and I am the Founder of The Voice of Job Seekers. I am a career advice writer, but more importantly, I hack and re-imagine the job search process.. I've worked with hundreds of job seekers one-on-one helping them to construct a narrative and strategy that appeals to hiring managers and recruiters. I present at colleges and organizations, and facilitated many workshops including my volunteer effort through a Job Lab. I write and create useful job search content on this blog and write career and workplace advice for blogs such as Glassdoor, Payscale, Job-Hunt.org, Prezi and more. Media Feature highlights: Forbes, Business Insider, NBC News, Glassdoor, LinkedIn's #GetHired, and NPR Freelance writer and content contributor: Glassdoor, Payscale, job-hunt.org, The Financial Diet, RippleMatch.com and more. Contact me to contribute career, job search, or workplace advice for your site at markanthonydyson@gmail.com.