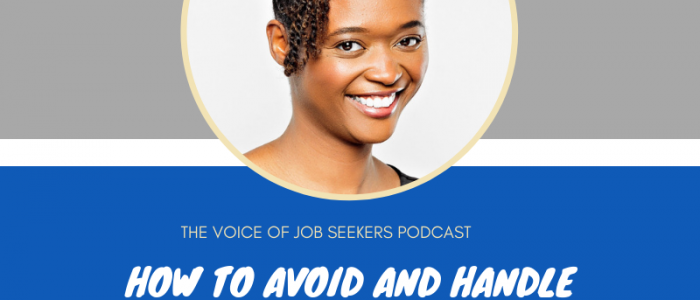 Podcast: Play in new window | Download | Embed
Subscribe: Apple Podcasts | Android | RSS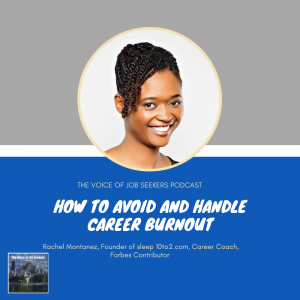 Career burnout is real, and most professionals are not sure what the signs or symptoms are if they experience it. Burnout hinders how you come across in networking or workplace environments. Join me and my guest, Rachel Montanez, as we discuss what career burnout looks like, how it would affect your sleep, and what you can do about it.
 Here's how you can join the conversation:
– Call and leave a voicemail at 708-365-9822, or text your comments to the same number
– Go to 
TheVoiceofJobSeekers.com
, press the "Send Voicemail" button on the right side of your screen and leave a message
More about Rachel:
Rachel Montanez is a career coach and a Forbes contributing writer. She also trains and speaks about career burnout in her articles on Forbes and on her blog.  Rachel has been a career coach for more than the last nine years helping job seekers find opportunities. The uniqueness of her expertise is her study and content regarding rest and sleep.
Here are a few highlights from our conversation:
Burnout is often paired with someone who is not enjoying their job
As a society, we're starting to talk more about it
Job search while working should have a strategy for handling the stress
It would be useful to have a self-care strategy at the beginning of your job search
We discussed how do professionals set limits to avoid burnouts
Awareness on the burnout spectrum is a step toward managing potential burnout
Take a realistic synopsis of what's going on at work – learn how the brain works – manage your energy
Small wins boost energy – get outside opinions (blogs, podcasts or other resources)
Two more shows before the end of the season. My annual podcast hiatus is from June 1 – Sept. 10. The newsletter will continue to be sent out to those on the mailing list at least once a month. I will continue to publish articles on the blog at least twice a month.
I am the "The Voice of Job Seekers," career consultant, job seeker advocate, career writer, and founder of this award-winning blog. I help the employed, unemployed, underemployed, and under-appreciated find jobs using job search strategies to navigate the new job market. I aim to give a safe place online to those with different needs, cultures, and ethnicities to find their voice in the job market. Thousands have read my career advice throughout the web as I write about everything from job search strategies to the mobile job search. I have published more than 400 articles on this blog and some of the largest career sites such as Recruiter.com, YouTern, and Come Recommended. I've been quoted in major online publications such as Monster, TIME/Money, Fortune, Business Insider and MSN. FlexJobs, JobMonkey, Aerotek, Career Pivot, and CareerSherpa listed my podcast as one of the top podcasts to help your job search. Love for you to sign up for the weekly newsletter. I share the latest articles I've written, new podcast episodes, and answer any questions you may have. The new job search is scary and if you need help, I am here for it!