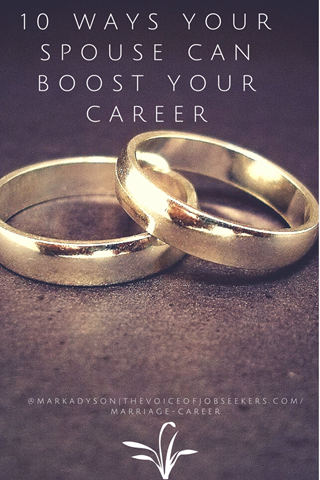 10 Ways Your Spouse Can Boost Your Career by Mark Anthony Dyson
Marriage is a powerful relationship. Yes, I see and hear the eye-rolling, head-shaking, and let-me-check-my-Facebook-page-on-my-phone people sigh in the "I'm sick of hearing this myth" attitude. I must warn you that this post is a positive marriage post, so if you need to stop reading, go ahead. But please allow me to pontificate because the evidence below is from personal experience and the relationships of many of my friends and as a career practitioner. Your spouse will boost your career aspirations, goals, and accomplishments if you let him or her. I will spare you the "what doesn't kill you" cliché, but the formula hasn't changed. It takes two selfless, imperfect, and sacrificing individuals to make your career thrive through your spouse.
I don't know one marriage that has lasted through the last ten years not confront serious career decisions. The surge in divorces has risen recently because couples from broken marriages waited out the great recession for a better financial situation. We will probably see the divorce rate surge past 50% in the next few years. Although job loss isn't the sole reason for the marriage's demise, it is often exposed to the problems that do or sometimes are the last straw.
1. Your spouse will likely tell you the unfiltered truth. One of the challenges and blessings of marriage is how your spouse relays the "you're-not-doing-it-right" message. Sometimes, the rough delivery is the wake-up call to take a second look at your approach to anything. In this case, your job search, career goals, professional fashion attempts, and/or relationships could be boosted. Your spouse knows exactly what button to push, and sometimes, the buttons that annoy you the most are the ones that motivate you in the way that moves you to action. It's also a sign of a good partnership. Sure, there are times when the delivery of the message is painful and, at times, causes a little dissension. But you think about it several times when you realize that person has your best interest at heart.
2. His/her network is your network. You have twice the contacts most wouldn't have when you were single. For this to be truly effective, those times when you need to help family members with trivial chores or attend a school play, position it in your mind at networking or career management. Mostly, you will find yourself telling family members what you do and the why, how, where, and when about your career. Don't lose sight of the goal here, as numbers do count, and how deep you dig into your network counts more.
3. He or she can help you rehearse conversations and interviews or proofread. This works if your spouse does any of these as a part of their job. Proofreading is great if your husband is a writer or is doing his graduate work. Or if your wife is an editor or writes herself. But if they are neither, it can get you closer if he or she catches errors. Your spouse can help you with the little communication habits that turn people off or annoy them. My wife drills into me about eye contact. I did a good job before meeting her, but after all these years of hearing about it, I think I've been excellent at eye contact since we've been together.
4. Encouragement. If you are not the main source of encouragement for your spouse, in most cases, it is not reciprocated. But if you work at it with your spouse where both of you are competitive and encouraging to each other, it can be a powerful tool.
5. Each other's coworkers become a significant part of your career trajectory. I have seen coworkers become part of the solution in married life. These days, coworker relationships are more constant than dating and sometimes marriage relationships. If mutual liking and respect exist, these relationships are uncounted but advantageous.
6. Your spouse can challenge you like no one else. This is a powerful motivation in a positive way in my marriage. If your relationship has the right tenor (in my opinion), no one can move you to action, lift you up, or crush you like your spouse. If this dynamic is mutual, it is a sign of a marriage that will strengthen for years to come, and experience continued career success.
7. People are positively motivated when two work as one. There is nothing more encouraging when couples coordinate, promote, and act on the same page. This takes a lot of communication and understanding, but if you're not, this can be contentious. This means that your efforts together will stagnate, but on the other hand, what is revealed can be rectified if the desire is mutual.
8. When one falls, the other will lift you up. When a spouse is conducting a job search, it affects the two of you. All the anxiety, nervousness, and stress are on both of you. It is not recognizable at first because it affects each person differently. This is difficult to see if you are the person who needs a job or a new job. The trap is realized when one doesn't become what the other needs. Finding ways to serve each other during this time is a balm or remedy. The power comes when spouses are trying to out-serve the other. Then courage, patience, perseverance, persistence, and resilience are installed in each other due to lifting up one another.
9. Your Spouse Is an Expert in Your Talents. The bonus is if they can bring out the best of you. This doesn't always transform into career attributes, but sometimes affirmation from your spouse can inject energy and synergy into your job search. This is especially helpful when job leads run dry.
10. He or she can shorten the length of pain and disappointment. The job search is a roller coaster full of ups and downs, peaks and valleys, and, at times, depression is even harder to anticipate. Sometimes, we need comfort, not more strategies, follow-ups, or attempts. Yes, the need to keep going is essential, but the moments of rejuvenation are needed more. From a hug to shutting out the world for an evening will work. Sometimes, we need someone else to let us relax and take our minds away from the grind when it's a grind. The job search is a hilly, rocky, and muddy marathon. Anything spouses can do to ease the pain is essential.
By no means will a combination of my suggestions fix shortcomings such as specific skills or personal attributes needed for any profession. What it will do is help each spouse endure the challenges that are often faced in today's complicated job search.  If you need these things in your life, then I know where you can start: You start becoming what he or she needs.