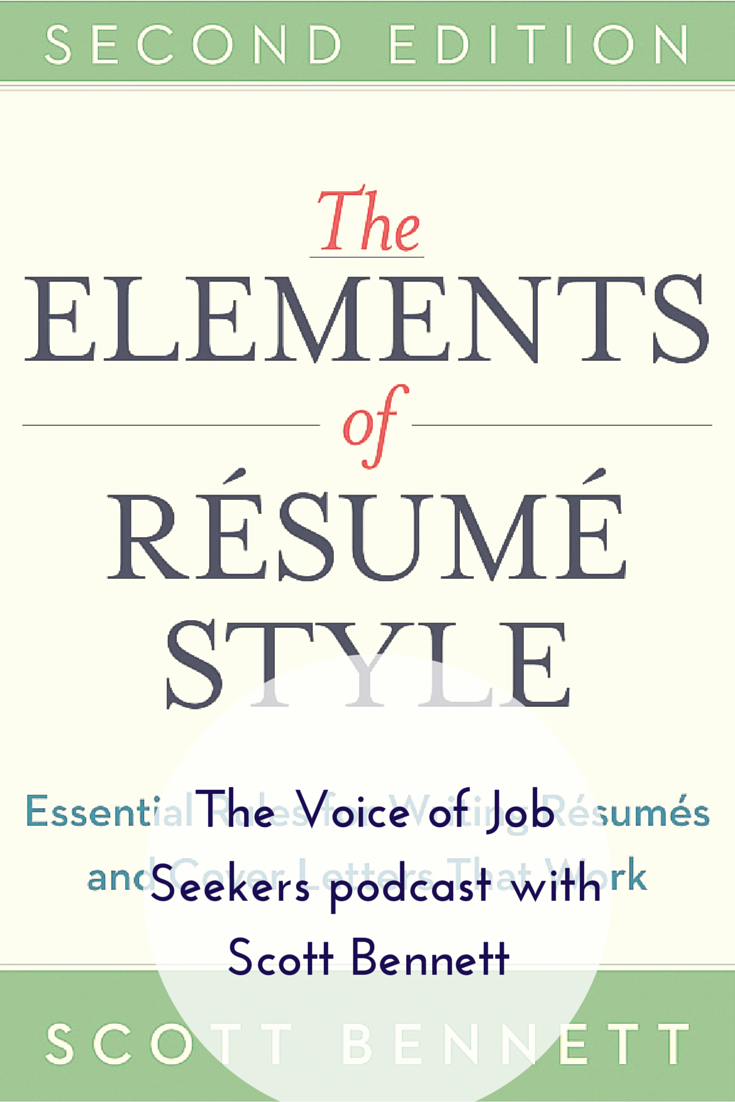 Podcast: Play in new window | Download | Embed
Subscribe: Apple Podcasts | Android | RSS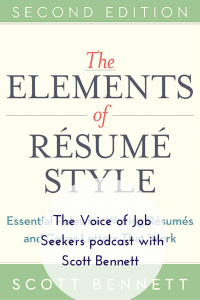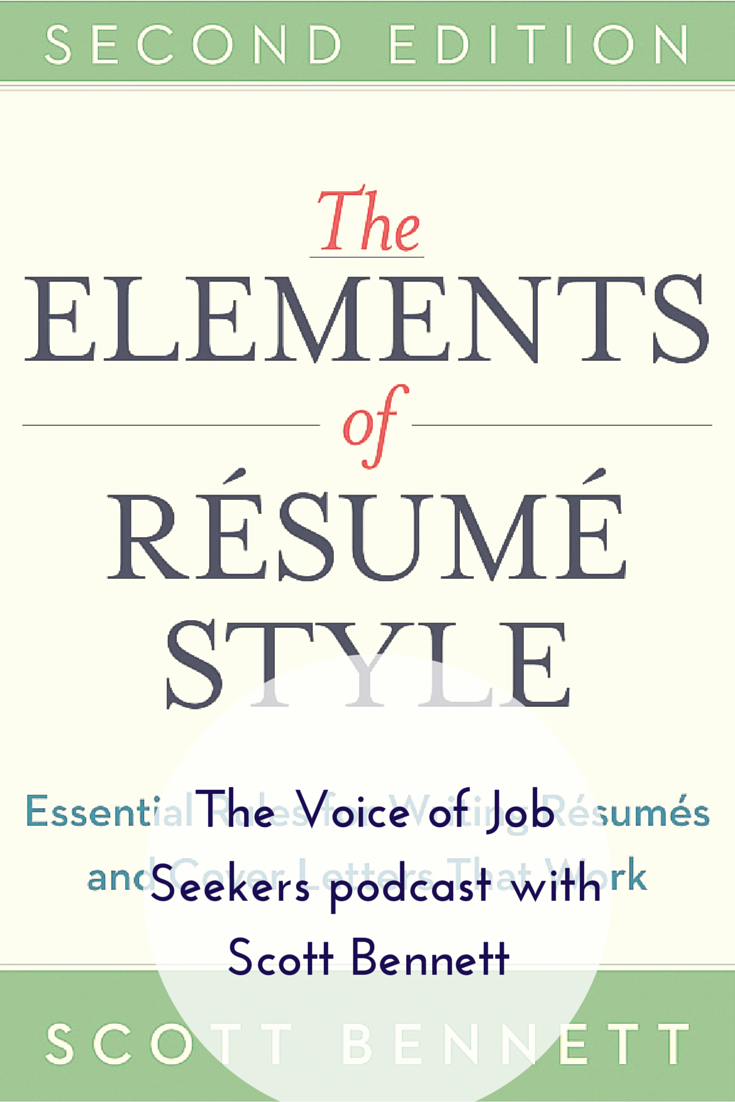 As hard as resumes are to write, the most effective ones are written plainly, clearly, and briefly. The struggle for most people is to capture reader's attention through failing to communicate all three elements. One of the best guides in my opinion is The Elements of Resume Style. It is one of the books I reference serving my clients, and one I regularly recommend. Scott is my guest on today's show.
If you struggle with presenting a clear, brief, accomplishment-focused resume, then you will exceedingly receive much value from this conversation. What is your greatest challenge in writing a resume? We would love to get your feedback.
I'd love your feedback in these three ways:
Blog: TheVoiceofJobSeekers.com (Use the send voicemail feature)
Email: mark@thevoiceofjobseekers.com
Voicemail:
708.365.9822
Scott Bennett is the author of The Elements of Resume Style: Essential Rules for Writing Resumes and Cover Letters That Work and founder of WriteResumesRight.com. The first edition was first published in 2005 (I thought it was 2001. I've had this book seemingly longer, but I digress), and the second last month.  The first edition of The Elements of Resume Style was translated into Chinese and distribute in India in an English language edition.
Scott has reviewed more than 100,000 resumes and hired hundreds of employees at all levels. At one time he was the President and Chief Operating Public Service Computer Software, but in 1996 transitioned into career coaching. Since then, he has influenced thousands through coaching, workshops, and seminars.
Highlights from our conversation:
What has changed about the way we look at resumes has changed since 2005, "The more paths, the more mechanisms, and delivery systems…the more rules for writing resumes stay the same." Clarity and brevity are just as important today if not more than ever
Hiring managers typically have  many other critical responsibilities, and job candidates succeed in being noticed when they write a resume that respects the hiring managers time. Brevity and error-free resumes and cover letters attract attention in a pile that contains hundreds of resumes, and is quite rare
I loved it when Scott said not to "…play fun with fonts…" and not too many font sizes
He discourages readers from rewriting the job description, but with clear examples of their experiences. Instead of writing, "Excellent written skills," write, "Wrote guide for 11,000 users," displaying a clear evidence of your skills
Scott believes that the resume will not go away, just the way that it is delivered. The content remains critical and important
I asked Scott what he thought about infographic resumes (Shout out to Hannah Morgan as we discussed this two weeks ago). He stated that he thought it was a great idea, especially if the candidate is keeping his or her audience in mind. If a hiring manager's secretary prints out resumes, then the impact will go unnoticed. But a computer/digital savvy hiring manager who views resumes online will more than likely note that this candidate stands out
Hear what Scott says about the "Summary" section (the first paragraph after the heading) and how to use it. His perspective is quite different than most of the advice you read these days. Let me know what you think.
Thanks again to AMACOMbooks for our three-year partnership and coordinating this conversation with Scott Bennett.
Resume help is featured through several recent episodes with some of the most knowledgeable resume writers and experts anywhere:
Personal SEO for Your Online Resume with Susan P Joyce
How to Proofread and Edit Your Resume with Lauren Milligan
Resume Keywords vs. Buzzwords with Erin Kennedy
Let me hear your resume struggles. What's keeping you up at night? No responses from your resume? Let me help you. Call 708.365.9822 or email me at mark@thevoiceofjobseekers.com and leave me feedback and contact information!
I am the "The Voice of Job Seekers," career consultant, job seeker advocate, career writer, and founder of this award-winning blog. I help the employed, unemployed, underemployed, and under-appreciated find jobs using job search strategies to navigate the new job market. I aim to give a safe place online to those with different needs, cultures, and ethnicities to find their voice in the job market. Thousands have read my career advice throughout the web as I write about everything from job search strategies to the mobile job search. I have published more than 400 articles on this blog and some of the largest career sites such as Recruiter.com, YouTern, and Come Recommended. I've been quoted in major online publications such as Monster, TIME/Money, Fortune, Business Insider and MSN. FlexJobs, JobMonkey, Aerotek, Career Pivot, and CareerSherpa listed my podcast as one of the top podcasts to help your job search. Love for you to sign up for the weekly newsletter. I share the latest articles I've written, new podcast episodes, and answer any questions you may have. The new job search is scary and if you need help, I am here for it!