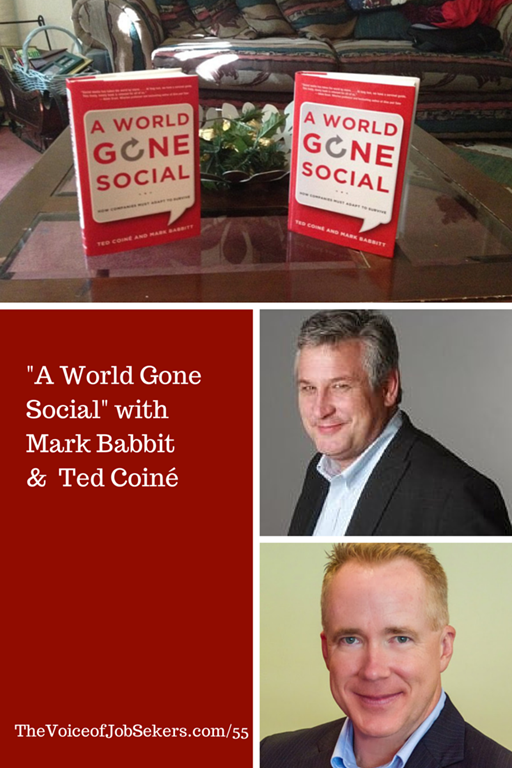 Podcast: Play in new window | Download | Embed
Subscribe: Apple Podcasts | RSS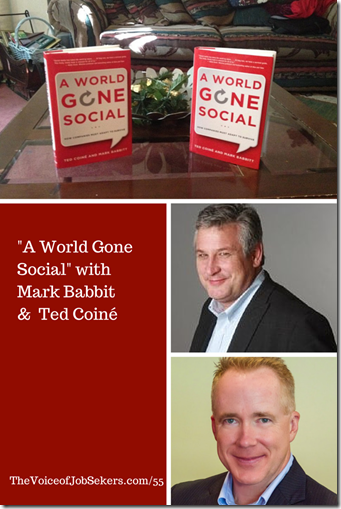 If you have not engaged in the "social" part of social media, you miss opportunities beyond money. Whether you like it or not, small business or large, employed or unemployed, you must compete to survive or thrive.  Large brands, small business, and people in your network are looking for you to add your voice.
A World Gone Social authors, Ted Coiné (@TedCoine) and Mark Babbitt (@MarkSBabbitt) are my guests for this episode. Leave a comment on the blog OR a review of the episode in iTunes about what you liked about the interview, and you can qualify for a FREE copy of their book.
Of courseyou are always invited to leave me feedback about the show. So, here is where you can leave it:
Voicemail: 708.365.9822
email: mark@thevoiceofjobseekers.com
Blog: TheVoiceofJobSeekers.com/55
Ted Coiné (@tedcoine) is the co-founder of Switch and Shift, 3-Time CEO, and you may have seen him on top Influencers lists from the Huffington Post and Forbes.
Mark Babbitt is the CEO of You Tern, President of Switch and Shift, and a Forbes and Mashable top website for your Career.
Both are authors of the new book, A World Gone Social: How Companies Must Adapt to Survive. Thanks to AMACOMbooks for the review and giveaway copies. This partnership has been a pleasant three years and counting.
Here are a few of the highlights of our conversation
The democratization of our society has afforded for everyone to be involved. The more social, the more we become the media with something to say. We all have the opportunity to be heard.
Stop broadcasting and start interacting whether a large brand or job seeker. In the book, brands that "nail it" are highlighted. Companies need to look at who have they talked to on a given.
Establish what your value and expertise. Once you build a brand (large or individual), you must have social proof. You must be engaged within your brand. Stop talking and start proving.
Social journey meaning learning along the way, with mistakes, and faux pas pass with time. Start building your social presence long before you need it.
If we are lacking skills, we can learn and build those skills with online tools. You can master them in a short period of time.
It is a "we" centered, but not to be overemphasized. The "me" can't be lost in personal branding, so your individual accomplishments must be highlighted.
I will be giving away a copy Ted's and Mark's book. You can participate in three ways:
Comment on the page of the blog where the audio of this conversation is presented
Leave a review of the show on the iTunes page of what you liked about the conversation on the page
Leave a comment on the YouTube page using your Google plus account about what you liked about our conversation
I will announce the winner on Friday on our Facebook page! Good luck.
The entire interview is almost 30 minutes long, and you can view the YouTube version here.
My name is Mark Anthony Dyson, and I am the Founder of The Voice of Job Seekers. I am a career advice writer, but more importantly, I hack and re-imagine the job search process.. I've worked with hundreds of job seekers one-on-one helping them to construct a narrative and strategy that appeals to hiring managers and recruiters. I present at colleges and organizations, and facilitated many workshops including my volunteer effort through a Job Lab. I write and create useful job search content on this blog and write career and workplace advice for blogs such as Glassdoor, Payscale, Job-Hunt.org, Prezi and more. Media Feature highlights: Forbes, Business Insider, NBC News, Glassdoor, LinkedIn's #GetHired, and NPR Freelance writer and content contributor: Glassdoor, Payscale, job-hunt.org, The Financial Diet, RippleMatch.com and more. Contact me to contribute career, job search, or workplace advice for your site at markanthonydyson@gmail.com.