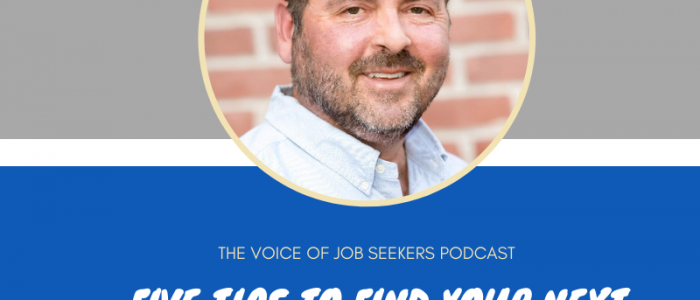 Podcast: Play in new window | Download | Embed
Subscribe: Apple Podcasts | RSS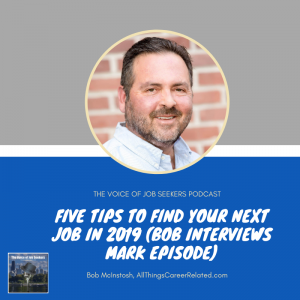 In this special episode, my friend Bob McIntosh asked to interview me on my show. In the past, I have replayed my interviews from guest appearances on other podcasts. This is the first time in over five years of the show I will be interviewed for the show. 
I would love to hear from you. 
You are more than welcome to join the discussion. Here are three ways you can:
– Call and leave a voicemail at 708-365-9822, or text your comments to the same number
– Go to TheVoiceofJobSeekers.com, press the "Send Voicemail" button on the right side of your screen and leave a message
Here's more information about Bob McIntosh:
Bob is the founder of Things Career Related blog. He has robust information on LinkedIn, interviewing, and introverts. He works for the Career Center of Lowell as a Career Strategist, LinkedIn Trainer, Workshop Facilitator, and a LinkedIn Profile and Resume Consultant.

Here are some highlights from my interview
I talk about preparing for the new interview tools such as intra-department group interviews, Skype interviews, and other types. Instead of practicing with one person asking questions, simulate the interview situations even if it's a remote interview

We have to be in constant negotiation mode, so it won't be an event, it will be an ever-exchanging transaction. Be ready to negotiate all of the time 

I talk about how it takes work to create a quality network. It doesn't happen by accident, and if you grow it with intent, you can eventually elicit responses and deepen your ask 

I offer instances where shared core values matter and how it will affect job search decisions of the job seekers (and vice versa) 

We discuss the role of texting in job search and how it will be used to promote positions and be the center of setting up and conducting interviews

I suggest job seekers tell their career stories that offer robust energy and invites engagement from hearers
Reminder:
Use my contact information above to inquire about individual or group coaching. Or leave a message anytime on the "send voicemail" button on the side of any page of my blog.
You can also sign up for my weekly newsletter at the top right of my page to be on the early list of my free e-Guide, "219 Modern Job Search Tips for 2019!" If you have already subscribed to the newsletter, it's in your email box as of this morning!
One episode is left in this season of the podcast. The last episode of the fall season will be December 11 (next Tuesday evening). The winter season of episodes will begin on January 15, 2019!
I am the "The Voice of Job Seekers!" I offer compassionate career and job search advice as I hack and re-imagine the job search process. You need to be "the prescription to an employer's job description." You must be solution-oriented and work in positions in companies where you are the remedy. Your job search must be a lifestyle, and your career must be in front of you constantly. You can no longer shed your aspirations at the change seasons. There are strengths you have that need constant use and development. Be sure you sign up to download my E-Book, "421 Modern Job Search Tips 2021!" You can find my career advice and work in media outlets such as Forbes, Inc., Fast Company, Harvard Business Review, Glassdoor, and many other outlets.