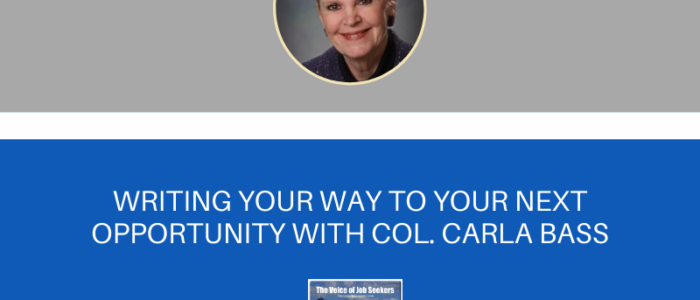 Podcast: Play in new window | Download | Embed
Subscribe: Apple Podcasts | RSS
I am grateful and honored to have Carla Bass, retired Air Force Colonel, now writer, author, and speaker, on the show. We'll talk some about her book, "Write To Influence!" We'll also talk about how writing can change and advance your career, as she did with thousands while in the service.
Listen and see what I'm talking about and get in on the conversation.
You can also text me at 708 365 9822
You can tell me if you love or hate what you've heard on the Speakpipe button at the blog.
At this time of year and point of the show, I usually tell you there's one more show left which I'll publish on May 10 until September. I am looking at some of the challenges of today's job search, and although the number says low, many of you are out of work. I decided it may help if I didn't ghost you for three months.
What if I published one or two episodes each month of the summer? Would that help?
Let me know what you think?
More about Carla:
Colonel Carla Bass has taught audiences how to write clear, concise, and compelling text for more than 20 years. Students of her workshops have won grants, jobs, and competitive awards. She shares how to write stand-out effective resumes to help you advance your career in her book.
Enjoy the interview!
Epilogue 
I will periodically release shows through the summer—a minimum of three. You will get hour-long episodes of job search advice, conversations, tips, and special guests. I plan to include excerpts or full episodes of my live stream shows "The Modern Job Search Checklist" or "JobSeekerNation." I will replay some guest appearances from other shows.
So enjoy the rest of the show, and I'll talk to you soon.
I hope you enjoy what's coming.
I am the "The Voice of Job Seekers!" I offer compassionate career and job search advice as I hack and re-imagine the job search process. You need to be "the prescription to an employer's job description." You must be solution-oriented and work in positions in companies where you are the remedy. Your job search must be a lifestyle, and your career must be in front of you constantly. You can no longer shed your aspirations at the change seasons. There are strengths you have that need constant use and development. Be sure you sign up to download my E-Book, "421 Modern Job Search Tips 2021!" You can find my career advice and work in media outlets such as Forbes, Inc., Fast Company, Harvard Business Review, Glassdoor, and many other outlets.