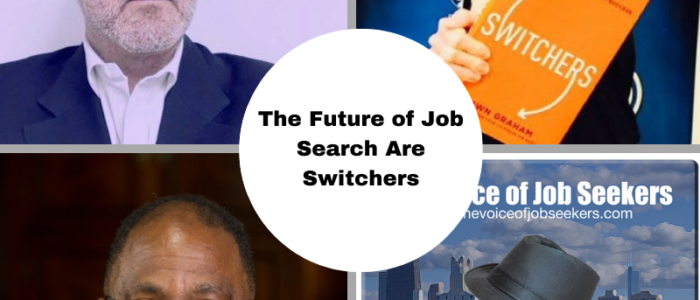 Podcast: Play in new window | Download | Embed
Subscribe: Apple Podcasts | RSS
Many of you know I co-host a weekly LinkedIn Livestream show on Wednesdays. We were fortunate to have author Dr. Dawn Graham as a guest as we tackled career change questions (or as Dawn says, "Switchers.").
You are more than welcome to join the discussion. Here are three ways you can:
– Call and leave a voicemail at 708-365-9822, or text your comments to the same number
– Go to TheVoiceofJobSeekers.com, press the "Send Voicemail" button on the right side of your screen and leave a message
– Send email feedback to [email protected]
Jack Kelly, CEO of WeRecruitr.com, and my co-host of our weekly Wednesday Linkedin Live show. If you want to see it live and participate in the chat, find my LinkedIn page, you'll find the show. Jack is a Forbes senior contributor writing career-related news and job-search advice several times a week.
Dr. Dawn Graham is the author of "Switchers: How Smart Professionals Change Careers and Seize Success." She is the host of the national Sirius XM show, "Dr. Dawn on Careers." She is also currently a Careers Contributor at Forbes and Wharton Business School Career Director at the University of Pennsylvania. Oh yeah, she's also a licensed psychotherapist.
Here are highlights of our discussion: 
2020 was a wake-up call and had a stark realization being a star performer isn't enough.
Dawn said that taking baby-steps each day rather than taking big leaps leads to pivot success.
Job seekers need to hear advice and investigate rather than force apply strategies, not effective for them.
Shift away from being reactive and be proactive. Create your own opportunities.
The best routes to changing careers take time.
Small steps ensure clarity, but missteps are inevitable.
Creating a demand for your work through contract or part-time opportunities is a catalyst for "switching."
Mental health is important more than ever and noticeably beneficial when it's addressed
I am the "The Voice of Job Seekers!" I offer compassionate career and job search advice as I hack and re-imagine the job search process. You need to be "the prescription to an employer's job description." You must be solution-oriented and work in positions in companies where you are the remedy. Your job search must be a lifestyle, and your career must be in front of you constantly. You can no longer shed your aspirations at the change seasons. There are strengths you have that need constant use and development. Be sure you sign up to download my E-Book, "421 Modern Job Search Tips 2021!" You can find my career advice and work in media outlets such as Forbes, Inc., Fast Company, Harvard Business Review, Glassdoor, and many other outlets.