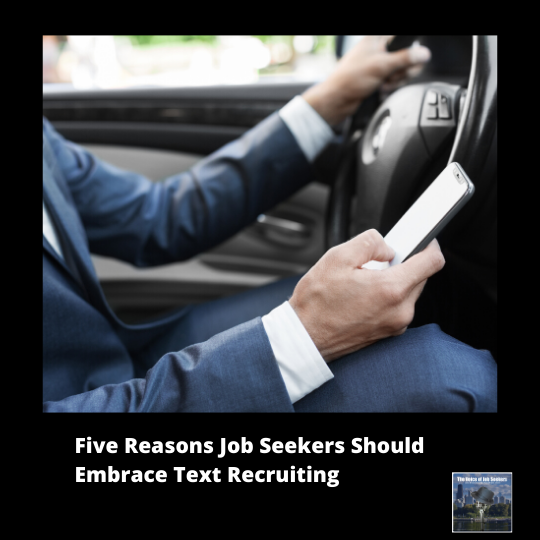 Recruiters are making the hiring process more cost-efficient for employers by using text recruiting software. If you're a job candidate who hasn't received a text from your friendly neighborhood recruiter, you eventually will. Recruiters working for employers increase hiring efficiency while sorting through scores of candidates per position using Artificial Intelligence (AI) via a chatbot or human recruiter.
Upon receiving your permission via the employer, a recruiter or chatbot sends a text asking you to follow a link to schedule an appointment, fill out a questionnaire, or learn about the next steps. For both parties, it's like a real-time conversation you would have with friends, although you shouldn't respond as you would to your friends. In most cases, there is no need to wait hours for a response. According to Jobvite, job seekers respond 45% faster via text than email.
Text recruiting communication could challenge some candidates:
You must be responsive immediately. The recruiter is also texting other candidates with information requiring an immediate response. Failing to respond to the text could disqualify you.
The content of your texts matters. It's essential to keep in mind that "autocorrect" is not an excuse for poor messaging.
Keeping up with several companies via text recruiting will require organization skills and good recall of what you said to whom. Sending the wrong response to the wrong employer means…well, you know.
Tech adverse candidates will be exposed as being tech unsavvy. (Remember when you put that you're "tech-savvy" on your resume?)
Your words weigh the heaviest. There's no way to use intangible body language (smiling, laughter, rapport) to impress or inform.
Your mistakes in texting (grammar/spelling/inappropriate language) are a documented reflection of your inability to communicate in writing.
Here are a few of the advantages:
It's time-efficient and saves you travel time to an interview.
You can show you're tech-savvy and a great communicator.
You will be judged solely on your responses.
A great conversation will stand out because it's documented.
Text recruiting can enhance your hiring experience and offer ways for you to make a good impression if you:
Know your audience. When you receive a text, it's likely an automated message rather than a personal message. Interpersonal chatter is not appropriate; therefore, answer the inquiries sent.
Write well. You want to double and triple check your message to ensure the message you send represents you. It's not appropriate or professional to use casual text language, (e.g., 2, U, K).
Respond to the right sender. If you're confirming an appointment but send your response to the wrong person, you may disqualify yourself. Make sure you are replying to the correct sender.
Call if you are confused about the message. One text message from an employer does not negate the value of talking person-to-person. Call if you receive an unclear or inappropriate message. Think it doesn't happen? Read these text messages from recruiters. Nothing replaces face-to-face communication.
Don't follow-up via text to an unanswered text. No answer to your texted question? Call. It's the surest way to facilitate clarity between both parties. Technology is not perfect, and neither are you.
Keep it Sweet and Simple. Text messages are easy to misinterpret and misunderstand. Call or meet face-to-face if the message requires more than a few sentences. If you need to ask a question, then shorter is better. If you fear your answers aren't clear, then call.
You are what you text. How you communicate in person is what will come across in all written communication, including texting—tone, brevity, clarity, and personality count. You must exercise caution in every kind of communication during the hiring process.
To be seen as a reliable and qualified professional, you must act professionally no matter the communication medium the company uses to hire. Content and context matter during every phase of the hiring process. If you're uncomfortable with the nuances of technology, it will appear in text messaging.
I am the "The Voice of Job Seekers!" I offer compassionate career and job search advice as I hack and re-imagine the job search process. You need to be "the prescription to an employer's job description." You must be solution-oriented and work in positions in companies where you are the remedy. Your job search must be a lifestyle, and your career must be in front of you constantly. You can no longer shed your aspirations at the change seasons. There are strengths you have that need constant use and development. Be sure you sign up to download my E-Book, "421 Modern Job Search Tips 2021!" You can find my career advice and work in media outlets such as Forbes, Inc., Fast Company, Harvard Business Review, Glassdoor, and many other outlets.