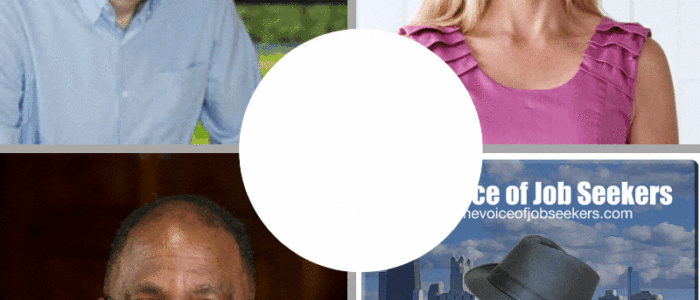 Podcast: Play in new window | Download | Embed
Subscribe: Apple Podcasts | RSS
In this week's episode, I offer two perspectives about personal branding that are relevant to job seekers and today's job search. Paris Cutler has helped hundreds of people reshape their career narratives to accentuate their strengths. My good friend, Marc Miller, offers video branding advice specifically for 50+ older workers, but I think applies to many others.
You are more than welcome to join the discussion. Here are three ways you can:
– Call and leave a voicemail at 708-365-9822, or text your comments to the same number
– Go to TheVoiceofJobSeekers.com, press the "Send Voicemail" button on the right side of your screen and leave a message
– Send email feedback to [email protected]
More about Paris:
Paris Cutler owned a global cake company and hosted a national television show until she pivoted into career and business coaching. Her superpowers are building relationships and "enterpreneuring" professionals who are making a pivot in their careers. She is a Blue Ocean Strategist working with job seekers and entrepreneurs.
Highlights from our conversation:
🔑 Toxic bosses or being in the wrong job can have on people's identity
🔑 People need to be reminded of their natural strengths
🔑 When you're inside, it's difficult to see your genius and how special you are
🔑 Paris shares how powerful word-of-mouth became the way she worked with Celine Dion
🔑 She also demonstrates  power of treating pro bono client the same as a paying client
🔑 We discuss serving being the top of mind
🔑 We agreed unemployed job seekers should look for opportunities to add value
🔑 Careerists can be #1 brands
🔑 She helps entrepreneur careerists, helps them look at themselves as a business
🔑 We discuss the importance of having a foundation in their branding and marketing
🔑 Paris reminds people of their natural strengths: "You're inflow." "You're in genius."
🔑 We discuss the challenges in marketing (she offers the introvert version)
🔑 How can you be an introvert and build a big brand? (Paris says one-by-one)
More about Marc
His media features include CBS Money Watch, U.S. News and World Report, and Forbes.  His blog, Career Pivot, is a Forbes Top 1oo Best Career Website and has achieved several other best career website awards. Marc works with 40+ to help them pivot to a better job or as entrepreneurs.
🔑 Marc says video presentations will be the norm and is here to stay, so there needs to be a change of mindset.
🔑 You must exert the same energy for video than you do if you were in-person.
🔑 He recommends stretching as one way to improve posture while sitting.
🔑 The video experience you provide for your audience whether they are employers, recruiters, or coworkers matters.
🔑 Even if your first encounter is via video, will count as an impression for or against your personal brand.
🔑 Lighting is essential, but the sound is equally, if not, most important.
🔑 People are forgiving of video anomalies, but the deal breaker is poor sound.
🔑 50+ age group will need to accept video branding is essential as personal
🔑 Invest time with lighting and staging
🔑 Audio and lighting are as equally important
🔑 "What's behind you will brand you"
🔑 Video is the normal real-life meeting we have – similar to meeting at a conference
🔑 Learn how to create short videos that deliver your message
Look out for two more episodes in the next two weeks. There will be a three-week break and then one show in December.
I am the "The Voice of Job Seekers!" I offer compassionate career and job search advice as I hack and re-imagine the job search process. You need to be "the prescription to an employer's job description." You must be solution-oriented and work in positions in companies where you are the remedy. Your job search must be a lifestyle, and your career must be in front of you constantly. You can no longer shed your aspirations at the change seasons. There are strengths you have that need constant use and development. Be sure you sign up to download my E-Book, "421 Modern Job Search Tips 2021!" You can find my career advice and work in media outlets such as Forbes, Inc., Fast Company, Harvard Business Review, Glassdoor, and many other outlets.