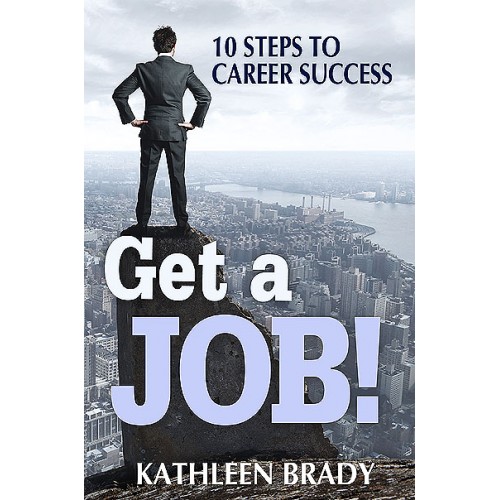 Podcast: Play in new window | Download | Embed
Subscribe: Apple Podcasts | RSS
Editor's note: Inkwater Press is giving away FIVE copies of the e-book and one hardcopy! If you comment below about your takeaways points from the interview, then you qualify for a copy. We'll run this giveaway until next Monday! GOOD LUCK!
Kathleen Brady (@KBCareerPlanner) is an author and a Certified Professional Coach with 25 years experience in helping professionals identify their goals and design action plans to achieve them. Get a Job: 10 Steps to Career Success is her fourth book, her third with Inkwater press. Her central focus of her practice is the planning and coaching for recent graduates and professionals who seek life satisfaction.  She is a former Assistant Dean of Career Services at Fordham University and past president of the National Association of Law Placement. If you want to know more about Kathleen Brady, her website is careerplanners.net.
Kathleen's vast experience is impressive as you can tell in the depth and detail of her answers. It is by far the longest interview on this blog yet because it is hard to edit content that is vital to job seekers. Here is a table of contents to our discussion:
The mindset of job seekers creating his or her own opportunities

The importance of knowing what they want to do in their career
What should motivate a job seeker to pay attention to career goals and aspirations?
What does "success patters" mean and how it relates to the job search?
Using Linked In

effectively

The Highland's Ability Battery
What does AIR (Advice, Information, Referrals) mean and how it applies to job seekers?
Networking and how critical it is to do
Career Services at colleges and how under utilized they are
The breakdown of using three different languages–reluctant, suspicious, or negative
Enjoy our conversation!
I am the "The Voice of Job Seekers!" I offer compassionate career and job search advice as I hack and re-imagine the job search process. You need to be "the prescription to an employer's job description." You must be solution-oriented and work in positions in companies where you are the remedy. Your job search must be a lifestyle, and your career must be in front of you constantly. You can no longer shed your aspirations at the change seasons. There are strengths you have that need constant use and development. Be sure you sign up to download my E-Book, "421 Modern Job Search Tips 2021!" You can find my career advice and work in media outlets such as Forbes, Inc., Fast Company, Harvard Business Review, Glassdoor, and many other outlets.