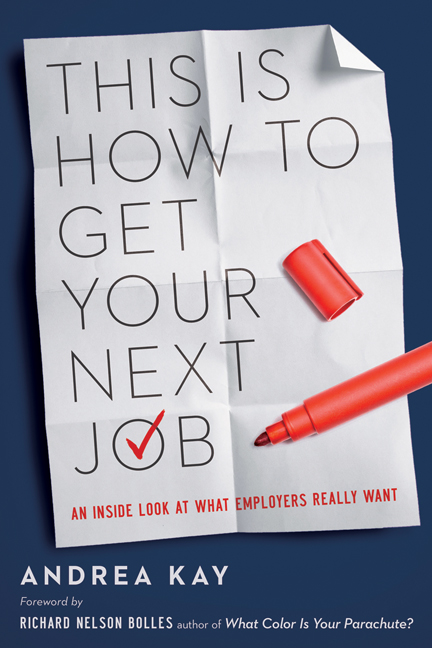 Podcast: Play in new window | Download | Embed
Subscribe: Apple Podcasts | RSS
Andrea Kay is a respected career expert, author, speaker, and a sought out career advisor. Specializing in "career therapy," she has helped tens of thousands of people cut to the heart of their frustration and dissatisfaction with work and not only find a new job, but create a fulfilling career that fits who they are.
I personally appreciated Andrea's candor and adapted her perspective in stating that "You are what you seem" to employers in the small window you present yourself to employers.  The concepts that many coaches including Andrea are hard to hear for the job seeker that is not progressive in his or her job search.
This is the kind of book you want to have in your library. In fact, I will make it easy for you through AMACOM books, I will be giving away one FREE copy of Andrea Kay's book, This is How to Get Your Next Job! To qualify, leave a comment about something you will put into practice from our conversation.  I will randomly pick one winner to be announced on Monday on the blog and on the Facebook page (see right panel).
Some of her insights from our pre-interview Q & A that are stated in our conversation:
About good judgment…
"They'll separate themselves from the pack by demonstrating good judgment in
the most basic, common sensical ways: Follow directions. If an employer
asks you to complete a test, send a writing sample, do it—exactly the way
they asked for it…"
The job seeker selling themselves…
"…it's hard for most people to describe more than one or two actual
strengths. I have this exercise in all my books—except this one. But
basically, it's looking at events and  times in your life when you've done
something you enjoyed and did well. Then analyzing what that took. This
helps you see patterns and eventually narrow down your strengths."
Not being defensive about the "Why are you not working?" question…
"Basically, you need to get yourself calmed down first, so you don't react
defensively immediately. Take a breath, realize why they're asking. It's a
realistic question. Why wouldn't this be on their mind? So have a response
ready and say it with tact that helps the employer understand your
circumstances and what you're doing now."
Now that you have a preview, enjoy our conversation.
My name is Mark Anthony Dyson, and I am the Founder of The Voice of Job Seekers. I am a career advice writer, but more importantly, I hack and re-imagine the job search process.. I've worked with hundreds of job seekers one-on-one helping them to construct a narrative and strategy that appeals to hiring managers and recruiters. I present at colleges and organizations, and facilitated many workshops including my volunteer effort through a Job Lab. I write and create useful job search content on this blog and write career and workplace advice for blogs such as Glassdoor, Payscale, Job-Hunt.org, Prezi and more. Media Feature highlights: Forbes, Business Insider, NBC News, Glassdoor, LinkedIn's #GetHired, and NPR Freelance writer and content contributor: Glassdoor, Payscale, job-hunt.org, The Financial Diet, RippleMatch.com and more. Contact me to contribute career, job search, or workplace advice for your site at markanthonydyson@gmail.com.