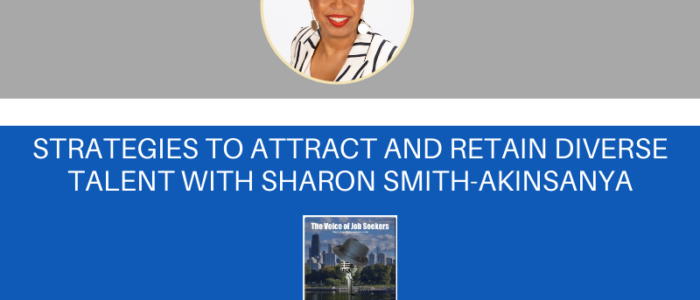 Podcast: Play in new window | Download | Embed
Subscribe: Apple Podcasts | RSS
The featured interview for this show will be with the author and CEO of the Rae-McKinsey Group, Sharon Smith-Akinsanya. Her book, Colorfull: Competitive Strategies to Attract and Retain Diverse Talent of Color, shares how she's helping companies hire people of color talent.
In this episode, you'll hear a clip from #JobSeekerNation, a live stream show Jack Kelly and I do every Wednesday. Chelsea Jay was our guest as we discussed how job-hopping had become a career strategy.
Also, I'll publish a clip from an episode later this winter with Melinda Emerson, America's Small Business Lady. You can find the entire video conversation on my YouTube channel.
You are more than welcome to join the discussion. Here are three ways you can:
– Call and leave a voicemail at 708-365-9822, or text your comments to the same number
– Go to TheVoiceofJobSeekers.com, press the "Send Voicemail" button on the right side of your screen and leave a message
– Send email feedback to [email protected]
More about Sharon:
Sharon Smith-Akinsanya is the  CEO of Rae Mackenzie Group and is the author of Colorfull: Competitive Strategies to Attract and Retain Top Talent of Color. You may have seen her featured in Forbes, Good Morning America, Blavity, Essence, and much more.
Conversation highlights:
"Getting it done," Sharon says, starts at the top, C-Suite, VP level, and senior VP levels, to ensure they "walk the talk."
Sharon walks by their side to ensure executives have all the tips, tools, and resources they need.
There is enough data to commit to diversity. Companies are asking for more data are not clients for her.
Her company PeopleofColorCareers.com recently partnered with HBCU pride nation.
Sharon says job seekers who desire to work for a diverse company should, "…take a look at the website, is the DEI information hidden? That's the first thing. Can you find it if you can't find it? Move on. That's the first thing. So, because if it's not, the CEO and the team have decided that this is important, that they don't want you to know what's happening."
She also shares, "We have to make sure that we understand the value of networking, the value of connecting, the value of following. We don't want to be caught flat-footed, you know, I get a lot of calls from professionals who haven't kept up on their networking."
Sharon shares her experience working for Prince.
Join me in two weeks for my conversation with Dr. Antionio Boyd, the EVP of Future of School.
I am the "The Voice of Job Seekers!" I offer compassionate career and job search advice as I hack and re-imagine the job search process. You need to be "the prescription to an employer's job description." You must be solution-oriented and work in positions in companies where you are the remedy. Your job search must be a lifestyle, and your career must be in front of you constantly. You can no longer shed your aspirations at the change seasons. There are strengths you have that need constant use and development. Be sure you sign up to download my E-Book, "421 Modern Job Search Tips 2021!" You can find my career advice and work in media outlets such as Forbes, Inc., Fast Company, Harvard Business Review, Glassdoor, and many other outlets.