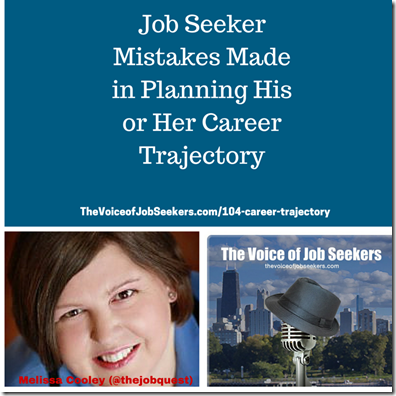 Podcast: Play in new window | Download | Embed
Subscribe: Apple Podcasts | RSS

How far you will go in your career shouldn't be determined by job titles. What are you learning that you can apply years from now? That's a big part of managing your career trajectory. Job seekers are still thinking about the next job instead of their career path over time. Melissa Cooley and I discuss this as we hope you would think concerning the longitudinal path of your career.
What are your career goals 90 days, six months, or a year from today? What will your career look like in five years? There are three ways you can share your thoughts with us:
1) Leave a voice mail or text message at 708-365-9822. Let me know if I can share it on future shows
2) Email me: mark@thevoiceofjobseekers.com
3) Go to TheVoiceofJobSeekers.com and press the "Send Voicemail" button to leave a message online
Those of you who are career professionals can receive the additional bonus by leaving your blog and I will link to it.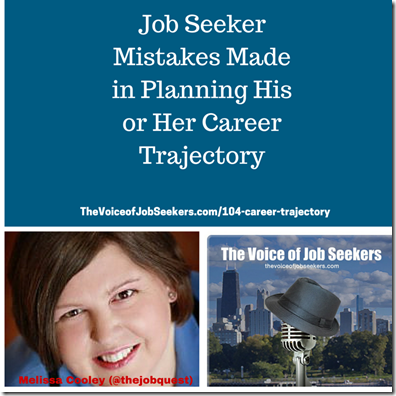 Melissa Cooley is the founder of the blog, The Job Quest. Her multiple career articles and mentions have appeared in The Daily Muse, The Savvy Intern Blog, and Under30Careers. She is a Certified Advance Resume Writer and an Interview Coach.
Here are a few of the highlights from our conversation:
Some of the language from many job seekers suggests a lack of understanding their career trajectory such as, "I've landed…" because it sounds like it's permanent
A new job still means your actions must be purposeful for your entire career. Take control of your future and avoid being reactionary!
Don't pitch your tent but treat it as a pit stop! The only constant is change.
An Austrailian study shows that 60% of college students are chasing careers that no longer exist. Online courses such as MOOCs (Massive Open Online Courses), Skillshare, and Udemy more valuable.
Melissa stated that apprenticeships are  valuable with the real world experience and gut instinct
Missed opportunities because people looking for the formal training (classroom) and it may not exist
Melissa said that people are not grasping and understanding what and where a real opportunity is found
In ancient times, the Greeks desiring education followed other people, not schools
Melissa said that textbooks provide static answers, but mentors will provide more dynamic input
Textbooks may not provide timely answers like a mentor could
Melissa referred to people finding mentors outside of his or her field where transferable skills may apply to both
She also said your career trajectory is not found in job titles but transferable skills. Think about the skills already possessed and its application to other career opportunities
Attitude, aptitude, and soft skills are big parts of the layers required to change careers and your career trajectory. Can you cross-train in your current career? Do you fit with the company? The team?
People focus on activities instead of learning and miss big opportunities Have you subscribed to this show on iTunes? If you haven't, please do so. iTunes is a great place to write an honest review and increase the show's visibility. Enjoy listening to the show. Let us know what you think.Do you need help with resume writing or career direction? Do you need coaching or instruction?I can help.Also, join our Linkedin community! You'll enjoy some of the insights shared by community members and other career pros!
I am the "The Voice of Job Seekers!" I offer compassionate career and job search advice as I hack and re-imagine the job search process. You need to be "the prescription to an employer's job description." You must be solution-oriented and work in positions in companies where you are the remedy. Your job search must be a lifestyle, and your career must be in front of you constantly. You can no longer shed your aspirations at the change seasons. There are strengths you have that need constant use and development. Be sure you sign up to download my E-Book, "421 Modern Job Search Tips 2021!" You can find my career advice and work in media outlets such as Forbes, Inc., Fast Company, Harvard Business Review, Glassdoor, and many other outlets.