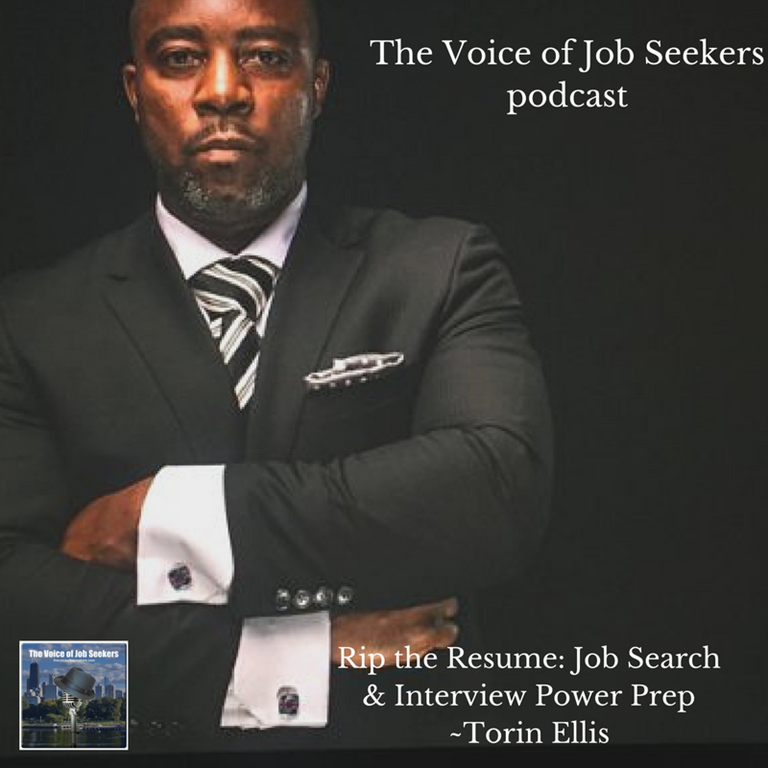 Podcast: Play in new window | Download | Embed
Subscribe: Apple Podcasts | RSS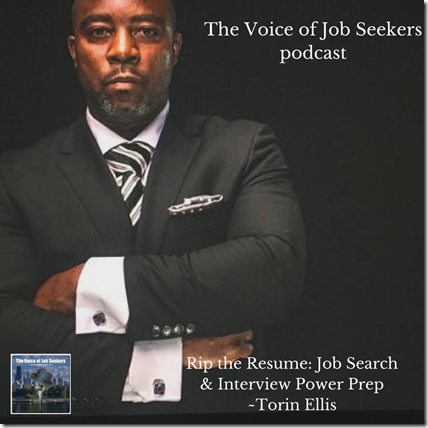 It's time to get your resume strategy ready for your graduate job search or your next opportunity. Need some guidance? I got you! Torin Ellis, winner of Top Recruiter (toprecruiter.tv) is back with his new book, Rip the Resume: Job Search & Interview Power Prep!
What are some of your resume and interview challenges? Let's discuss. You can reach me in one of three ways:
Call and leave a voicemail at 708-365-9822, or text your comments to the same number
Go to TheVoiceofJobSeekers.com, press the "Send Voicemail" button on the right side of your screen and leave a message
Send email feedback to mark@thevoiceofjobseekers.com
Torin was in a previous episode and mentioned his book then. We planned since last spring for him to come back and talk about his book. Torin is the founder of The Torin Ellis Brand, a Human Capital Strategist, Diversity Ambassador, Interview Architect, and soon-to-be-author!  He's appeared in Black Enterprise and regularly featured on SiriusXM 126 on the "Karen Hunter Show" as a career guest expert.
Here are some of the talking points highlighted in his book:
–Common mistakes that detract from the resume
–Focus on quantifying – commands attention, states productivity, created synergy
–Five each of descriptive sentences, adverbs, and accomplishments
–Resume doesn't do more than securing a conversation
–Star candidates look for organization details, SWOT analysis, immediately deliver results
–Preparation is the most important part of the job search process
–A thank you acknowledgement is more than an email—get a card a drop it in the mail
Need help with your career goals, directions, or efforts? Do you need coaching or instruction? I am here for it!Also, join our Linkedin community! You'll enjoy some of the insights shared by community members and other career pros!
I would still like to help self-published career professionals promote their books. If you're interested, find more info here.
I am the "The Voice of Job Seekers!" I offer compassionate career and job search advice as I hack and re-imagine the job search process. You need to be "the prescription to an employer's job description." You must be solution-oriented and work in positions in companies where you are the remedy. Your job search must be a lifestyle, and your career must be in front of you constantly. You can no longer shed your aspirations at the change seasons. There are strengths you have that need constant use and development. Be sure you sign up to download my E-Book, "421 Modern Job Search Tips 2021!" You can find my career advice and work in media outlets such as Forbes, Inc., Fast Company, Harvard Business Review, Glassdoor, and many other outlets.