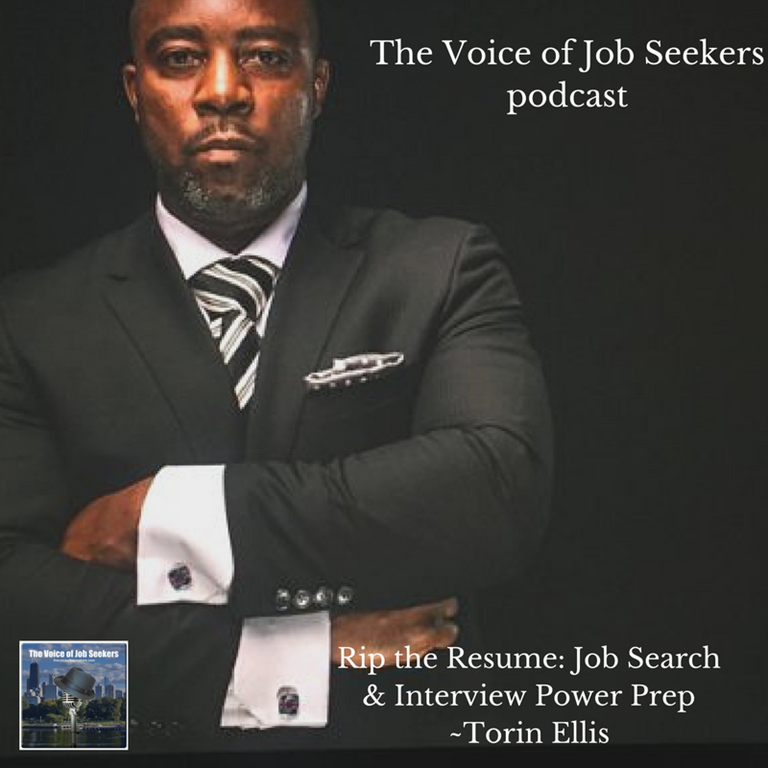 Podcast: Play in new window | Download | Embed
Subscribe: Apple Podcasts | Android | RSS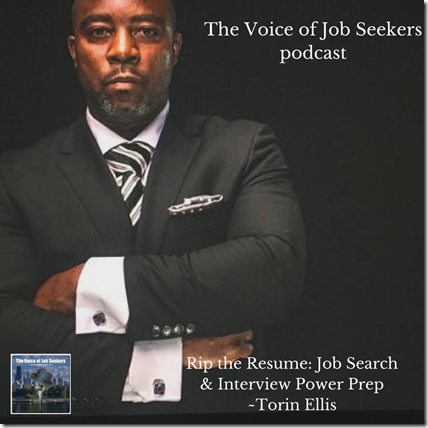 It's time to get your resume strategy ready for your graduate job search or your next opportunity. Need some guidance? I got you! Torin Ellis, winner of Top Recruiter (toprecruiter.tv) is back with his new book, Rip the Resume: Job Search & Interview Power Prep!
What are some of your resume and interview challenges? Let's discuss. You can reach me in one of three ways:
Call and leave a voicemail at 708-365-9822, or text your comments to the same number
Go to TheVoiceofJobSeekers.com, press the "Send Voicemail" button on the right side of your screen and leave a message
Send email feedback to mark@thevoiceofjobseekers.com
Torin was in a previous episode and mentioned his book then. We planned since last spring for him to come back and talk about his book. Torin is the founder of The Torin Ellis Brand, a Human Capital Strategist, Diversity Ambassador, Interview Architect, and soon-to-be-author!  He's appeared in Black Enterprise and regularly featured on SiriusXM 126 on the "Karen Hunter Show" as a career guest expert.
Here are some of the talking points highlighted in his book:
–Common mistakes that detract from the resume
–Focus on quantifying – commands attention, states productivity, created synergy
–Five each of descriptive sentences, adverbs, and accomplishments
–Resume doesn't do more than securing a conversation
–Star candidates look for organization details, SWOT analysis, immediately deliver results
–Preparation is the most important part of the job search process
–A thank you acknowledgement is more than an email—get a card a drop it in the mail
Need help with your career goals, directions, or efforts? Do you need coaching or instruction? I am here for it!Also, join our Linkedin community! You'll enjoy some of the insights shared by community members and other career pros!
I would still like to help self-published career professionals promote their books. If you're interested, find more info here.
I am the "The Voice of Job Seekers," career consultant, job seeker advocate, career writer, and founder of this award-winning blog. I help the employed, unemployed, underemployed, and under-appreciated find jobs using job search strategies to navigate the new job market. I aim to give a safe place online to those with different needs, cultures, and ethnicities to find their voice in the job market. Thousands have read my career advice throughout the web as I write about everything from job search strategies to the mobile job search. I have published more than 400 articles on this blog and some of the largest career sites such as Recruiter.com, YouTern, and Come Recommended. I've been quoted in major online publications such as Monster, TIME/Money, Fortune, Business Insider and MSN. FlexJobs, JobMonkey, Aerotek, Career Pivot, and CareerSherpa listed my podcast as one of the top podcasts to help your job search. Love for you to sign up for the weekly newsletter. I share the latest articles I've written, new podcast episodes, and answer any questions you may have. The new job search is scary and if you need help, I am here for it!