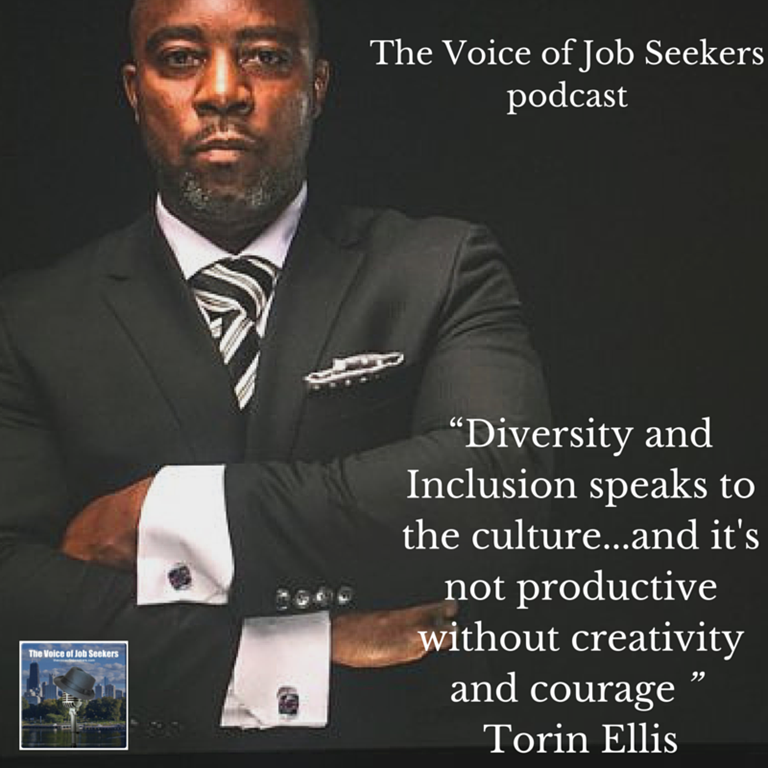 Podcast: Play in new window | Download | Embed
Subscribe: Apple Podcasts | RSS

More and more, people are considering culture and value above other reasons for the job and career he or she desires, especially for those of you who envision working for a company promoting diversity and inclusion (D & I). You can control the career choices based on factors you find more desirable. Some are choose companies where everyone doesn't think like them or look like them. If that is what you want, then consider a diversity recruiter like Torin Ellis who offers 100% of his efforts to clients who want to create such a workplace.
How important is diversity and inclusion to you in your workplace? I would love to hear your thoughts on this. You can do it in three ways:
1) Leave a voice mail or text message at 708-365-9822. Let me know if I can share it on future shows
2) Email me: mark@thevoiceofjobseekers.com
3) Go to TheVoiceofJobSeekers.com and press the "Send Voicemail" button to leave a message online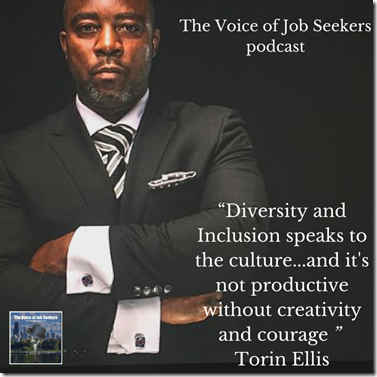 Let me share a little more about Torin Ellis. He's been a recruiter for more than 2o years. Torin  is the founder of The Torin Ellis Brand, a Human Capital Strategist, Diversity Ambassador, Interview Architect, and soon-to-be-author! He is the recent winner of Winner of Top Recruiter – Reign of the Bosses – toprecruiter.tv! He's appeared in Black Enterprise and is featured on SiriusXM 126 on the "Karen Hunter Show" as a career guest expert.
Here are highlights from our episode:
Torin offers his clients an earnest effort in providing diverse considerations in talent
Finding diverse pool of talent is difficult, struggle in securing talent
Diversity in thought, finding quality candidates with high skill levels – not just limited to race
Diversity and inclusion speak to the culture, not productive without creativity and courage
Torin mentioned Rosalind Hudnell, Intel's Diversity and Inclusion Officer stating numbers in 1998 are the same as today
Diversity works if leadership is involved and thoughtfulness and resources are available. Money must be put behind the initiative for it work
Diversity and inclusion look different in different states. The effort should be measured not a fixed result
Torin comments on the statement, "Diversity is about numbers, and Inclusion is about involvement for the long term…"
True diversity and inclusion (D & I) there is no finish line – it's an ongoing evolution
D & I covers many parts of the organization so Human Resources should be the administrative arm in drafting and enforcing D & I policies and initiatives
Large companies should have a D & I officer, and the company leadership oversees the tactical deployment of policies
Job seekers desiring to work for companies promoting D & I should target a variety of them and look deeply into the company's core values
Look for press and articles showing proof of their claim in their D & I mission statement
Connect with current and past employees to hear if their experiences match the company's claim
Job seekers are understanding the power of social media – but don't fully appreciate the content from strong educational voices. People are more responsive to entertainment, pop culture
Disparaging comments made on line can be viewed as who you are in the workplace
Need help with your career goals, directions, or efforts? Do you need coaching or instruction? I am here for it!Also, join our Linkedin community! You'll enjoy some of the insights shared by community members and other career pros!
I would still like to help self-published career professionals promote their books. If you're interested, find more info here.
For the first time in 1 1/2 years, I am opening to career professionals to write guest articles. If you're interested, you can go here for further topics and directions to submit.
My name is Mark Anthony Dyson, and I am the Founder of The Voice of Job Seekers. I am a career advice writer, but more importantly, I hack and re-imagine the job search process.. I've worked with hundreds of job seekers one-on-one helping them to construct a narrative and strategy that appeals to hiring managers and recruiters. I present at colleges and organizations, and facilitated many workshops including my volunteer effort through a Job Lab. I write and create useful job search content on this blog and write career and workplace advice for blogs such as Glassdoor, Payscale, Job-Hunt.org, Prezi and more. Media Feature highlights: Forbes, Business Insider, NBC News, Glassdoor, LinkedIn's #GetHired, and NPR Freelance writer and content contributor: Glassdoor, Payscale, job-hunt.org, The Financial Diet, RippleMatch.com and more. Contact me to contribute career, job search, or workplace advice for your site at markanthonydyson@gmail.com.