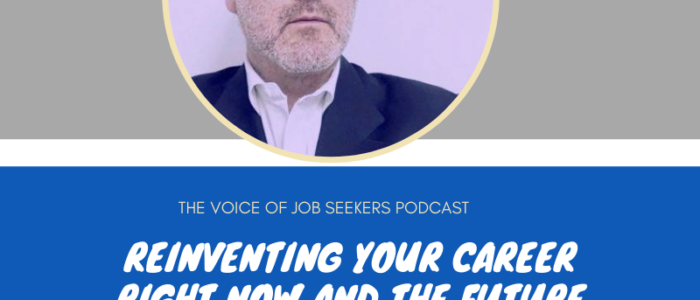 Podcast: Play in new window | Download | Embed
Subscribe: Apple Podcasts | RSS
Welcome back to The Voice of Job Seekers podcast! This is year (or season) number 8! I've done 219 episodes of this show and will continue to present the most relevant and modern job search tips for you.
Much has happened over the summer. And I have been doubling down on providing help to job seekers everywhere to turn around their results, answer questions, motivate others. This year's "Job Lab" has been a great help to those who come with questions. Not only are attendees getting their questions answered, but they're also drawing a blueprint for themselves as they hear others with similar problems and come away with breakthroughs.
I would love to hear from you. 
You are more than welcome to join the discussion. Here are three ways you can:
– Call and leave a voicemail at 708-365-9822, or text your comments to the same number
– Go to TheVoiceofJobSeekers.com, press the "Send Voicemail" button on the right side of your screen and leave a message
– Send email feedback to mark@thevoiceofjobseekers.com
Those on the mailing list are offered the chance to participate in the Job Lab. If you want to join us on September 26 for the next to last Job Lab, sign up at the blog.
This is the show flow:
Intro (Welcome back to the TVOJS)
Few minutes with Jack Kelly
Job Club (Next Sept. 26)
I have done several interviews on different podcasts over the summer. You'll hear some excerpts from those interviews, including ones I did for an NPR podcast and LinkedIn News.
Throughout the fall, you'll hear guests from my video series you can find on YouTube. Excerpts of stellar job search advice will come from those interviews. We'll also dig in the virtual crates and dig out relevant and past interviews.
This week, my guest is Jack Kelly, CEO of WeRecruitr.com, and my co-host of our weekly Wednesday Linkedin Live show. If you want to see it live and participate in the chat, find my LinkedIn page, you'll find the show. Jack is a Forbes senior contributor writing career-related news and job-search advice several times a week.
Here are a few highlights from our conversation:
There must be a plan to reinvent. It just doesn't happen.

Starting over is OK—Do over, start all over, and it's hard to do

We connect our identity to our careers.

Reinvention or the lack of it affects your surrounding, family, etc.

Most will likely pivot more often than generations before them.

Jack's article on positivity on Forbes

What's needed is more empathy and compassion and less hot takes for job seekers.
I am updating my free e-book entitled, "421 Modern Job Search Tips for 2021." I plan to release it to my email list on October 30, before everyone else will be alerted on November 13. Want it early? Go to the blog to sign up.
My name is Mark Anthony Dyson, and I am the Founder of The Voice of Job Seekers. I am a career advice writer, but more importantly, I hack and re-imagine the job search process.. I've worked with hundreds of job seekers one-on-one helping them to construct a narrative and strategy that appeals to hiring managers and recruiters. I present at colleges and organizations, and facilitated many workshops including my volunteer effort through a Job Lab. I write and create useful job search content on this blog and write career and workplace advice for blogs such as Glassdoor, Payscale, Job-Hunt.org, Prezi and more. Media Feature highlights: Forbes, Business Insider, NBC News, Glassdoor, LinkedIn's #GetHired, and NPR Freelance writer and content contributor: Glassdoor, Payscale, job-hunt.org, The Financial Diet, RippleMatch.com and more. Contact me to contribute career, job search, or workplace advice for your site at markanthonydyson@gmail.com.