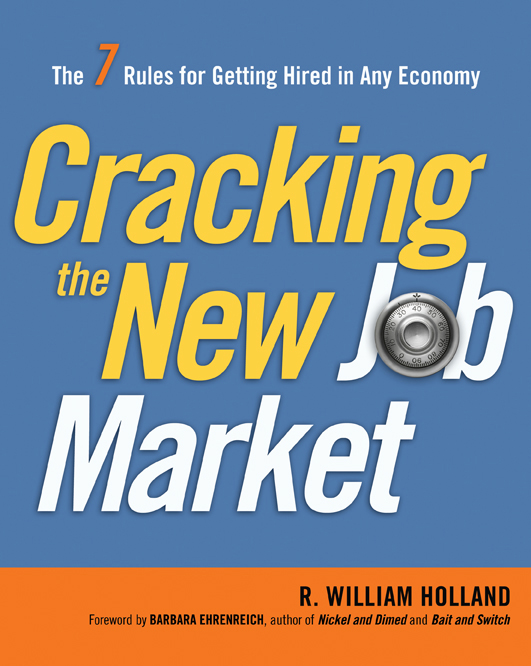 I reviewed Mr. Holland's book last Wednesday, Cracking The New Job Market: The 7 Rules for Getting Hired in Any Economy. He is a very busy man, and gracious, to answer a few questions along the way:
The Voice of Jobseekers (TVOJ):  You mentioned in your new book about "value creation."  What do you think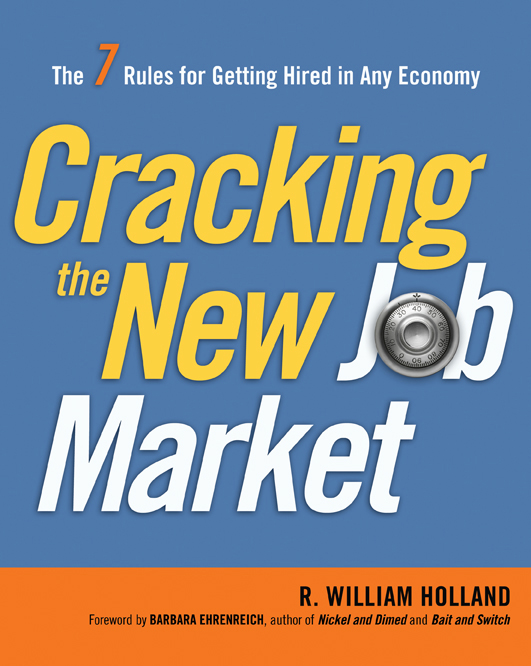 prohibits a job seeker from discovering his or her own worth?
Holland:  We are in the midst of a sea-change in which "worth" is taking on new meanings.  Traditionally, you might review the work of companies like Hay Consultants who would conduct surveys to see what companies were paying workers with certain levels of education, experience and skill.  Because pay levels varied accordingly, white collar workers could get a good sense of what a "fair wage" would be for them individually.   Those calculations are now more difficult to make and often fly in the face of personal experience.
It is easy for someone to understand that companies are interested in those who can create value for the enterprise.  Increasingly, workers are retained only for as long as it makes sense to do so. The job of the $150,000 a year executive can be here today and gone tomorrow depending on the current value calculation a company makes.  When the goods and services you produce can best be produced elsewhere, it changes the value calculation.  As such, the idea of linear careers that are "onward and upward" may be a thing of the past.
The Great Recession has a lot to do with current levels of job market volatility.  But it will not end once the economy bounces back.  An individual's worth in the market place is more of a day-to-day proposition than ever before.
(TVOJ):  I was involved in a discussion last week about how bold statements done by job seekers like billboard signs and newspaper ads are perceived as desperate, or a way of just standing out.  What do you think about his way of attracting employers?
Holland:  Getting attention in the job market this way is a gimmick.  That doesn't mean gimmicks are bad or should not be used.  Sometimes, gimmicks work—just not very often and/or not very well.   Your chances are much better if you establish a solid track record of value creation and learn how to bring that record to the job market.
I understand that in a difficult job market people will resort to gimmicks and are vulnerable to a "host of dubious schemes, scams and unhelpful self-help books and DVDs."   Grabbing at such straws is akin to buying a lottery ticket.  We all know someone is going to win, but there is little likelihood it will be you.
(TVOJ):  You mention the "Hidden Job Market" does not exist.  Yet there are employers and recruiters who say that is where the jobs are found.  What can job seekers do to unearth these opportunities?
Holland:  Initially what was meant by the "hidden" job market was the simple assertion that most of the jobs were not advertised.  That is, they were hidden from people who confined their job search to newspaper ads.  The idea has now morphed into the notion that the entire process is mostly an insider's game than can only be accessed by getting to the hiring manager directly.  My view is that white collar recruiting was largely a decentralized affair and if you wanted a job, you needed to apply to the appropriate facility. The process was not so much hidden as it was splintered.  Today, if you are looking for work, it is helpful to target companies and determine how they recruit. Almost all recruiting today involves the Internet.  The hiring processes, once described as hidden (I prefer "splintered") are now largely open and easily accessible.
If you want to know where to look, identify your target organizations and ask them how they recruit.  Most will be happy to tell you.  A family friend recently got his next job this way.  They told him to keep an eye open for job listings by becoming a "Fan" on Facebook.  He also engaged his network; had people put in a good word for him; used job boards; and regularly checked the job ads in the Wall Street Journal.  But sure enough, he learned of his next opportunity by doing exactly what they advised him to do.
(TVOJ):  If the recession worsens, do you think there will be a "newer" job market?
Holland:  There will be a newer job market whether the recession worsens or not.  Technology and globalization will continue to shape the market.  I can't tell you precisely what it will look like except there is every reason to believe that work-place volatility and value creation will play prominent roles.
(TVOJ): What is the biggest lesson that everyone, working or not, learned about jobs from the "Great Recession?"  Since I am African-American, I feel compelled to ask if there is a special job search lesson for us to learn.
Holland:  In many respects the lessons are the same across the board.  There are several generations of African-America students (and others as well) who believe that they can go to college, get a job and join the middle class.  Formal education by itself will not accomplish that: And colleges and universities are not particularly equipped to fulfill the vocational dimension we expect from a college education. That is why I added Appendix A to my book "Helicopter Parenting is a Good Thing."  Students need to understand that a college degree by itself is not sufficient.  When they and their parents truly understand value creation, their chances of being career-ready by the time they graduate is enhanced.
(TVOJ):  Recently, articles have been published about employers only inviting employed applicants for open positions.  Where do you think that comes from?  Does that make the job market more splintered?
Holland:  More splintered?  No, it makes it more difficult if you are between jobs.  These employers are sending clear messages that they get far too many applicants for job openings.  By eliminating the unemployed the applicant work load is reduced.  They believe the most talented people have jobs.  Value creation becomes even more critical to the success of potential candidates.  Start now to build your personal brand as a creator of value.
Mr. Holland's book, Cracking The New Job Market: The 7 Rules for Getting Hired in Any Economy, is available on Amazon.com and other outlets. Don't forget that tomorrow is the last day to qualify for a free copy of this book. Simply read last week's post, Tweet or Retweet it on Twitter. Be sure that my Twitter account @MarkADyson is included so I can see it.
I am the "The Voice of Job Seekers!" I offer compassionate career and job search advice as I hack and re-imagine the job search process. You need to be "the prescription to an employer's job description." You must be solution-oriented and work in positions in companies where you are the remedy. Your job search must be a lifestyle, and your career must be in front of you constantly. You can no longer shed your aspirations at the change seasons. There are strengths you have that need constant use and development. Be sure you sign up to download my E-Book, "421 Modern Job Search Tips 2021!" You can find my career advice and work in media outlets such as Forbes, Inc., Fast Company, Harvard Business Review, Glassdoor, and many other outlets.