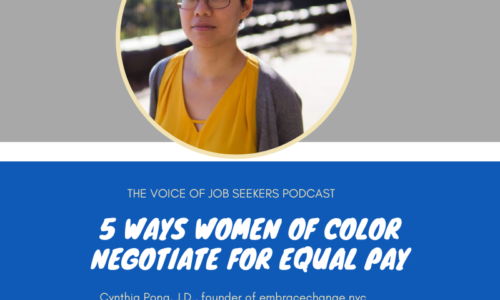 Podcast: Play in new window | Download | Embed
Subscribe: Apple Podcasts | RSS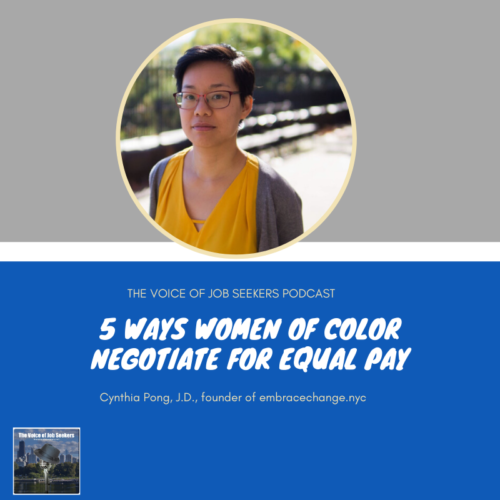 The last episode of the 2019-20 season offers guest Cynthia Pong, J.D., an opportunity to give women of color tips to negotiate salary more effectively.
Payscale's
survey from 2016
shows salary for women of color are 54-90 cents per dollar of what a man earns.
More about Cynthia:
Cynthia is a Career Strategist for Women of Color. She also facilitates and presents on salary negotiation as well as offering generous portions of career advice. Cynthia was a recent recipient of LinkedIn's Top Voices for Job Search and Careers.
Got something to say? Got a topic for the show? Disagree?
– Call and leave a voicemail at 708-365-9822, or text your comments to the same number
– Go to TheVoiceofJobSeekers.com, press the "Send Voicemail" button on the right side of your screen and leave a message
Here are some highlights from our conversation:
It's essential to negotiate, stand up—and ask for more because it makes it easier – and raises the bar – for marginalized communities.

Conversely, giving up opportunities to negotiate contributes to a race to the bottom.

When preparing for your negotiation, think of what you'd ask for if you were negotiating for someone else.

Play toward stereotype bias (everything is intersectional).

For example, Black women are perceived to be dominant. So being assertive plays toward your stereotype bias.

Asian women are perceived to be competent. So focusing on skills and your past track record can be helpful.

You are the expert on you.

Whatever you learn, adapt it to your situation and circumstances.

No one knows the landscape you're facing, the people you're dealing with, and the background and context of the situation as well as you do.
If you more help with your job search, go back to the archives and download the shows from Apple podcasts. Look out for the video series this summer. As you know, this is the last show of the season.
I am the "The Voice of Job Seekers!" I offer compassionate career and job search advice as I hack and re-imagine the job search process. You need to be "the prescription to an employer's job description." You must be solution-oriented and work in positions in companies where you are the remedy. Your job search must be a lifestyle, and your career must be in front of you constantly. You can no longer shed your aspirations at the change seasons. There are strengths you have that need constant use and development. Be sure you sign up to download my E-Book, "421 Modern Job Search Tips 2021!" You can find my career advice and work in media outlets such as Forbes, Inc., Fast Company, Harvard Business Review, Glassdoor, and many other outlets.