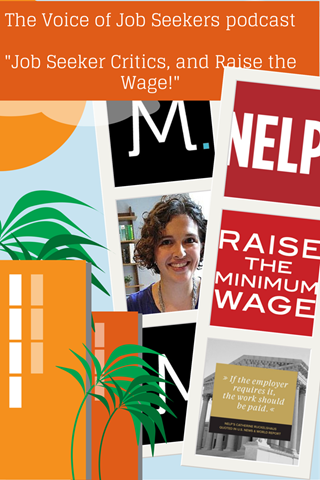 Podcast: Play in new window | Download | Embed
Subscribe: Apple Podcasts | Android | RSS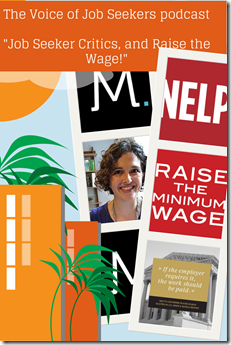 The Muse and the National EmploNational Employment Law Project (NELP) are two useful resources. The Muse provides practical advice for all job seekers and NELP is fighting for job seekers to receive higher wages nationally, which is currently $7.25. Underemployed job seekers are fighting two battles: Finding jobs with a decent living wage and managing career choice perception of family and friends.
Are you for higher minimum wage in your state?
Mitchell Hirsch is the low wage and unemployment  advocate for the National Employment Law Project. It is a not-for-profit, non-partisan organization that does research and advocacy work on issues affecting low-wage workers and unemployed workers. The Muse is one of the few well-written, comprehensive career sites on the web. After several months, I was able to contact the Muse and Erin Greenawald, the editor of the Muse, to have a conversation about their content and discuss her view of an article she wrote.
Mitchell Hirsch, National Employment Law Project (NELP)
Two of their core campaigns include strengthening the Unemployed Insurance (UI) and increasing the minimum wage. NELP is funded by donations and private individuals and foundations. They do not accept money from government grants or any form of government donations.
NELP worked behind the scenes with other organizations to ensure the unemployed applicants were getting checks until earlier December 2013 when Congress let fund lapse
The Unemployment Insurance system needs strengthening, expansion, upgrading, and needs to be joined with a much stronger re-employment services system that takes people who lose their job early on. Better job search tools could be used earlier in his or her job search (perhaps shorten unemployment time)
The erosion of protection has taken a large toll on within the system (some states start at 13% of wage replacement) compared to around 50% or less than 10 years ago
40% of job seekers exhaust their UI, and NELP is working with federal states and labor to improve the UI  to increase the replacement wage rate. They are trying to get unemployed job seekers into work rapidly, so that fewer job seekers will exhaust benefits
2013 the U.S. Average recipiency rate (those receiving benefits) has been just 25%
Mitchell also discusses how the core labor standards are another target issue for the NELP. Two questions are key: 1) Are we creating enough good jobs that pay decent wages and are sufficient for raising families? 2) Why are recent job creations much lower than the past?
One way, to improve the creation of jobs, is to increase the wage floor (minimum wage) nationally; then it will improve those making higher wages. Too many part-time and temporary work assignments are seen as a solution. In addition, many employers have shifted to sub-contracted and contingent types of work arrangements.
Erin Greenawald, The Muse
The Muse is an online magazine that tries to readers non-boring career advice that is current and relevant to readers. They offer advice that they stand behind and is actionable. The Muse has become the one-stop career platform for job seekers everywhere whether a college student or seasoned professional.
Highlights:
The Muse started as a site target millennial women, but baby boomers, Military Veterans and Men found the advice useful for them
Job search advice on the web is universal and applicable to everyone. Rarely is advice exclusive to one group, and more often helps all job seekers become more competitive
Erin wrote an article entitled "The Four Types of Work Critics – and How to Deal With Them" and I asked her to give her take on "The four types of JOB SEEKER critics." Erin said the original idea came from Ann Friedman's podcast, "Call Your Girlfiend."
Straight haters– Worst critic. They are not familiar with your work or see you as competitive. These are the "trolls" and should be ignored
Frenemies-Your friend, who is connected to you, is out to undermine your efforts. They are your competitors. Consider their critiques with a grain salt. Family maybe more of the misinformed lover because of the lack of information about your career
The critics-The best people to listen to you. The expert or the mentor in your field and will give advice to you straight, and are not connected to you emotionally
The lovers-The family that know you well invested in you and care. They want you to succeed but tend to sugar coat things
My name is Mark Anthony Dyson, and I am the Founder of The Voice of Job Seekers. I am a career advice writer, but more importantly, I hack and re-imagine the job search process.. I've worked with hundreds of job seekers one-on-one helping them to construct a narrative and strategy that appeals to hiring managers and recruiters. I present at colleges and organizations, and facilitated many workshops including my volunteer effort through a Job Lab. I write and create useful job search content on this blog and write career and workplace advice for blogs such as Glassdoor, Payscale, Job-Hunt.org, Prezi and more. Media Feature highlights: Forbes, Business Insider, NBC News, Glassdoor, LinkedIn's #GetHired, and NPR Freelance writer and content contributor: Glassdoor, Payscale, job-hunt.org, The Financial Diet, RippleMatch.com and more. Contact me to contribute career, job search, or workplace advice for your site at markanthonydyson@gmail.com.