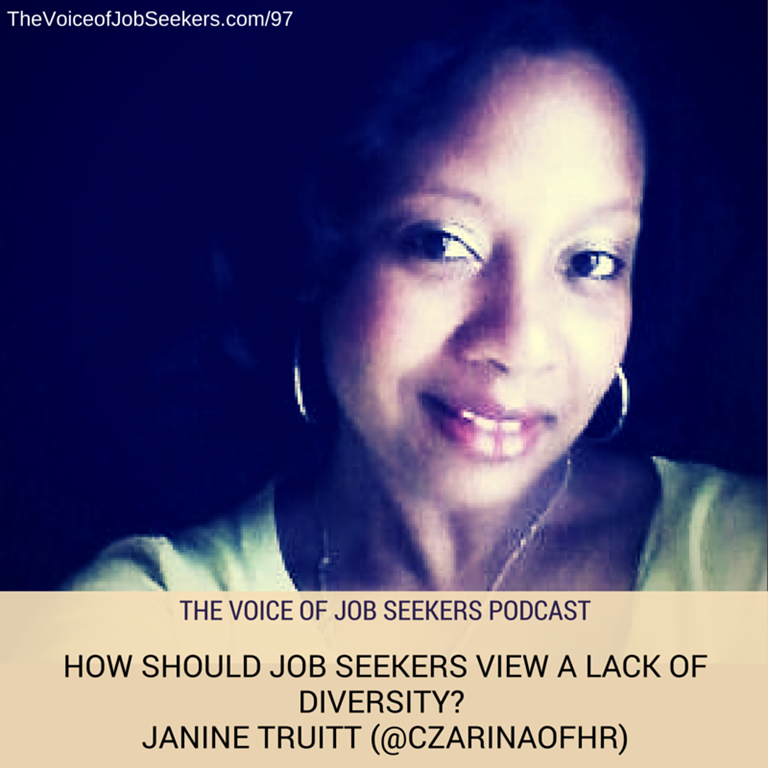 Podcast: Play in new window | Download | Embed
Subscribe: Apple Podcasts | RSS
Janine Truitt (@czarinaorhr) and Steve Levy (also my guest from episode 36) wrote an article calling for company HR departments to initiate and entertain race relations discussions internally. This article was picked up by College Recruiters, who decided to host the webinar, " Honest Diversity Conversations: Race Relations & HR."  Janine Truitt and I discuss the webinar and its importance for today's job seekers. The conversation about diversity issues in the workplace is needed.
The free webinar will be aired Sept. 9, 16, and 23. I recommend for you to registered for it today. I feel that this is a must for job seekers everywhere (particularly in the U.S.) to help you choose future employers.
How important is having a conversation about diversity and inclusion in the workplace to you? Why? I would love to hear from you about this discussion. Here are a few ways to make your opinion known:
1) Leave a voice mail or text message at 708-365-9822. Let me know if I can share it on future shows
2) Email me: [email protected]
3) Go to TheVoiceofJobSeekers.com and press the "Send Voicemail" button to leave a message online
Those of you who are career professionals can receive the additional bonus by leaving your blog, and I will link to it.
Janine is the founder of the talent management consulting firm Talent Think Innovations and the creator of the blog The Aristocracy of HR. Her advice and perspective were featured in CareerBuilder, Black Enterprise, and the Chicago Tribune.
Here is a summary of our conversation:
It's getting harder to have diversity and inclusion conversations although everyone has an opinion; no one wants to talk about it
Certain social events cause inflammatory discussions and for HR pros, it's a still touchy
Janine and Steve have written blog posts considered incendiary as intended to bring about more discussion
The webinar will contain some action steps for people to move forward with
We're in an age of "social responsibility" so job seekers should expect the most out of an employer
It's not something even considered more than 10 years ago
Janine state that HR professionals who participate in the webinar will wonder if the suggestions made will cause HR  "missteps." Janine says this is the human thing to do, not so much the politically correct strategy
Organizations as whole tend to "overstep" in the shadows of controversy, e.g., the Sept. 11 attacks from 2011
Janine shares how job seekers can see if a company cares about diversity and inclusion
People not of color who have relatives, friends, spouses, or children of different ethnicities are now considering the diversity of a company
Have you subscribed to this show on iTunes? If you haven't, please do so. iTunes is a great place to write an honest review and increase the show's visibility. Enjoy listening to the show.
Let us know what you think.
Do you need help with resume writing or career direction? Do you need coaching or instruction?I can help.
Also, join our Linkedin community! You'll enjoy some of the insights shared by community members and other career pros!
I am the "The Voice of Job Seekers!" I offer compassionate career and job search advice as I hack and re-imagine the job search process. You need to be "the prescription to an employer's job description." You must be solution-oriented and work in positions in companies where you are the remedy. Your job search must be a lifestyle, and your career must be in front of you constantly. You can no longer shed your aspirations at the change seasons. There are strengths you have that need constant use and development. Be sure you sign up to download my E-Book, "421 Modern Job Search Tips 2021!" You can find my career advice and work in media outlets such as Forbes, Inc., Fast Company, Harvard Business Review, Glassdoor, and many other outlets.