Podcast: Play in new window | Download | Embed
Subscribe: Apple Podcasts | RSS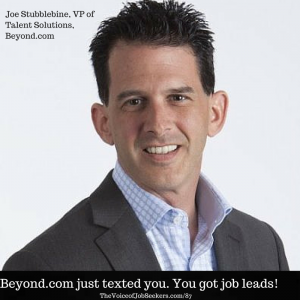 One of the latest trends that will dominate the job hunt/recruiting industry is mobile technology. Job boards are looking to innovate in a number of ways such as engaging users through mobile and putting job leads in the hands of top talent.
Beyond.com
is one of the top job boards in the employment space. This year, Beyond.com partnered with
TextRecruit
, a platform that integrates text messaging directly into the recruitment process. They want to put job leads through to your phone right now.
My guest, Joe Stubblebine, Vice President of Talent Solutions with
Beyond.com
, is the Technology expert and facilitator of the TextRecruit partnership. We discuss how sending job leads to your phone (or maybe your Apple Watch)  will enable you to engage leads in a more timely way.
How do you use your mobile device(s) for your job search? I would love to hear from you in one of the following ways:
1) Leave a voice mail or text message at 708-365-9822. Let me know if I can share it on future shows
Here  are some of the highlights of our discussion:
Beyond has about 500 talent communities and 45 million passive and active members
Joe connects with employers to help them recruit to job seeker talent
He states a few challenges they see in the industry regularly, 1) Getting visibility and in front of more job seekers, and 2) matching the right job with talent
Advertising had changed dramatically from years ago when companies paid $75,000 for a newspaper ad to compete against other job boards to get job leads to talented job seekers
Beyond.com conducted a survey that resulted in finding 83% of job seekers respondents are utilizing their phone and tablets for their job search. 73% specifically reach for their tablets. 85% that use both phone and tablets still apply for jobs on their laptops
Joe mentioned the Beyond.com app has 2.5 million downloads, as he also mentioned Jobber which works like Tinder, and the Hidden Job app (shout out to Chris Russell, guest on episode 65)
Joe was impressed that Pepsi's goal is 0 days to hire and feels the texting initiative brings Beyond a step closer to shortening hiring time
We talked a little bit about a potential "Dick Tracy" experience with the Apple Watch ability to receive text
Have you subscribed to this show on 
iTunes
? If you haven't, please do so. This is also a great place to write an honest review. Enjoy listening to the show. Let us know what you think.
Do you need help with resume writing or career direction? Do you need coaching or instruction?
I can help
.
Also, join our community on 
Linkedin
! You'll enjoy some of the insights shared by community members and other career pros!
I am the "The Voice of Job Seekers!" I offer compassionate career and job search advice as I hack and re-imagine the job search process. You need to be "the prescription to an employer's job description." You must be solution-oriented and work in positions in companies where you are the remedy. Your job search must be a lifestyle, and your career must be in front of you constantly. You can no longer shed your aspirations at the change seasons. There are strengths you have that need constant use and development. Be sure you sign up to download my E-Book, "421 Modern Job Search Tips 2021!" You can find my career advice and work in media outlets such as Forbes, Inc., Fast Company, Harvard Business Review, Glassdoor, and many other outlets.