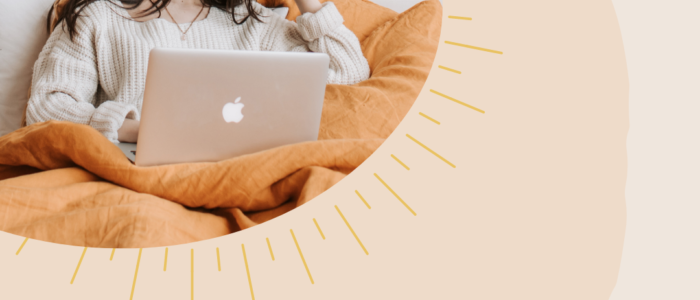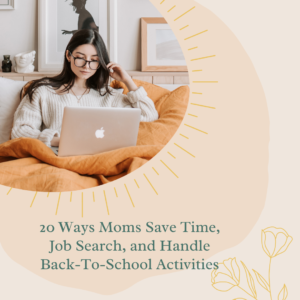 This special guest post was written by Nicole McCray.
Job searching can take time, and for moms with children (especially young children), you know that your kids' needs always come first. Getting back into the job market can be challenging, and finding the time to do so is more of a challenge now, especially with so many children doing their schoolwork at home virtually. 
Juggling administering school at home for your children while simultaneously looking for jobs can be done, and it doesn't have to be complicated. Here are twenty excellent ways to find the time to search for your next position and jumpstart your career while making sure your child is engaged and learning and developing, instead of just watching TV or a movie when not doing schoolwork.
CREATE A SET SCHEDULE
Kids need routine, that's the bottom line. So the first thing you should do is create a workable schedule for yourself and them so that they have designated slots of time where they are not asking you for constant help. 
To take this a step further – create an actual vision board or put a large dry erase or chalkboard up somewhere in the house that outlines their day. Make sure their prioritized schoolwork and you can be available to help with their homework for a specific time later in the day as well.
You can easily pre-plan the night before if you can set aside some time after kids are in bed, and align your day with their activities so that you can fit in your job search time during their craft time, or quiet time, or whatever time you deem fit to keep them occupied. It may take you some time to develop as you get started, but soon you'll be able to get a good routine set up.
The most important part of setting the schedule is to schedule yourself with time WITH them and without them. This way, your child won't be a bother when they have something to do with you that they can look forward to doing.
STORYTIME
Children, mostly from Kindergarten age and older, should always be practicing reading. It's good academically for their minds, and creatively for their imaginations. Have them spend at least one full hour of quiet time reading either in their rooms or outside so that you can utilize that time for your job searching. 
GOOGLE SLIDESHOW
Free and fun – this is a great way for your children to put their minds to work. They can pull together some photos in Google slides, maybe from a vacation or a fun trip. You can even have them create one of having to stay at home during the pandemic, allowing them to make the real-life story to tell family and friends.
OUTSIDE IS FOR SCIENCE
Do you remember capturing caterpillars and watching them make their cocoons and then turn into butterflies? Well, this is a project for your little scientist. You can start your butterfly garden and let your children chart the development of the caterpillar. You can schedule in so that they spend some time researching, watching, and making updates to the chart as the caterpillar grows.
MATH AROUND THE HOUSE
Math can be fun for kids when they learn how to use mathematical tools like a ruler, calculator, or start working in the kitchen with measuring cups and spoons. They can easily do simple tasks that will take them some time, like measure how long the table is compared to each chair, or measure out the ingredients that you will need to make cookies together after completing your job search.
SCAVENGER HUNTS
Although prep time is needed, this can be an enjoyable activity inside or outside that will have your kids up and moving around. You can be creative and develop a theme surrounding the hunt that once they collect all of their objects, they can put together to solve the "big puzzle." It will allow your children to exercise their energy while giving you time.
MUSIC LESSONS
Online courses and lessons have become huge during this pandemic. A great way to gain a scheduled time slot for job hunting is by keeping your kids engaged with online music lessons. While there are endless instructors out there to choose from, the music school Music To Your Home is one example of a program that offers both online lessons or socially distanced in-person lessons in your own home. No matter which lesson type works best for you, enrolling your child in music lessons will give you an excellent set time each week where you know they will be actively learning with a live instructor, allowing you to focus on applications. However, you may want to consider utilizing some noise-canceling headphones!
ARTS & CRAFTS
Like the scavenger hunts, this will require you to do some prepping ahead of time, but setting up washable paints, finger paints, coloring stations, or some creative arts and crafts on a table is going to be a great way to occupy your children.
ORIGAMI
Have your children sit down with colored paper and watch an online tutorial or video on folding computer or notebook papers into birds and making other origami figures.
PUZZLE TIME
Coordinate a set time every day where your children work on a puzzle. Depending on how big the mystery is, they can space it out to working on it all week, or even all month!
ONLINE APPLICATIONS
Even though you may want your child to have less screen time, there are specific applications you can find online that will aid your children's learning. Apps like ABCMouse, Scholastic, or Udemy have courses and fun games for children that are also learning activities. You can always limit the screen time to just a particular hour or half-hour of the day.
LETTER WRITING
If you have old enough children, have them write some kind letters or make cards for their family and friends. They can include pictures, drawings, or even just some fun stickers to make it a little more creative.
HOUSEHOLD CHORES
Set a certain time every day, maybe in the morning or early afternoon, where your kids work on specific chores. Whether it's picking up toys and returning them to a bin or getting out some rags and using cleaner to sanitize surfaces, this will engage your children and keep them well occupied while learning useful life skills.
BUILD IT UP
Your child can build things out of legos, blocks, Lincoln Logs, or even bigger things like cardboard boxes. They can have fun making blanket forts or even snow forts when the weather allows. 
GO OUTSIDE
Children can help pick the ripe vegetables or fruits from the garden if you have one. Give them baskets and have them go out to do so, or if you don't have a garden, you can have them pick some flowers or leaves to make something with, or have them start their garden at home.
HAVE THEM CREATE THE PLAN
Children like to come up with ideas on their own, too. So why not have them create the lunch and dinner menu for today? Or maybe they can write down a list of the foods they want to plant in the garden or pick out what groceries are needed.
DEVELOP THEIR OWN GAME
This is great for innovative and imaginative kids. Have them create something on their own to play later, like a quiz game, or make their own board game. It can even be that they write their book if they desire. 
ACTIVITY BOOKS
Even though this may have you spending some money, there are tons of educational activity books for children that you can find, either in the store or online, to keep your children engaged. 
MAKE DIY TOYS
Where To File Taxes Online For Free – Leave Debt Behind. https://www.leavedebtbehind.com/lifestyle/taxes/where-to-file-taxes-online-for-free/There are multiple resources you can utilize to have your children engage in making something with a purpose, rather than just a drawing. Have them make some dog or cat toys for the local animal shelter or make a simple bird feeder out of a pinecone. 
LET THEM CONNECT WITH OTHERS
The hardest thing about the pandemic is that we miss connections and community. Set up a virtual "playdate" with a child's friend to interact with one another or even multiple friends at a time. 
DON'T FORGET TO SET THE TIMER
No matter what the project, activity, or lesson, set a timer for your child to only spend bits of time on certain things. This activity will keep them engaged during their time without getting bored if it gets too long and keeps them structured in their routine and schedule. 
Take your notes from teachers – you can have them do a workbook activity for twenty to thirty minutes while you do some job searching. If they can move right to the craft table and work on a specific art project next, you can take a moment, reset the timer, and continue your search!
I am the "The Voice of Job Seekers!" I offer compassionate career and job search advice as I hack and re-imagine the job search process. You need to be "the prescription to an employer's job description." You must be solution-oriented and work in positions in companies where you are the remedy. Your job search must be a lifestyle, and your career must be in front of you constantly. You can no longer shed your aspirations at the change seasons. There are strengths you have that need constant use and development. Be sure you sign up to download my E-Book, "421 Modern Job Search Tips 2021!" You can find my career advice and work in media outlets such as Forbes, Inc., Fast Company, Harvard Business Review, Glassdoor, and many other outlets.