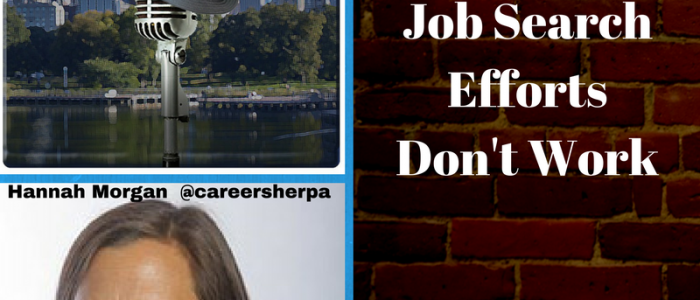 Podcast: Play in new window | Download | Embed
Subscribe: Apple Podcasts | RSS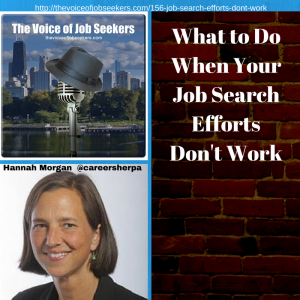 Today's job search requires you to keep both hands on the wheel. Any passive approach to finding opportunities fail. It doesn't work. You must remain engaged throughout your career or face significant challenges shifting gears.
My friend, Hannah Morgan, is back to talk what is not working in your job search. We discuss her article from last fall and recently on her blog and solutions to help your job search efforts.
I would love to hear your thoughts in one of three ways:
Call and leave a voicemail at 708-365-9822, or text your comments to the same number
Go to TheVoiceofJobSeekers.com, press the "Send Voicemail" button on the right side of your screen and leave a message
Send email feedback to [email protected]
Hannah Morgan, the founder of CareerSherpa.net. She is a nationally recognized career writer, speaker, and author. She writes about careers for U.S. News and World Report.
Here are highlights from our discussion:
People are looking for a magic pill–but it doesn't exist
Job search is hard with effort, much more challenging if it's passive
Networking is a staple in a successful job search. Use informative interviews and look for ways outside of advice to create opportunities
Applicant tracking systems purpose is to exclude you
Think more holistic than just as a job seeker. Think like a consultant. Consider what you would think like a hiring manager
Build your online presence, but your central hub should be your website and content
Platforms outside of your site will come and go. The cost of a site is much less than a LinkedIn premium membership cost
Need help with your career goals, directions, or efforts?
Do you need coaching or instruction? I am here for it! Use my contact information above to inquire about individual or group coaching. You can also sign up for my weekly newsletter at the top of my page.
I am the "The Voice of Job Seekers!" I offer compassionate career and job search advice as I hack and re-imagine the job search process. You need to be "the prescription to an employer's job description." You must be solution-oriented and work in positions in companies where you are the remedy. Your job search must be a lifestyle, and your career must be in front of you constantly. You can no longer shed your aspirations at the change seasons. There are strengths you have that need constant use and development. Be sure you sign up to download my E-Book, "421 Modern Job Search Tips 2021!" You can find my career advice and work in media outlets such as Forbes, Inc., Fast Company, Harvard Business Review, Glassdoor, and many other outlets.