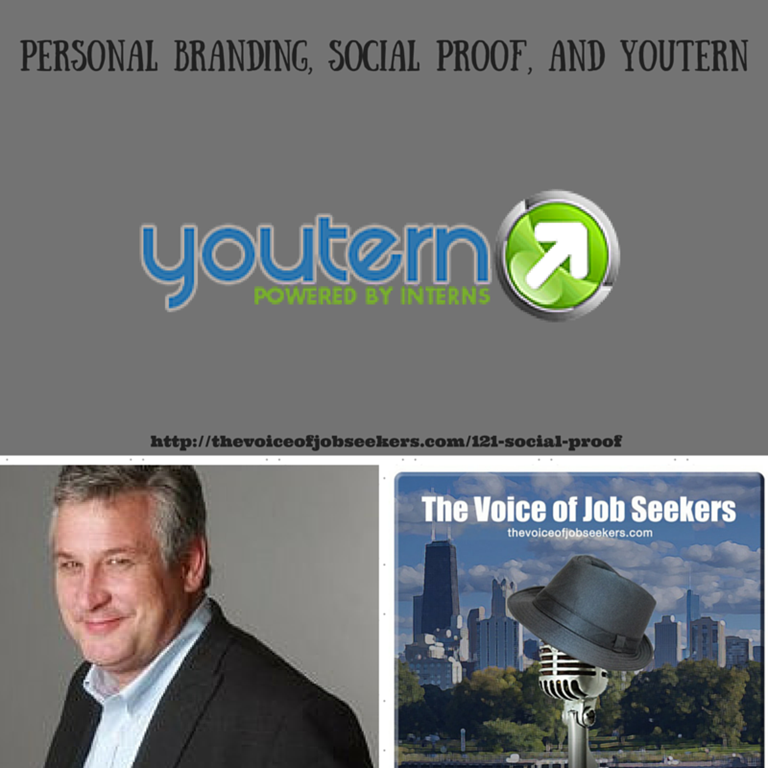 Podcast: Play in new window | Download | Embed
Subscribe: Apple Podcasts | Android | RSS
I want to share another great conversation with Mark Babbitt, CEO of YouTern about job search trends and the changes to YouTern coming this month.
Mark's insight is consistently part of the larger conversation in the career spectrum, if anything, he has his hands on the pulse of what makes employers tick. Social proof and personal branding is at the center of attracting the eyes of employers. This conversation is essential in providing clarity in where you need to start or pivot.
Let me know how your personal branding and social proof is being shaped? Here's how:
Call and leave a voicemail or text me at 708-365-9822
Go to TheVoiceofJobSeekers.com, press the "Send Voicemail" button on the right side of your screen and leave a message
Send email feedback to mark@thevoiceofjobseekers.com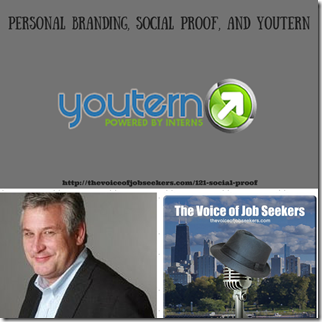 Mark is the CEO of YouTern, President of Switch and Shift, and co-author of A World Gone Social. This is our third recorded conversation and it's always a template to further understand how to stand out to employers and recruiters.
Expectations are much higher to perform as entry-level training is much shorter. Performance ready is emphasized on "day one"
Companies are waiting to find the right candidate instead of the hiring the next candidate if not right
Personal selling is important coupled with social proof i.e. LinkedIn recommendations. Employers are limiting "buyer's remorse" to not hiring the right candidate
Googling is now the norm and critical in the hiring process
We talk about the shrinking of the unemployed to the mass amount of underemployed
People are smarter applying good strategies to target companies, getting referrals, getting recommendations
More competition in the workforce, still hundreds of applications per position
No interviews after a month of applying – branding issue, likely lack quality social proof, in any
To compete, social proof sets you apart, employers likely to interview the person with proof
The "human touch" should be frequent during your job search. If you receive no responses, you have a major branding problem
Searches for you should say, "read my profile, consider my social proof"
Value needs to address what you're good at and who will pay for it
We talk about the shift in content and the update on YouTern.com
The site will address lifestyle issues, Gen Z and Millenials, how to identify good companies and more
Getting back to the entrepreneur spirit, freelance gigs, solo-preneurship will be posted
Relaunch will take place in April
We talk about the role of "failure" in our approach to careers and the importance of getting through it quickly. Learn from people who have done it
Resilience is still an impressive attribute to employers
Intern Pro is still active on Mondays, 9 pm EST, the second longest Twitter chat
YouTern will also publish more video and audio content
Self-awareness, how are you positioning your value proposition will help you stand out
Need help with your career goals, directions, or efforts? Do you need coaching or instruction? I am here for it! Also, join our Linkedin community! You'll enjoy some of the insights shared by community members and other career pros!
I would still like to help self-published career professionals promote their books. If you're interested, find more info here.
I am the "The Voice of Job Seekers," career consultant, job seeker advocate, career writer, and founder of this award-winning blog. I help the employed, unemployed, underemployed, and under-appreciated find jobs using job search strategies to navigate the new job market. I aim to give a safe place online to those with different needs, cultures, and ethnicities to find their voice in the job market. Thousands have read my career advice throughout the web as I write about everything from job search strategies to the mobile job search. I have published more than 400 articles on this blog and some of the largest career sites such as Recruiter.com, YouTern, and Come Recommended. I've been quoted in major online publications such as Monster, TIME/Money, Fortune, Business Insider and MSN. FlexJobs, JobMonkey, Aerotek, Career Pivot, and CareerSherpa listed my podcast as one of the top podcasts to help your job search. Love for you to sign up for the weekly newsletter. I share the latest articles I've written, new podcast episodes, and answer any questions you may have. The new job search is scary and if you need help, I am here for it!