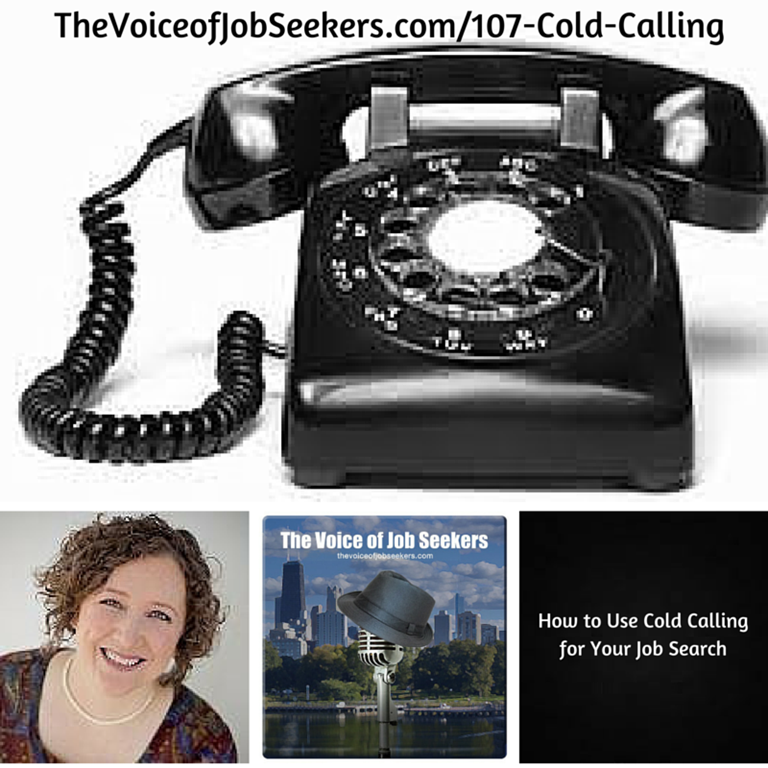 Podcast: Play in new window | Download | Embed
Subscribe: Apple Podcasts | RSS
Cold-calling sounds intimidating and most shy away from it but with the holidays coming up, it could be a passive job search strategy that Kimberly Robb Baker can work for you. There are few people in the office, who will have more time to open mail and actually read it (Mmmmm…)! In this day and age, you could stand out because people are still sending resumes instead of a brief letter as a tease to become interested in you.
Have you tried cold-calling before? Love to hear what you think! Here are a few ways you can provide feedback:
Call and leave a voicemail at 708-365-9822
Go to TheVoiceofJobSeekers.com, press the "Send Voicemail" button on the right side of your screen and leave a message
Send email feedback to mark@thevoiceofjobseekers.com
If you are a career professional who advise job seekers and adds feedback whether it's advice or a differing opinion, I will include a link in future show notes and read your comments on an upcoming show. Just let me know if it's OK with you.
Kimberly Robb Baker is  back to share with us how to use cold-calling to get responses from employers. Kim is the founder of MovingOnUpResumes.com (@ThisLittleBrand),and an award-winning resume writer who is a master story teller. Her work has been published in many resume publications including JIST and Barron's. publications including JIST and Barron's. Her 10 years of sales experience is useful for her clients to use this technique as a way to find job leads and not sound as salesy.
Cold-calling is useful for reaching outside your network
Even for an introvert realizing you have little to lose when you reach to people you don't know
Kim says that cold-calling is good exercise to learn how to help with speech fluidity and communication skills
You are planting seeds hoping that opportunities will manifest through cold calling you otherwise would have missed
You can create warm calling opportunities through social networking
Cold mailing is also the same strategy. She mentions Cold Bait as a resource for cold mailing
Cold mail letter is a brief way to send to snail mail prospects, no more than 158 words, casual language
Don't beg, just be specific to the need you provide
Kim provides an example of how a Director or Marketing would position the letter
Try not to sound salesy, try adding quantified results but only one that would attract attention
Think about the positioning the possibility in short rather than pain of the company, not the same approach as a cover letter
Delivery through snail mail will yield up to 3%
Join groups of potential contact through LinkedIn to send them an Inmail
Use a "P.S." and include your LinkedIn profile link, sign off respectfully
Have you subscribed to this show on iTunes? If you haven't, please do so. iTunes is a great place to write an honest review and increase the show's visibility. Enjoy listening to the show.
Let us know what you think.
Do you need help with resume writing or career direction? Do you need coaching or instruction?I can help.
Also, join our Linkedin community! You'll enjoy some of the insights shared by community members and other career pros!
I would still like to help self-published career professionals promote their books. If you're interested, find more info here.
Don't forget, I will not publish a show next week. It's Thanksgiving week and we'll just resume the show on December 1. Have a great holiday next week!
My name is Mark Anthony Dyson, and I am the Founder of The Voice of Job Seekers. I am a career advice writer, but more importantly, I hack and re-imagine the job search process.. I've worked with hundreds of job seekers one-on-one helping them to construct a narrative and strategy that appeals to hiring managers and recruiters. I present at colleges and organizations, and facilitated many workshops including my volunteer effort through a Job Lab. I write and create useful job search content on this blog and write career and workplace advice for blogs such as Glassdoor, Payscale, Job-Hunt.org, Prezi and more. Media Feature highlights: Forbes, Business Insider, NBC News, Glassdoor, LinkedIn's #GetHired, and NPR Freelance writer and content contributor: Glassdoor, Payscale, job-hunt.org, The Financial Diet, RippleMatch.com and more. Contact me to contribute career, job search, or workplace advice for your site at markanthonydyson@gmail.com.