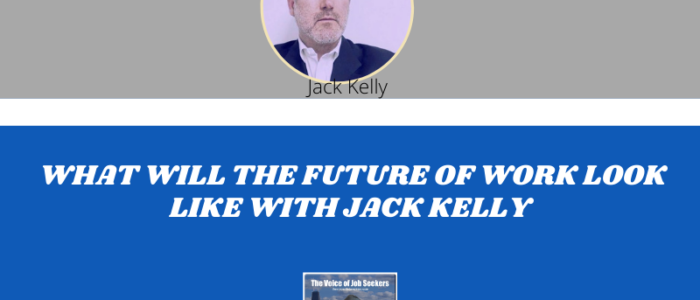 Podcast: Play in new window | Download | Embed
Subscribe: Apple Podcasts | RSS
This year, besides the audio through the podcast, and the video on my YouTube channel, I will provide the transcript for those I mentioned and their featured conversation.
This week, Jack Kelly and I talk about what he sees as the future of work.
Also, I will feature a short clip of one or both of my live stream shows, #JobSeekerNation, and The Modern Job Search Checklist. On both fronts, there are guests on our panels.
So we're talking about an hour of content each week.
You are more than welcome to join the discussion. Here are three ways you can:
– Call and leave a voicemail at 708-365-9822, or text your comments to the same number
– Go to TheVoiceofJobSeekers.com, press the "Send Voicemail" button on the right side of your screen and leave a message
– Send email feedback to mark@thevoiceofjobseekers.com
More about Jack Kelly
In this episode, I feature my conversation with my boy Jack Kelly, Compliance Recruiter, entrepreneur, CEO of
WeCruitr.io
, and Forbes Senior Careers Contributor. He talks a lot about the Future of Work, especially when it comes to job search. Jack and I co-host
#JobSeekerNation
, our live stream show.
Here are discussion highlights:
How vastly job search has changed from two years ago to the point within two ago.

Job search advice and strategy are changing at a rapid rate.

How #TheGreatResignation became an empowering movement across the world

How mask mandates will change where people will work

The future of job search is remote and makes a case for why it is

I love his point, and this quote, "The defining characteristic of a company and they articulate to their workforce what's happening in a very empathetic, compassionate and intelligent way. You know, not demanding, not being stern, but just talking to people like they're human beings and sharing.
As promised, the transcript of this conversation will be made available this Thursday.
Since I was on other podcasts, video, and radio shows, I will feature them throughout the year like I did last year. Sometimes at the beginning of the show, sometimes at the end. We'll see what this year will bring.
I've also recorded some bonus interviews containing some business and leadership topics. Many of you decide to venture out in addition to your daytime job or job search. I think that's a great movie, and I want to help.
In the meantime, here's a clip from
The Modern Job Search Checklist
. Hannah Morgan,
the CareerSherpa
, and a multiple-time guest here on the podcast and I discuss the "Hidden Job Market." Our views may surprise some of you. I will link to the entire episode so enjoy and let me know your thoughts.
I am the "The Voice of Job Seekers!" I offer compassionate career and job search advice as I hack and re-imagine the job search process. You need to be "the prescription to an employer's job description." You must be solution-oriented and work in positions in companies where you are the remedy. Your job search must be a lifestyle, and your career must be in front of you constantly. You can no longer shed your aspirations at the change seasons. There are strengths you have that need constant use and development. Be sure you sign up to download my E-Book, "421 Modern Job Search Tips 2021!" You can find my career advice and work in media outlets such as Forbes, Inc., Fast Company, Harvard Business Review, Glassdoor, and many other outlets.